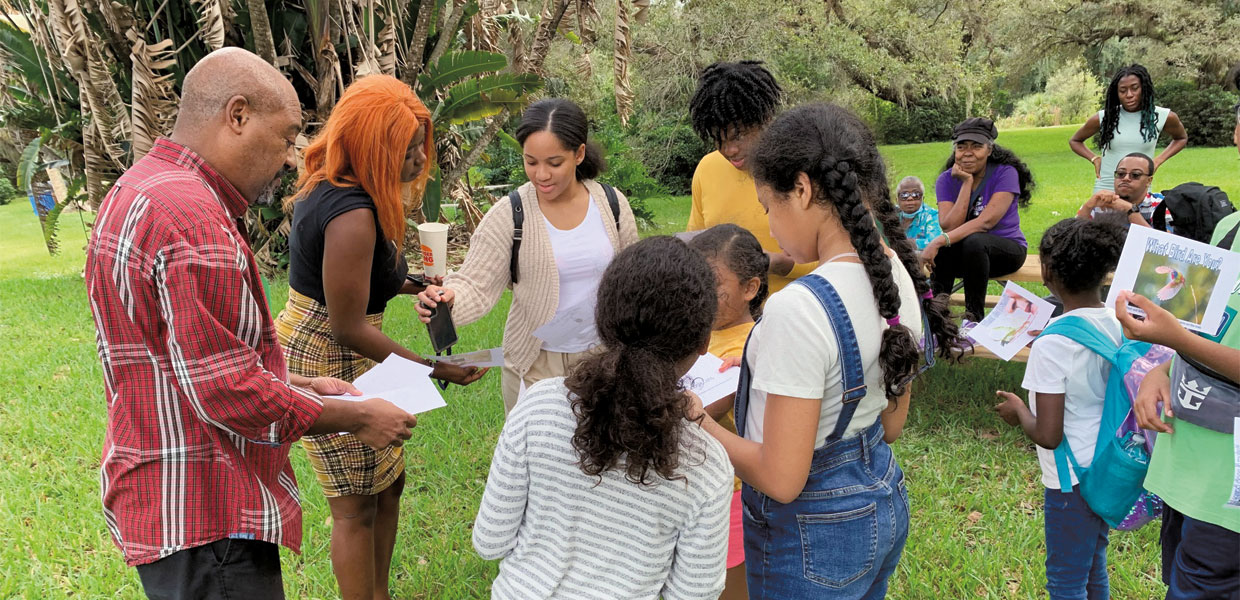 A highlight of the program was a Nature Scavenger Hunt. At the beginning of the walk, each person got a letter-sized piece of paper showing 25 images of things to look for in nature, such as a bird, nest, flower, color, or an insect.
Jeffrey Thompson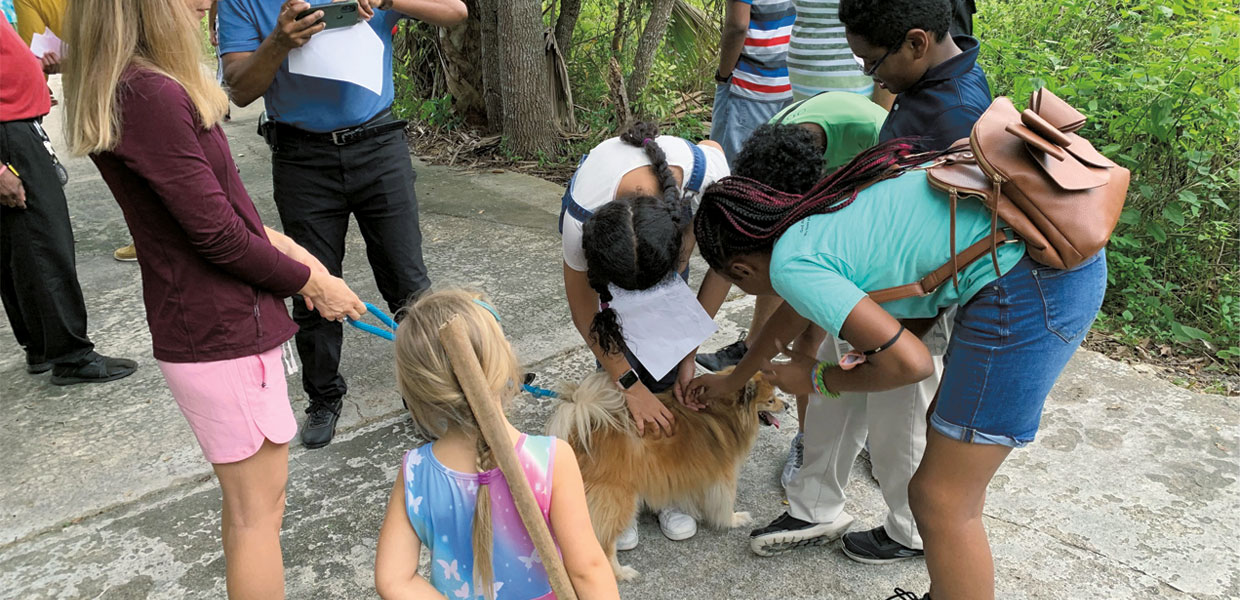 An encounter with a woman, two daughters, and a dog presented an opportunity for witnessing on the trail.
Jeffrey Thompson
Students Witness for Christ Amid Sabbath Nature Walks
More than 40 parishioners of Fort Lauderdale Church shared their faith while participating in a Sabbath nature walk at Long Key Natural Area and Nature Center, Davie, Fla. The two-hour Trail Trekkers Walk, which the Family Life Ministries Department sponsored, was organized by Ludlow Bartley, Sr. and Heather Bartley.
The Nature Trek took place on 157 breathtaking acres, managed by the Broward County Parks and Recreation Division. These nature events are continuing once per quarter as part of the church's five-step evangelism plan for 2023: equipping, sowing, taking care, harvesting, and nurturing.
While the group was walking through the tropical park, a female visitor with two young daughters and a dog. When the Adventist young people saw the dog, they approached the woman and got permission to pet it. Immediately, the dog began playing and leaping around. The woman and daughters were delighted and wanted to find out details about the group's church and faith. The pastor gave the woman a business card with the church's address and website.
Likewise, a new convert's female cousin, who accompanied the church group to the park, approached Heather Bartley and inquired whether she belonged to the church.
"You all seem like a family," said the woman.
"We are," Bartley replied.
"I admire your group a lot for what you are doing and the bond you are displaying," she said.
Bartley learned from this encounter that, "I see how even a nature walk can be a potent witness."
"Families brought snack lunches and ate them before walking through the scenic park. Members had a lot of fun, learned a lot, and were able to witness to others. What a memorable way to spend the Sabbath after the divine hour worship service," said Jeffrey Thompson, Ph.D., senior pastor.
Jeffrey THompson, Ph.D.
Florida | March 2023