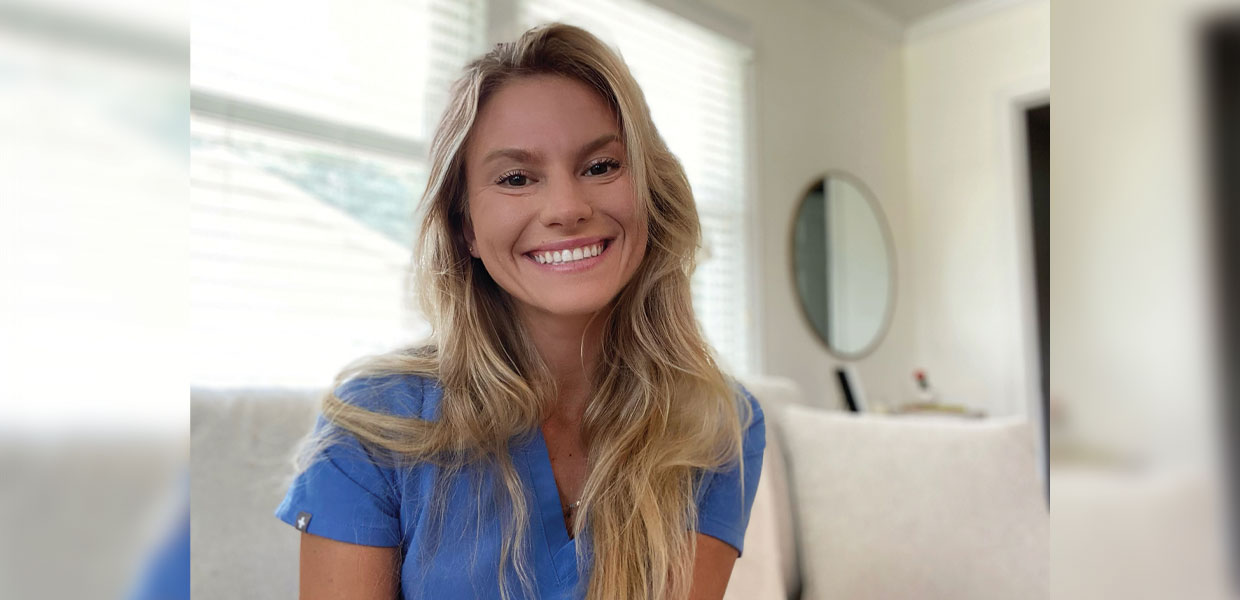 Shannon Riley
Just three months after graduating from AdventHealth University (AHU), Shannon Riley has landed a position that normally requires at least five years of work experience.
It's an accomplishment she attributes to the preparation she received at AHU.
"The way that AHU approaches education and patient care made me a better occupational therapist," said Riley, who works for Encompass Health Rehabilitation Hospital of Greenville in South Carolina.
Finding Her Way to Occupational Therapy
A Winter Park native who graduated from The Geneva School, Riley first became aware of occupational therapy (OT) after her grandfather was diagnosed with dementia. Several health care providers attended to him, but it was his occupational therapist who made the greatest impact.
"The OT was the only practitioner who could really get through to my grandfather," Riley said. "Half of occupational therapy is being able to establish a relationship and rapport. This particular OT just had that special touch. It really made a mark on me," Riley said.
By the time she went off to study at Furman University, however, Riley had decided to pursue a career in special education. It was during an internship at a special education school that occupational therapy once again captured her attention.
"There was an occupational therapist there working with the children," she said. "I didn't realize that occupational therapists work with such a wide range of patients, from elderly patients with dementia to school-age children."
As she learned more about the field, Riley made a life-changing decision, switching majors from education to health sciences.
"It was my junior year. It wasn't easy to make the switch so late in my education, but it was worth it," she said.
Choosing AdventHealth University's Mission
After graduating with her bachelor's degree, Riley began looking for graduate school options, and AdventHealth University soon rose to the top of her list.
"I had a couple friends who had gone to AHU and said good things about their experience," Riley said. "But, what really stood out for me was the mission of AHU, and that they approach health care as a mission field. Patient care gets exponentially better when you approach it as something you're not doing just for you or your patients, but for God."
As a student in AHU's Master of Occupational Therapy program, Riley was trained to take a "top-down" approach to health care delivery.
"This means seeing the whole person, not just the condition and the treatment plan. When you approach the patient as a whole person, you take the time to understand their beliefs, values, and goals for leading a fulfilling life," Riley said.
"I might be treating a young man who wants to be able to ride a motorcycle or play football again, or I might be treating a grandmother who wants to be able to garden and read to her grandchildren. It's important to have the whole picture to develop the most effective treatments."
Just as Riley was trained to see the "whole person," AHU also saw her as more than just another student.
"Everyone was so receptive and understanding," she said. "They took the time to get to know me for me."
Making a Difference for Her Patients
When she applied to Encompass Health, one of the nation's leading rehabilitation hospital systems, Riley knew she would have tough competition, but she also felt confident in the preparation she'd received from AHU.
The Encompass hiring team felt the same, and Riley was offered a position that normally requires at least five years of experience.
"I'm the only new grad on the team," she said.
After Riley accepted her position, her supervisor gave her a card that read in part, "Your energy and skill will be a great contribution …. Let's work hard to make a difference in our patients' lives each day."
Making a difference is exactly what Riley is doing, and she's loving every minute of it.
"It's a great feeling when I see my patients start to make progress," she said. "I love what I do."
AdventHealth University's Master of Occupational Therapy program is designed to be completed in 27 months, and prepares students for national board certification. Visit AHU.edu to learn more about the Master of Occupational Therapy program.


AdventHealth University | December 2021