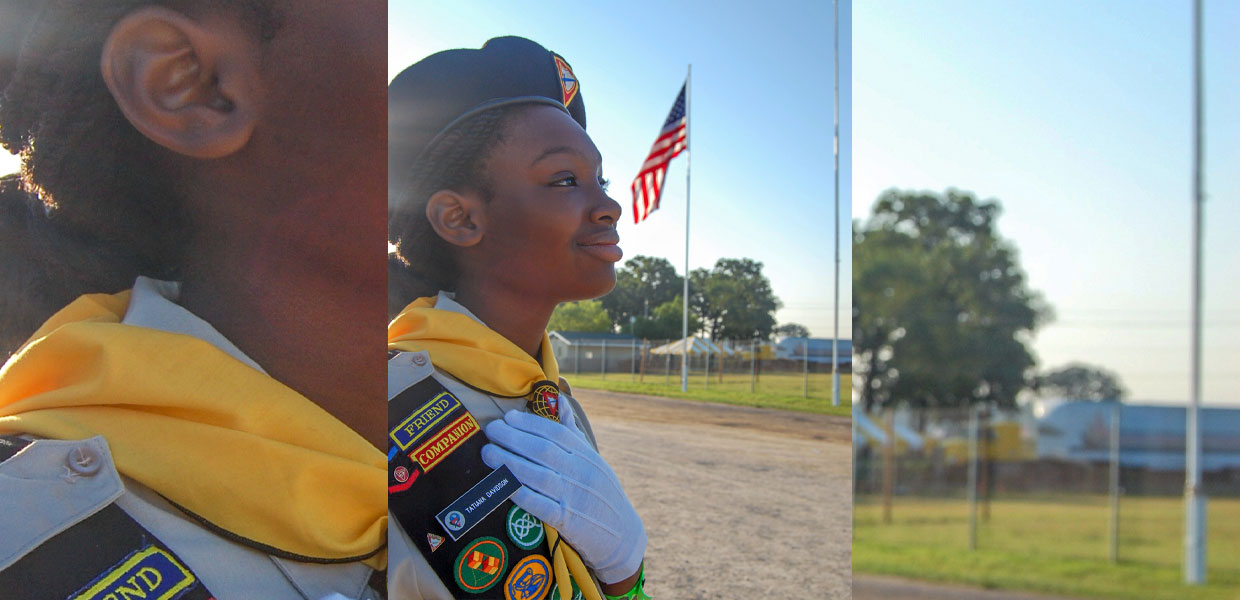 When you think of Youth Ministries, what comes to mind? Is it Pathfinders and Adventurers? Maybe it's summer camp. Or maybe it's youth conventions. But did you know, the youth program in the Southern Union used to be overseen by the Education Department?
Formally beginning in 1907, Missionary Volunteers or MV, as it was called, emphasized three main areas: devotions and daily commitment to God, education on the Church's doctrine and history, and missionary efforts. These tenets continue to be evident in youth ministries to this day!
The connection between Adventist Education and the youth work could often be seen in how MV programs were coordinated. One example of this dates to a January 1925 MV convention at Oakwood Junior College, now Oakwood University. While most of the program took place during Sabbath hours, the Sunday program was structured so that school responsibilities wouldn't keep students from participating in the program's community missionary work.
In 1944, the Southern Union Conference Committee believed the growth of both the Education and MV program necessitated these programs being overseen by their own secretaries. With the creation of the MV Department under the leadership of C. H. Lauda, partnerships with other departments continued.
Missionary Volunteers regularly partnered with the publishing works, and young people were often engaged in distributing tracts and literature as part of their regular missionary work. While it may not sound like a lot in today's dollars, E.F. Hackman, Southern Union president, noted in his 1947 quinquennial report that young people "have sold thousands of dollars' worth of our largest subscription books."
Growing out of MV societies were Master Guides. Throughout the history of youth ministries, the role of Master Guides has been one of leadership and mentorship. In July of 1951, the first Southern Union Youth Camp was held at Kings Mountain Park, North Carolina. One purpose of the camp was to help Master Guides develop their leadership acumen.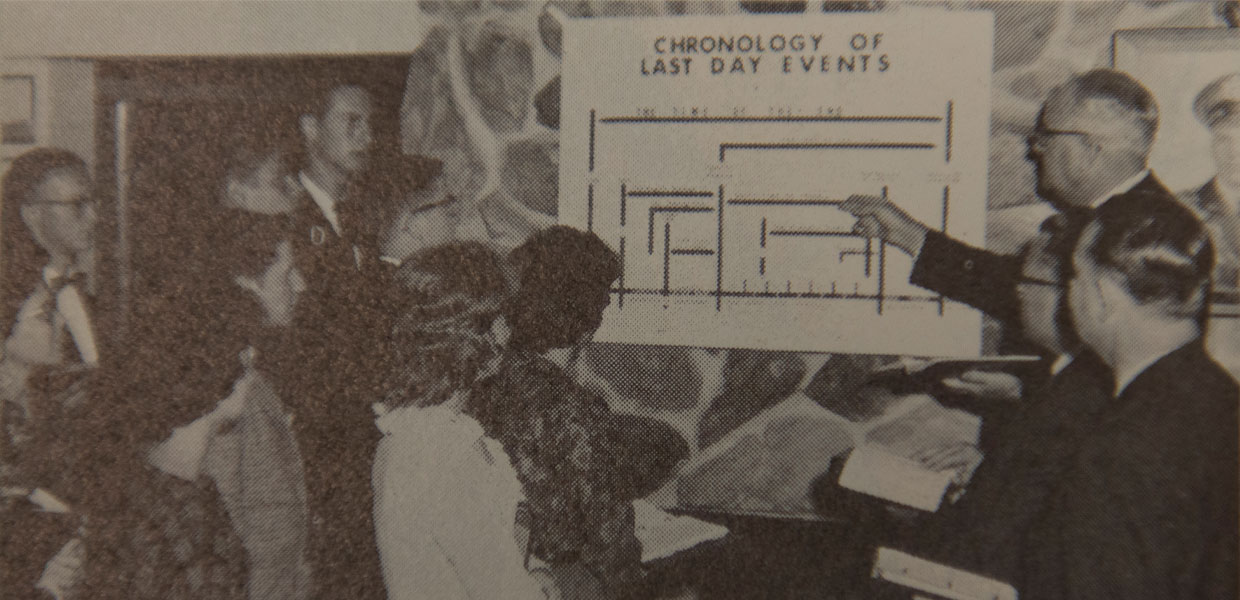 In 1963 one of the most important aims of the Southern Union Missionary Volunteers Department was to challenge, inspire, and train capable youth leadership in the local churches. From 1958 to 1962, more than 1,200 individuals received training course certificates for completing Missionary Volunteer training programs in the senior and junior levels.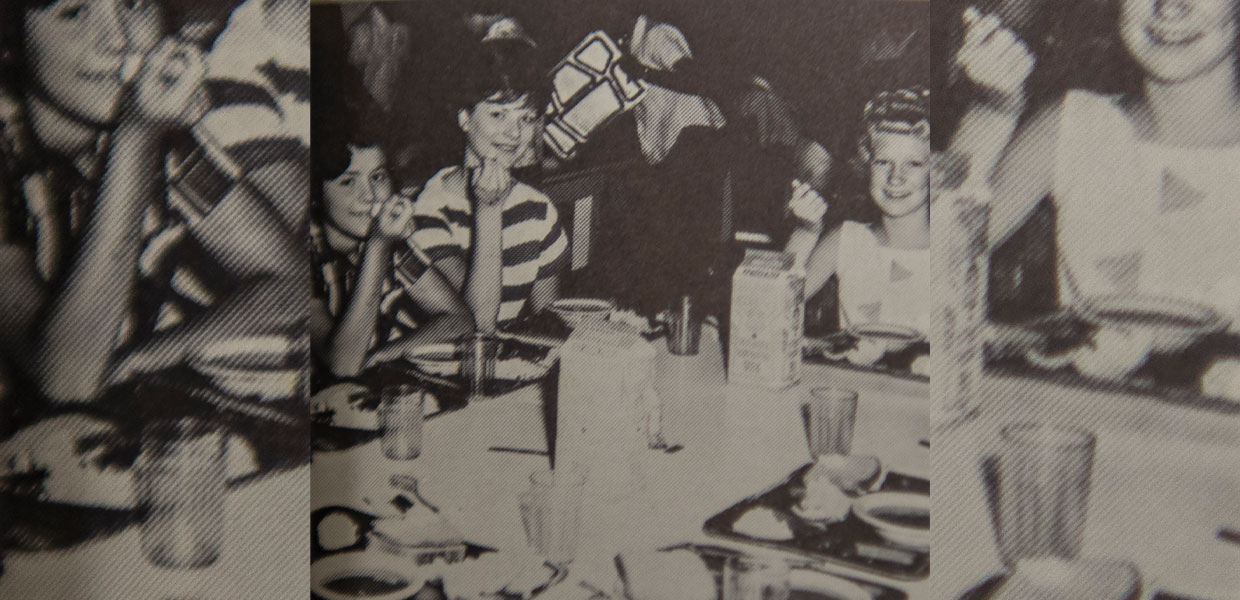 The summer camp program of the Southern Union is no doubt one of the greatest evangelistic endeavors carried on during the summer months. Between 1958 and 1962, 7,289 young people attended these havens of spiritual retreat, and 1,641 made decisions to look forward to baptism.
But 1951 wasn't the first year of camps for youth held in the Southern Union — 1951 was actually the 25th anniversary of junior camps in the Southern Union. It was also in 1951 that the first senior camp for ages 16-30 was held with a capacity of 150 campers. The cost? Only $15!
Just two years later, in 1953, there was another first when the first official Pathfinder Clubs started in the Southern Union. But the idea and development of Pathfinders, one of the most globally recognized youth programs of the Seventh-day Adventist Church, started many years earlier, with deep roots in the South.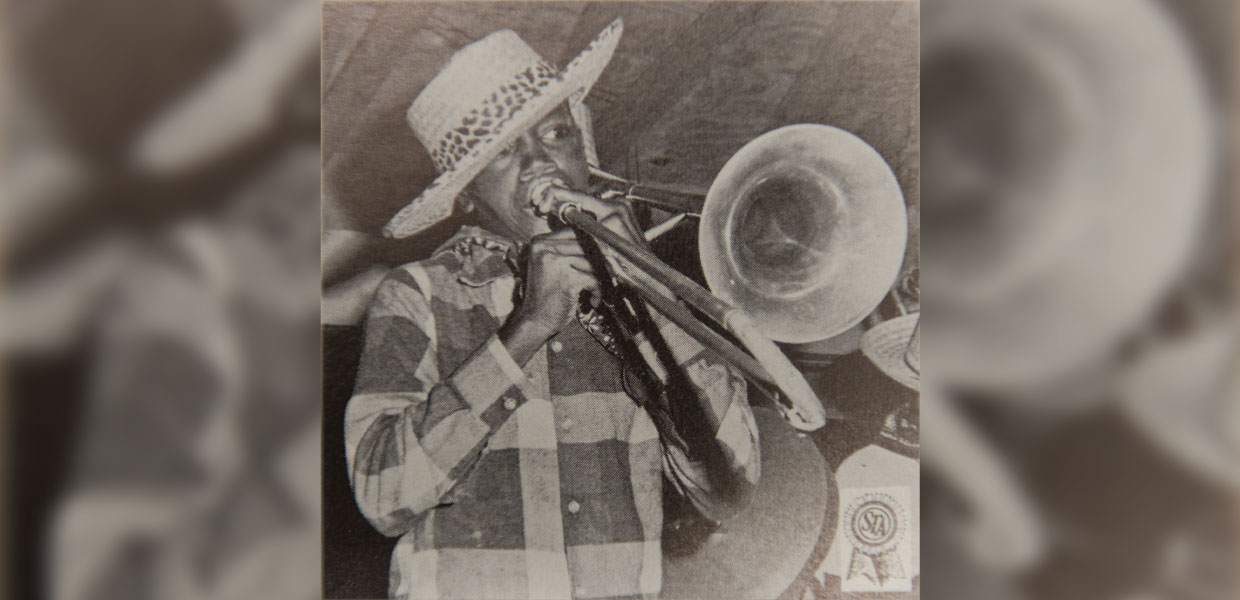 The music maker from the South Central Conference helped a lively camporee in September 1970 by performing on his slide trombone. The camporee was held at Stone Mountain Park outside Atlanta, Georgia, and was attended by 1,400 Pathfinders.
In 1919, Arthur Spalding started "Mission Scouts" in Madison, Tennessee. The group of boys, which included his two sons, combined camping with activities like woodcraft and a pledge to maintain high moral standards. In developing the program, Spalding studied the Boy Scouts organization and rules while being intentional on aligning his "Mission Scouts" with Adventist doctrines and the denomination's spiritual goals. Spalding's work in this area became the foundations of the Junior Missionary Volunteers or JMV, the precursor to Pathfinders.
In 1950 the General Conference officially adopted the Pathfinder name, and by 1952 the first clubs in the Southern Union were formed. By 1954 there were 59 clubs with 1,408 Pathfinders.
The growth of the MV program was also evident when in 1954 two Youth Congresses were held with a combined attendance of more than 10,000. But, it wasn't these attendance numbers that excited members and leadership the most. It was the impact on evangelism that these youth were having that created excitement and continued to grow the effect youth were having across the South.
From 1951-1954, there was substantial growth through multiple facets of evangelism. For example, youth distributed nearly 2.5 million pieces of literature, brought in more than $323,500 for Ingathering, and had nearly 710,000 missionary contacts, a 121% increase from the previous four years. These, among other efforts, resulted in 3,157 youth being baptized between 1951 and 1954. It was also during this time that summer camp programs were beginning to take the next step, with Florida and Georgia-Cumberland conferences purchasing their own property to host these camps.
As youth ministries was growing across the South, the focus on evangelism and partnerships continued. One example of this is, in 1956, the Southern Union Bible School prepared a special issue of Trick or Treat, which offered enrollment in the Bible School. These tracts were to be distributed by Pathfinders with the goal of generating 5,000 Bible study interests.
Another example of partnerships is when the MV society at Southern Missionary College, now Southern Adventist University, organized a Voice of Youth evangelistic meeting in 1958. The planning for these meetings was led by college students with the support of L. M. Nelson, Southern Union MV secretary, and H. V. Hendershot, associate pastor of the Collegedale Church. Following study period, dorm students gathered in several rooms praying for these meetings.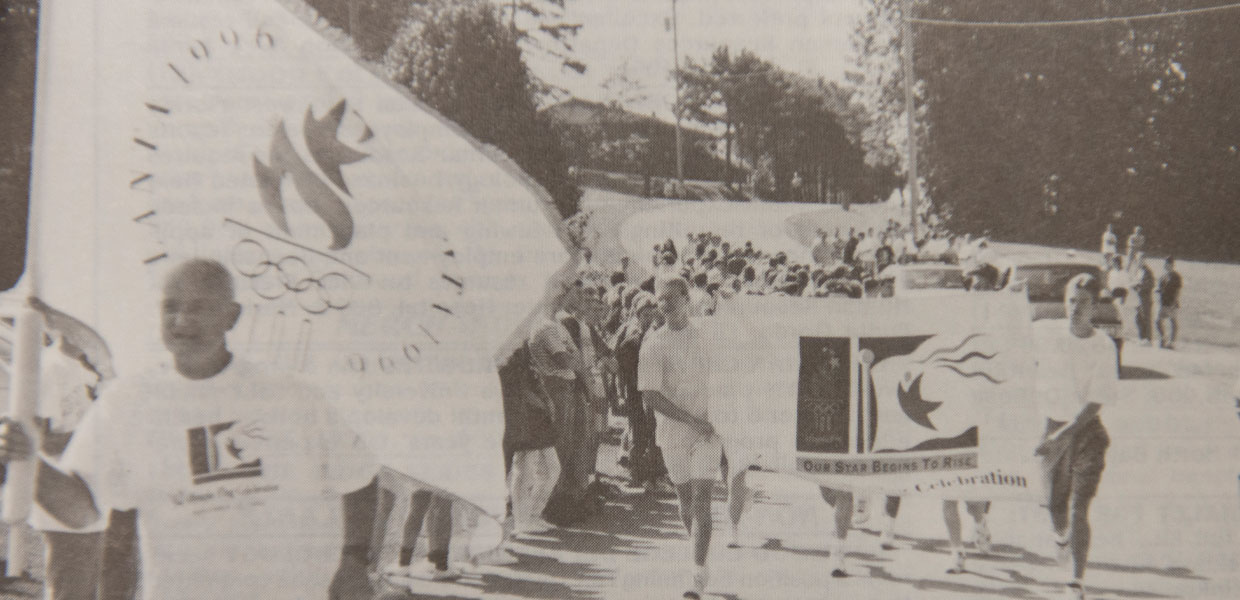 Georgia-Cumberland Academy, along with two public high schools, participated in the Gordon County and Calhoun Civic Olympic Flag Ceremonies in September 1992. Runners included Georgia-Cumberland Academy students Joni Self and David Shinn, who ran through parts of Gordon County with the Atlanta 1996 Olympic Flag and a 1992 Olympic Celebration flag.
While the scope of youth ministries started shifting from solely being about Missionary Volunteers, the emphasis on spiritual growth and evangelism did not. Between 1959 and 1963, Bible conferences were started, there were 11 Voice of Youth evangelistic series, 1,641 youth made decisions for baptism at summer camps, and more than 30,000 Bible studies were given by youth.
By 1967 there were 2,500 Pathfinders across the Union. This growth of Pathfinders was also the start of something new: Union-wide Pathfinder camporees, with the first recorded camporee at Stone Mountain Park in September 1970.
Under the leadership of Don Holland, the emphasis on evangelism continued. From 1971 to 1975, the result of youth-led outreach and evangelism in areas such as youth evangelistic meetings, Voice of Prophecy Wayout teams that generated and followed up on Bible study interests, and conducting evangelism in dark counties, led to 5,830 people being baptized. The growth of the summer camp program, which many considered to be one of the most important evangelistic outreaches to youth, had nearly 94,000 young people in attendance during these years as well!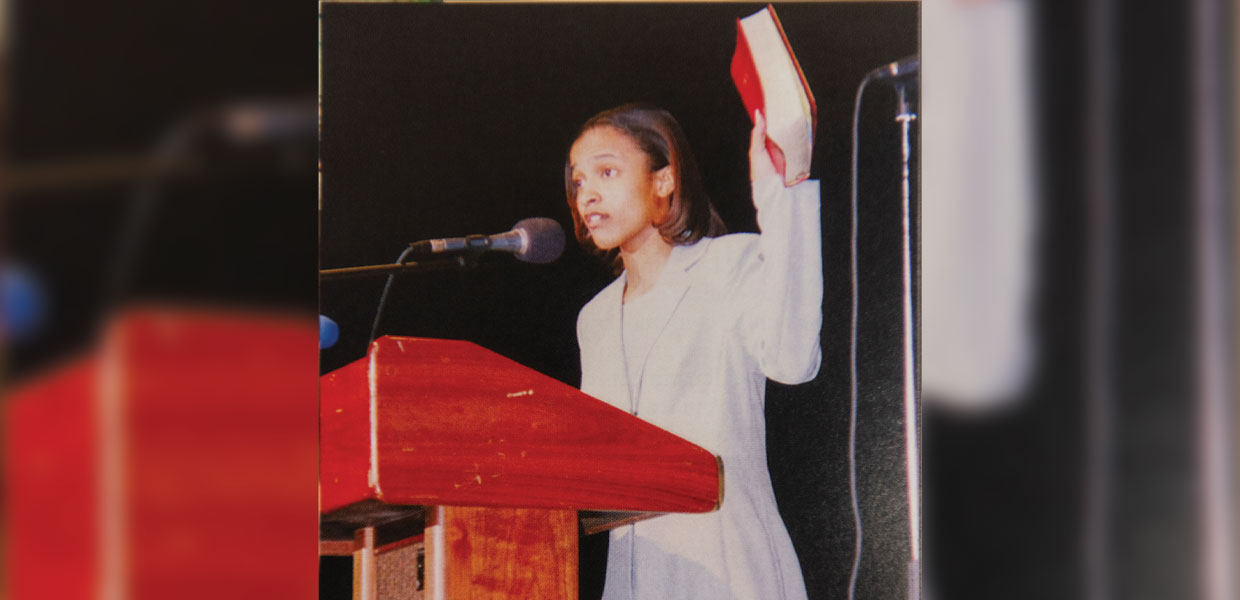 Danieylle Jackson, youth speaker at the Mega Youth Congress in Augusta, Georgia, emphasizes she has all the answers: "They're in the Book." Hosted by the South Atlantic Conference, more than 3,000 teens attended the January 2000 Congress, where more than 200 surrendered their lives to Christ.
Seeing the growth and importance of summer camps to youth across the Union, Clay Farwell, Southern Union youth director at the time, organized the first Camp Rangers' Seminar. This seminar for summer camp directors and rangers was a precursor to the resources and accreditation now provided by Association of Adventist Camp Professionals or AACP.
In 1979, South Central Conference held the first United Youth Congress, led by Joseph McCoy, South Central's youth director. This congress, with the purpose of inspiring youth to draw closer to God, has grown to become a nationwide event for regional conferences across the country.
While Pathfinders has deep roots in the Southern Union, so too does the Adventurer program. Developed by visionary leaders in the Carolina, Florida, and Gulf States conferences, the first Adventurer Club in Florida, then called Trailblazer, was organized at the Florida Hospital Church in 1987. Within only three years, several clubs were formed and gathered for the first Adventurer fun day at Forest Lake Academy in Apopka, Florida.
When the 1988 Pathfinder Camporee was held at Camp Kulaqua, the number of Pathfinders had grown substantially. More than 4,000 Pathfinders attended this camporee where they could participate in 85 hours of activities ranging from drilling and marching, to honors, to outdoor living skills. With all these activities offered, though, the focus of spiritual growth was not lost; 77 Pathfinders made a decision at the camporee to follow Christ.
By 1990, the Southern Union had 491 Pathfinder clubs, the largest of any union in the North American Division (NAD). There were also 6,173 Pathfinders and 1,931 volunteer staff, the largest volunteer base across the NAD. This active involvement and engagement in Pathfinders was only one example of youth being involved in their church and communities though.
Leading up to the 1996 summer Olympics in Atlanta, Georgia, Madison Academy and Georgia-Cumberland Academy both participated in ceremonies that took place in their respective communities. Both schools had two students who were designated runners carrying the Olympic flag through their communities.
Southern Union Pathfinders also participated in the Pathfinder floats at the Tournament of Roses parades from 1991 to 1993. While many Pathfinders were needed to help decorate the float each year, only a select number of Pathfinders were selected to ride it during the parade. Riders from the Southern Union include Shunnita Killings from August, Georgia, in 1991; Jeremy Allen from Winter Park, Florida, in 1992; and Sharon Wickham from Chattanooga, Tennessee, in 1993. These floats were seen by hundreds of millions of people around the world each year, and provided witnessing opportunities to bystanders and fellow participants.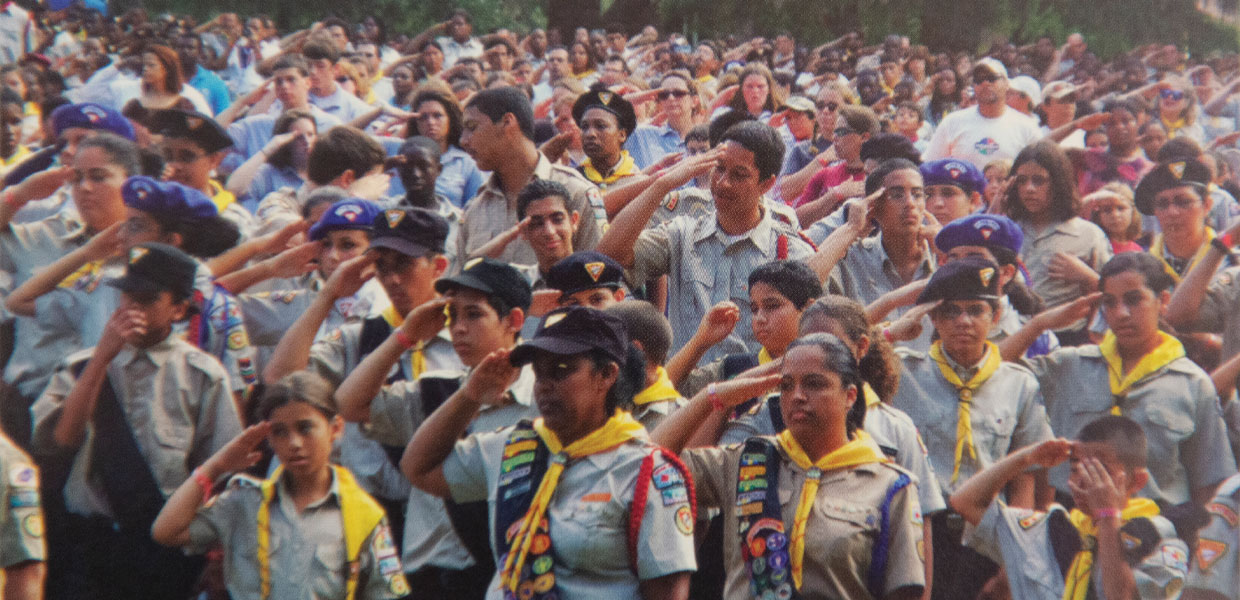 More than 5,600 Pathfinders salute during the Sabbath morning service at the 2007 "Called to Serve" Southern Union Pathfinder Camporee. At the time, this camporee, held at Camp Kulaqua in Apopka, Florida, was the largest Union Pathfinder Camporee held in North America.
But the Tournament of Roses isn't the first joint initiative the Southern Union has been involved with. While many Pathfinders today know about the International Pathfinder Camporees that have taken place in Oshkosh, Wisconsin, since 1999, these camporees got their start at the 1985 Camp Hale Camporee in Leadville, Colorado, and the 1989 Friendship Camporee in central Pennsylvania.
"Friendship is important to these Pathfinders, because they associate friendship with the Church," said Alan Williamson, Southern Union youth director at the time, and a member of the Friendship Camporee planning committee. "When [Pathfinders] come to a camporee, they realize they are part of a larger family, and then they go back to the churches with a broader vision."
Five years later at the Dare to Care Camporee in Denver, Colorado, 1,750 Pathfinders from the Southern Union attended, the largest delegation from any Union in North America. But, for Jason Stump from Morganton, North Carolina, it wasn't about the numbers."I enjoyed the push carts because you had to learn about teamwork," said Stump.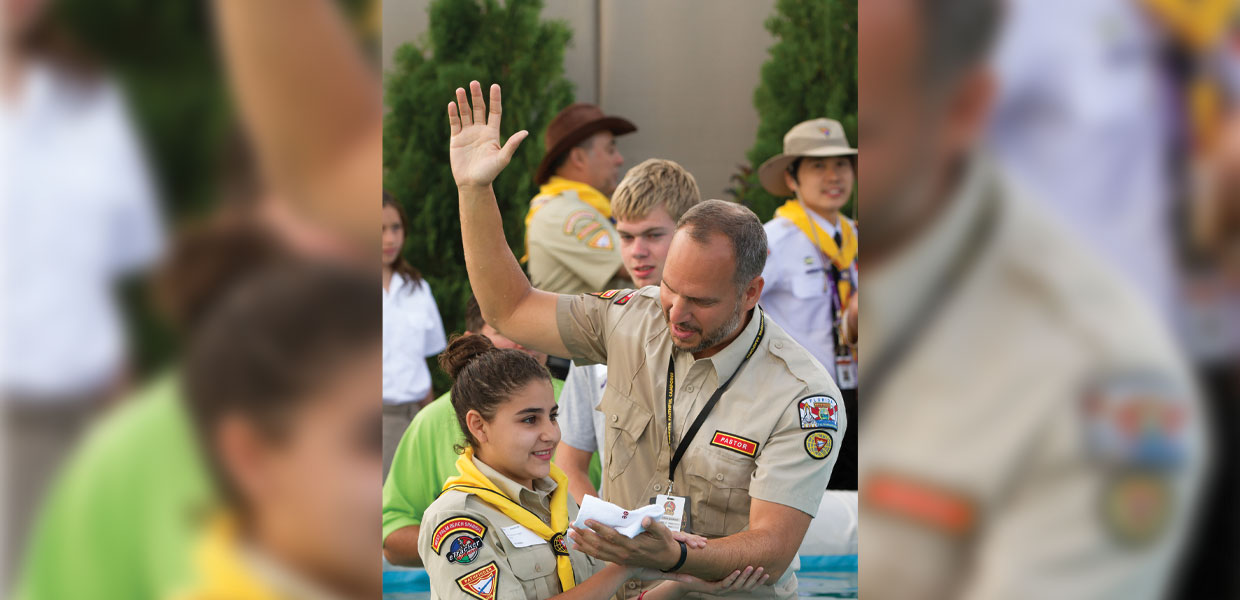 Pedro Perez, Florida Conference Pathfinder director, baptizes a Pathfinder from the West Palm Beach Pathfinder Club at the 2014 Forever Faithful Pathfinder Camporee in Oshkosh, Wisconsin. The International Pathfinder Camporees are a highlight for Pathfinders with hundreds of Pathfinders choosing specifically to be baptized at these camporees, and many more Pathfinders making decisions for baptism.
Alongside Pathfinders were additional programs designed to help youth grow spiritually. By 2000, the Union Youth Department was organizing two conferences a year specifically for academy students. Every January academy students could attend a prayer conference with the intention of those students going back to their schools to be spiritual leaders on their campus. Alternating every fall was a leadership or Bible conference, again with a focus of not only deepening the student's spiritual life, but also to help develop spiritual leaders on the academy campuses.
This is evidenced by baptisms taking place at almost every one of these conferences since they started. For Lacie Apple, as a student from Mount Pisgah Academy in Candler, North Carolina, the September 2000 Bible Conference was the catalyst where she gave her heart to Christ, and was one of three students that were baptized at the conference. "The evening meetings really touched me," she said, "and I realized that God loves me no matter what and I can always trust Him. He is always there for me."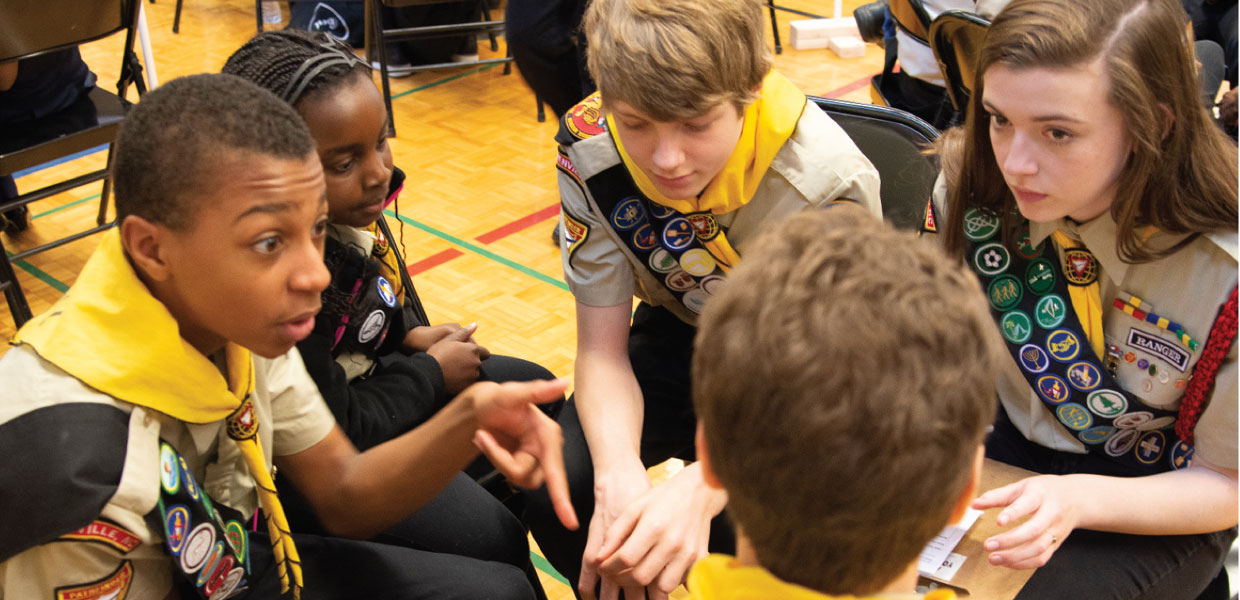 The Greenville North Stars from Greenville, North Carolina, discuss the answer to one of 90 questions during the 2018 Southern Union Pathfinder Bible Experience (PBE) playoffs. By memorizing books of the Bible, the goal of PBE is to deepen Pathfinders' understanding of the Bible and grow their relationship with Christ.
But the training of youth has not been the only area of training. From 2001 to 2006, 25 training events were held in several areas of children and youth ministries, including for Vacation Bible School (VBS). During this time frame, 1,100 VBS programs were conducted that resulted in more than 45,000 children being taught biblical lessons and witnessing Christ's love in action.
The commitment to developing spiritually strong youth is also evident in Bible Bowl and Pathfinder Bible Experience (PBE). Bible Bowl began in the early 1980s in the regional conferences, and many consider this ministry to be the precursor to the Pathfinder Bible Experience. While Bible Bowl is open to participants 10 and older, PBE is for Pathfinders only. However, both programs encourage in-depth Bible study and memorization with the purpose of deepening Pathfinders' understanding of the Bible while growing their relationship with Christ. With the first Southern Union-sponsored PBE taking place in 2013, the program has grown to include more than 1,000 Pathfinders across the Union.
The growth of youth ministries can be most demonstrated by looking at the growth of Pathfinders, one of the longest running and most widely known programs in the Seventh-day Adventist Church. From its humble beginnings of 1,408 in 1954, more than 6,000 Pathfinders attended the 2016 Southern Union Camporee, led by Ken Rogers, current Southern Union youth director, and more than 10,000 attended the 2019 International Camporee in Oshkosh, Wisconsin. Through this growth, the emphasis on deepening a youth's relationship with Christ remains the focal point. Baptisms are a regular occurrence at many youth events, with some youth planning specifically to be baptized at summer camp or Pathfinder camporees. In 2016, nearly 40 percent of baptisms across the Southern Union were youth related!
The partnerships and mentorships evident at the beginning of youth work in the Southern Union are still integral to the success of youth ministries today.
Nathan Zinner is the communication director at the Georgia-Cumberland Conference.

Southern Union | December 2021