BY PHIL WILHELM, FLETCHER ACADEMY PRINCIPAL, AND COURTNEY HEROD, ASSOCIATE DIRECTOR OF COMMUNICATION FOR THE CAROLINA CONFERENCE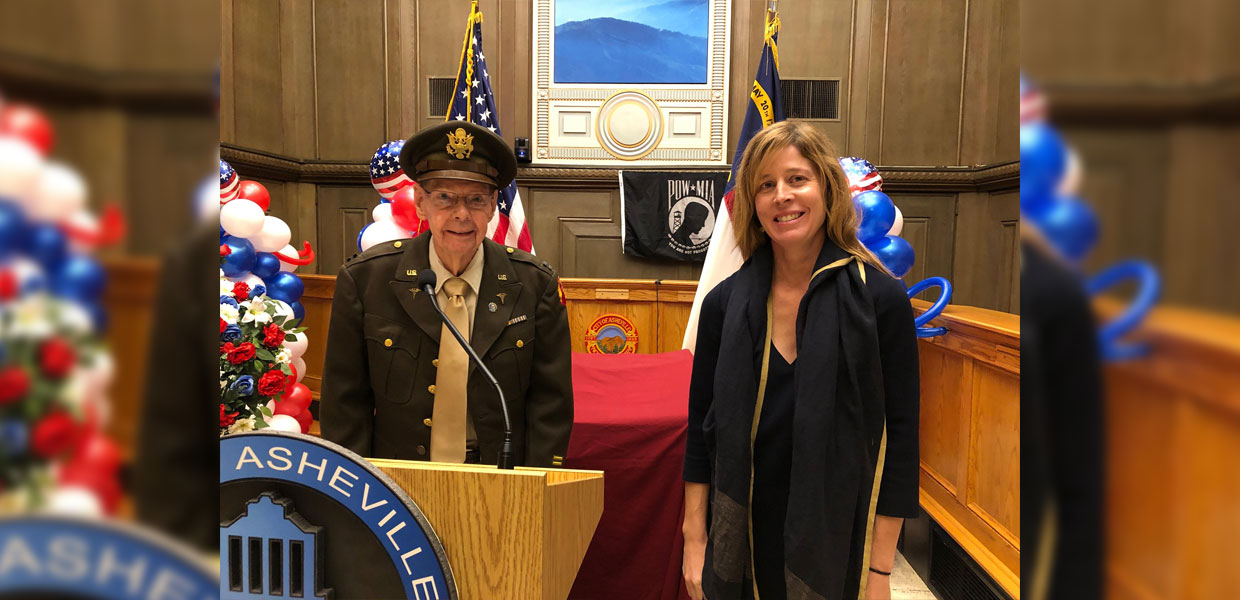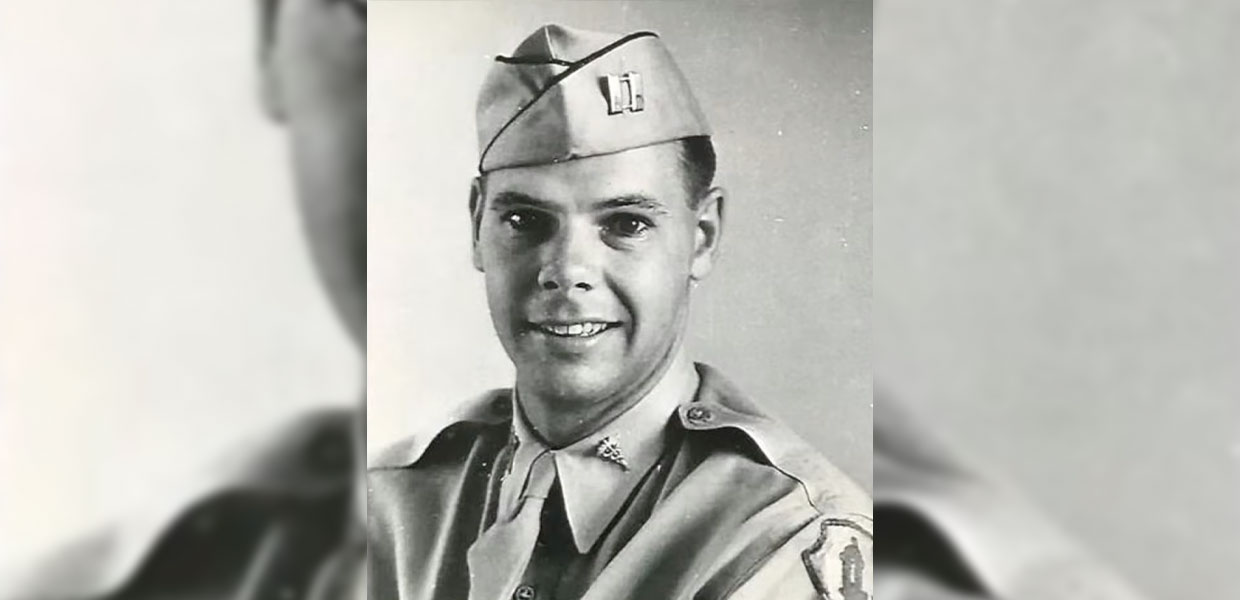 PJ Moore, M.D., and Esther E. Manheimer,
Asheville mayor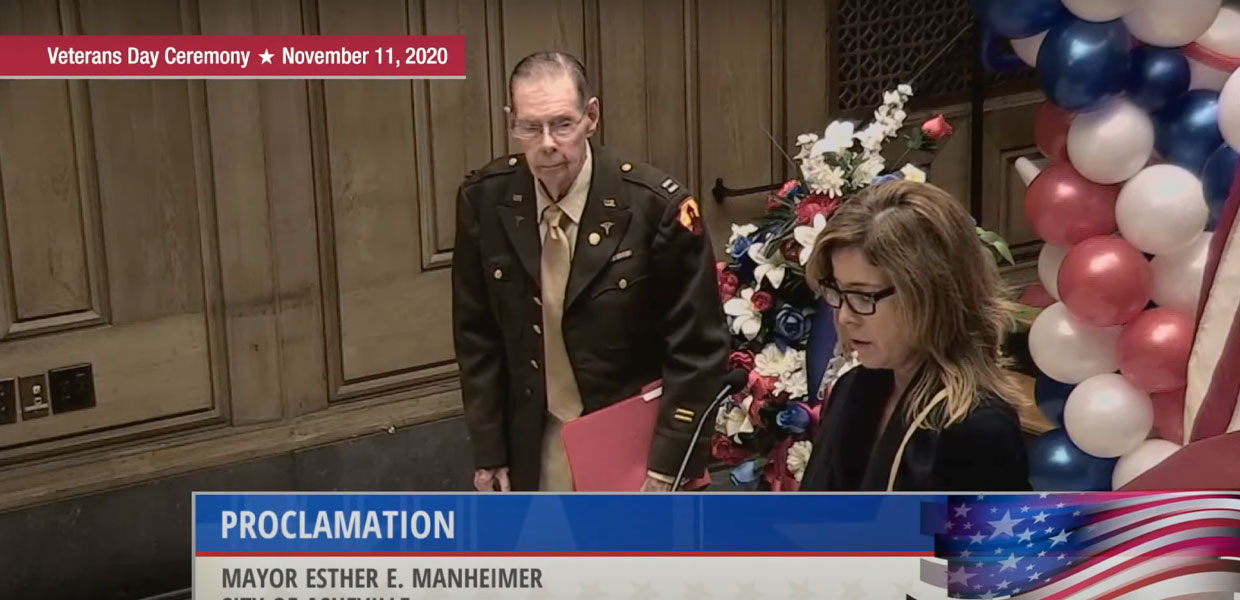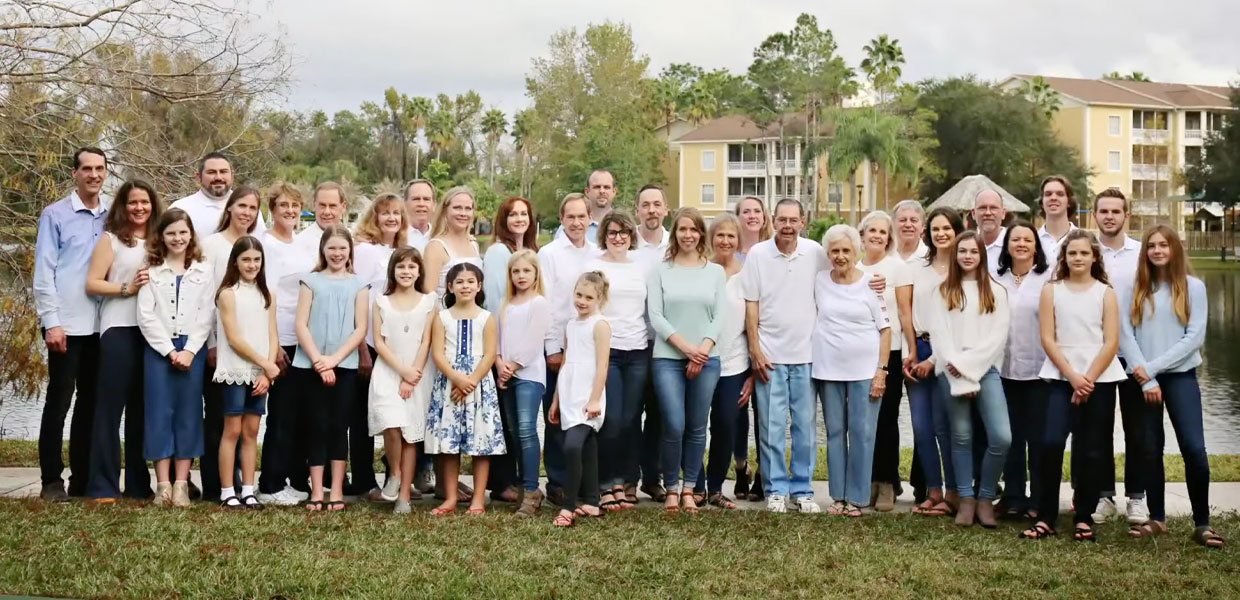 On November 11, 2020, Veterans Day, the city of Asheville, N.C., honored the men and women who fought and died for the citizens of this nation with a celebration from City Hall. City officials and members of the Buncombe County Veterans Council streamed live.
Allan Perkal, the master of ceremonies and former U.S. Air Force, introduced the keynote speaker, P.J. Moore, M.D., a 100-year-old World War II Army surgeon, and a member of the Fletcher, N.C., Church. Moore is retired from Mountain Sanitarium and Hospital (later named Fletcher Hospital, then Advent Health: Hendersonville) on the Campus of Fletcher Academy. Asheville Mayor Esther E. Manheimer honored Moore with a proclamation naming November 11, 2020 as "P.J. Moore, M.D., Day."
Moore was drafted in 1942, his junior year of medical school at Loma Linda University, and tasked to the medical teams caring for soldiers on the front lines, many from the Battle of the Bulge. Delivering more than 1,000 babies and performing over 30,000 surgeries and innumerable amputations, when he retired in 2016 at the age of 96, he was the oldest practicing physician in North Carolina.
In his address, Moore prayed and then took the audience on a journey back 78 years, to his memories of entering the war. His entire junior class of 80 students from Loma Linda University School of Medicine was drafted and had to keep up with their education while still participating in military training exercises.
After finishing his senior year, which was cut short, Moore served a straight surgical internship on inactive duty. He felt that this was his calling by God to become a surgeon.
After his internship ended, Moore worked at Lawson General Hospital outside of Chicago, Ill., which was one of three amputee centers in the United States. The wounded he cared for in his ward were from the front lines in the Battle of the Bulge, where many others had lost their lives. These patients required re-amputations from field amputations or from infected injuries which were worsening. Part of his own method of recovery for his patients was to teach them to play golf.
Returning to North Carolina and separating from the service, Moore transitioned into civilian medical service for the next 70 years of his life. Moore also acted as a hospital director, medical director, chief of staff, and in many other positions. During this time he and his wife, Dee Moore, raised five children, all of whom attended Fletcher Academy. Four of his children are currently serving in the medical field in various capacities, and one is a university mathematics professor who taught at Southern Adventist University. After 57 years of marriage, in 2005, Dee passed away from complications from Alzheimer's disease. In 2008, Moore remarried. He and his wife, Elaine, reside in the Hendersonville, N.C. area.
Carolina | February 2021