BY lisa esser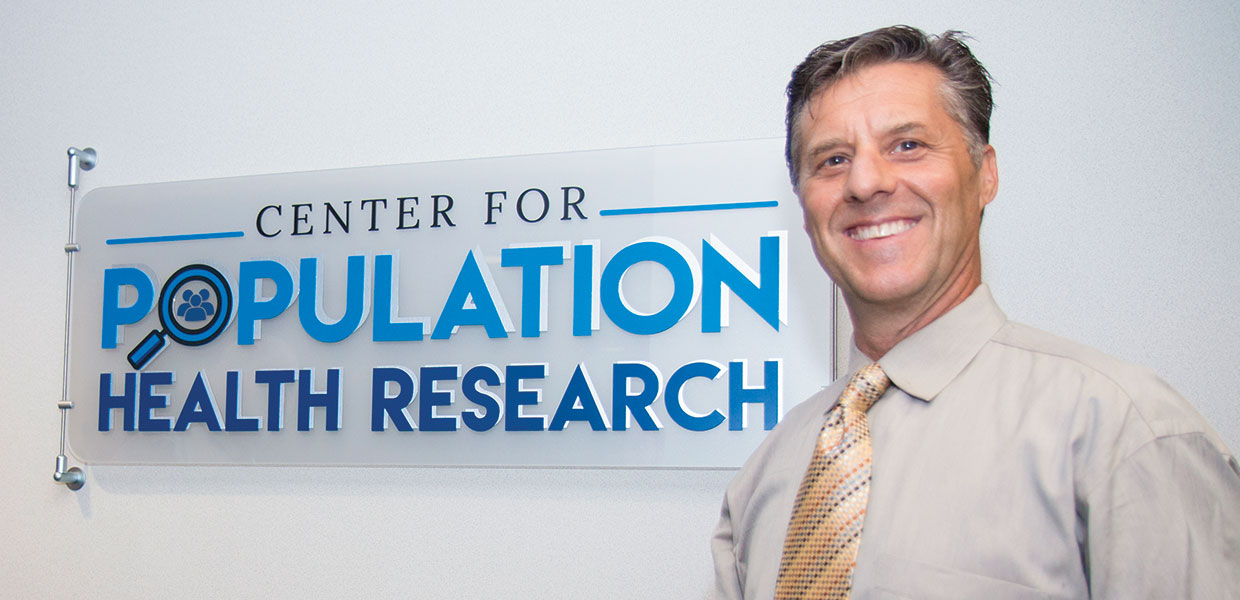 Russ Butler, Ph.D., stands in front of the newly opened Center for Population Health Research at Adventist University of Health Sciences in Orlando, Fla.
Jessica Garrity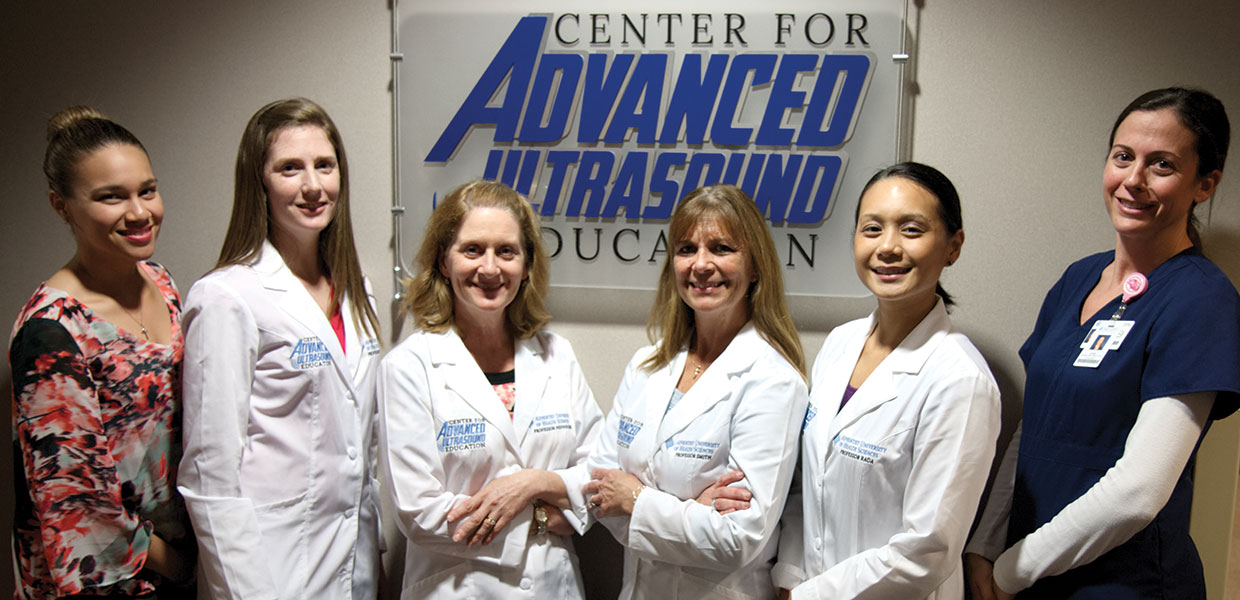 Charlotte Henningsen (third from left), professor, and her team at the ribbon-cutting ceremony for the Center for Advanced Ultrasound Education
Lonnie Mixon
Exceptional healthcare starts with exceptional healthcare education. Adventist University of Health Sciences (ADU), Orlando, Fla., has spent 25 years maturing from an associate degree-granting institution into a full-fledged university, offering several bachelor's and master's, and one doctorate degree. ADU is always committed to serving the community and beyond by providing superior education to future healthcare professionals. Through constant improvement and innovation, ADU strives to develop skilled professionals who live the healing values of Christ.
Two centers of excellence have opened at ADU during the past year, the Center for Population Health Research (CPHR) and the Center for Advanced Ultrasound Education (CAUE). The CPHR will engage students and faculty in applying geographic information systems (GIS) technologies to medical geography research, incorporating current projects already in progress at ADU. Directed by Russ Butler, Ph.D., ADU professor of biology, students will gain hands-on research experience while developing skills in spatial thinking, quantitative analysis, and problem solving.
David Greenlaw, D.Min., president of ADU, is excited to expand the University's role in population-health research. "It is our goal to give our students and faculty the very best resources to nurture personal and professional growth, and with this new research center they will be given the opportunity to produce results that will offer a positive impact on the community they serve."
The CAUE, under the guidance of Charlotte Henningsen, ADU professor, expands ongoing initiatives to provide opportunities for education beyond what is captured in current sonography programs at ADU. The Center offers continuing education training for the ultrasound community in central Florida, including emergency physician training, and training for the radiology physician residency program at Florida Hospital.
Henningsen and her faculty members are often invited as speakers to sonography conventions around the country. In addition, the Center consolidates efforts of department faculty and their contributions to the ultrasound education community.
Another exciting development at ADU recently took place when SACSCOC (The Southern Association of Colleges and Schools Commission on Colleges), its regional accreditation agency, visited the campus to review its application for a level 5 change. The campus received a positive report with no recommendations, as well as approval for the accreditation, pending a final review and formal approval at their June 2017 board meeting. Previously, ADU held level 3 accreditation, which allowed the University to offer master's degrees. With the board's final approval for level 5, ADU will be able to offer up to three doctorate level degrees. This major achievement for the campus is a testament to the quality education that ADU students receive, and to the dedication of its faculty and staff.
"This decision confirms that we are fully qualified to grow our graduate programs through the doctoral level. I'm excited for the opportunities this next step will offer to our students," says Edwin Hernandez, Ph.D., ADU's provost.
ADU is celebrating its 25th anniversary of teaching healthcare as a ministry. The University's continued advancements show no signs of slowing down as faculty and staff look toward the future, expanding and developing campus facilities and degree programs to provide the greatest career prospects for its students. More than ever before, ADU embraces the Adventist philosophy of whole person healthcare, which measurably improves the vitality of the communities where ADU graduates live the healing values of Christ. Students equipped with these skills are able to fulfill the mission of Florida Hospital and Adventist Health System to extend the healing ministry of Christ.
Adventist University of Health Sciences | January 2017