Khandi Cooper, M.Ed.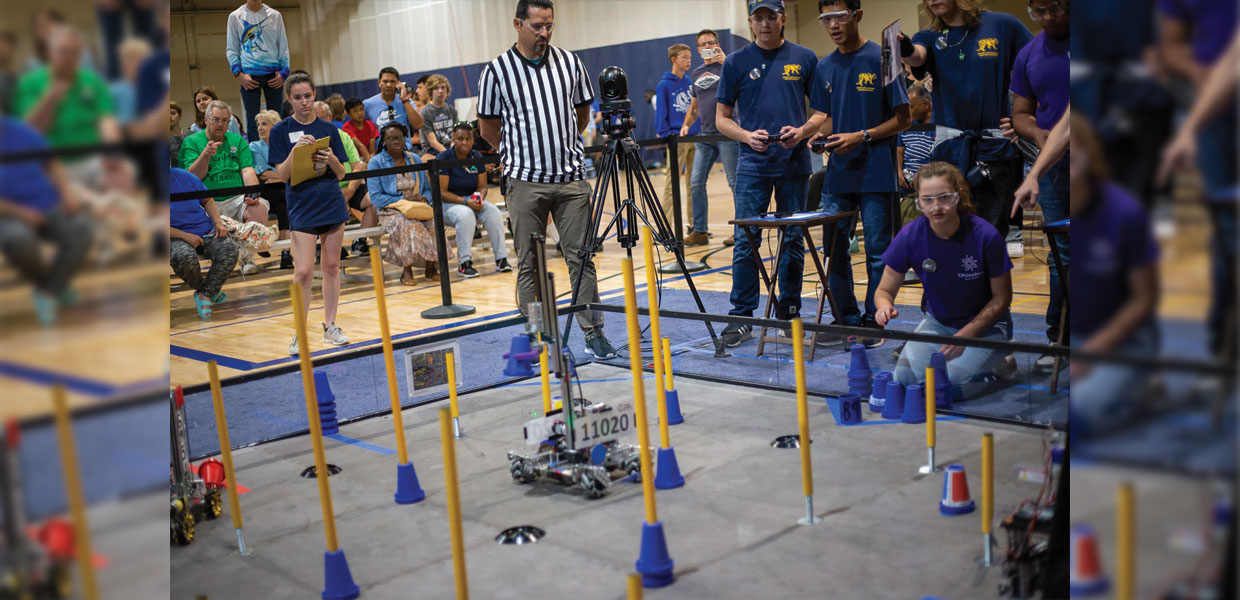 Mel Wade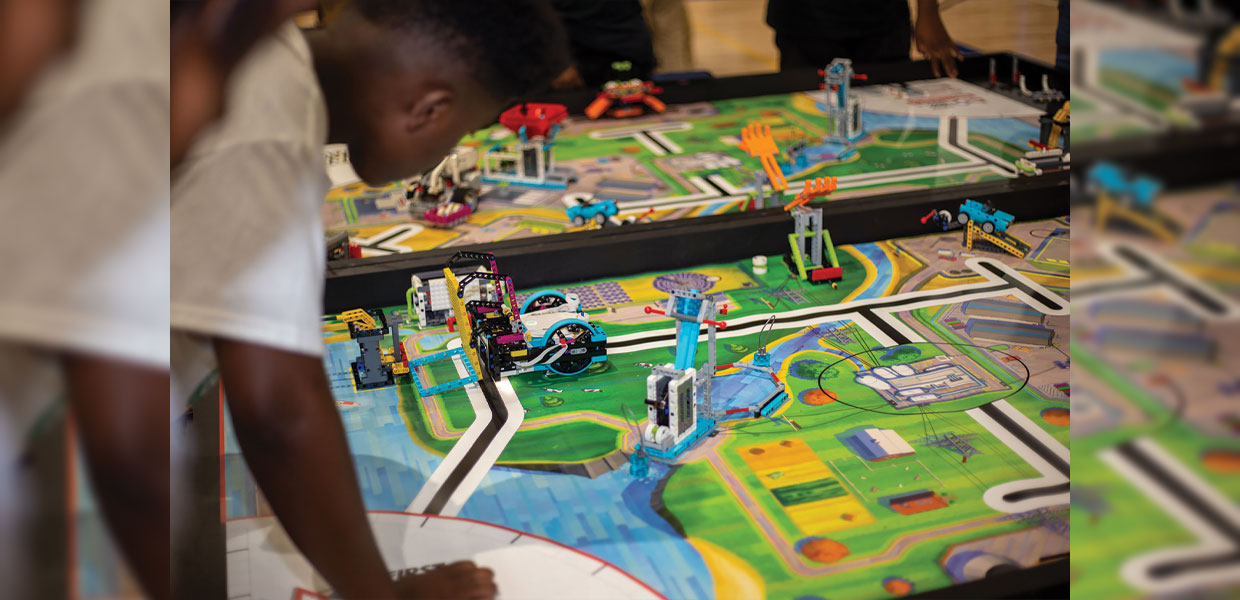 Mel Wade
Mel Wade
Sensors, motors, control hubs, autonomous mode — yes, you guessed it — the Adventist Robotics National Championship buzzed with energy as FIRST LEGO League (FLL) Challenge (grades 4-8) and FIRST Tech Challenge (FTC) (grades 7-12) teams arrived at Forest Lake Academy (FLA).
A total of 39 teams from across the United States gathered at FLA on Sunday, May 7, 2023, to compete in the tournament. The day began with teams checking in at the registration table, receiving their individualized team buttons, and collecting the day's schedule. The atmosphere was filled with overwhelming energy. The 2022-2023 FIRST Robotics season, presented by Qualcomm, was themed "ENERGIZE," with FLL teams tasked with "reimagining the future of sustainable energy." This year, Adventist Robotics had a record number of 15 FTC teams compete in the National Championship.
"Participating in the Adventist Robotics FTC tournament this year was both exciting and filled with worry. It was invigorating to see our robot complete its objectives and score points, and successfully complete our autonomous code. It was also filled with stress because we were worried that our robot wouldn't perform as we expected it to, or that one of the drivers would make a critical error that could cost us the match," said CPUsaders team member Nathan Neidigh, FTC Dean's List finalist from South Lancaster Academy. He added, "These tournaments are never boring, and it inspires my team and I to work harder next year so that our robot could do even better. This year I was fortunate enough to receive the Dean's List Award. This award is significant to me because it signifies to me how much I have grown as a leader and as a person."
The opening ceremony set the tone with a performance by the Winter Park Spanish Pathfinder Club drum corps. Greetings were given from Glen Baker, FLA principal; Frank Runnels, Florida Conference vice president of education; and Eder Marski, Southern Union IT director. Ken Wetmore, a pastor, and Randy Magray, the Digital Ministries director, both from the Whole Life Church, served as the master of ceremonies for the FLL Tournament. Richard Sardinas, from United Data Technologies in Miami, Fla., served as the FTC master of ceremony.
The FTC Tournament featured both rookie and veteran teams determined to put their skills to the test. The teams were tasked with a challenging game to score more points than their opponents. Representing the Southern Union in the FTC Tournament were Forest Lake Academy in Apopka, Fla.; Walker Memorial Academy in Avon Park, Fla.; Greater Fayetteville Adventist Academy in Fayetteville, N.C.; Tri-City Academy in High Point, N.C., and the Senjus of Raleigh, Rolesville, N.C. The GatorBytes from Newbury, Calif., were the winners of the Inspire Award, which "celebrates the pinnacle of FIRST Tech Challenge achievement. The team has performed well in all categories and is chosen as a role model for all teams."
During the closing ceremony, teams eagerly awaited the announcement of awards. Each team received a plaque, while team members and their coaches/mentors received participation medallions for the robotics season. The Tranquility STEM Stars received the prestigious FLL Champions Award for out- standing achievement in the tournament.
Adventist Robotics is a ministry of the Florida Conference Office of Education for Adventist schools and communities across North America. The organization extends its gratitude to the volunteers who made this event memorable for the teams, coaches, and mentors. For more information about Adventist Robotics, visit adventistrobotics.net.
Southern Union | July 2023