BY kim taylor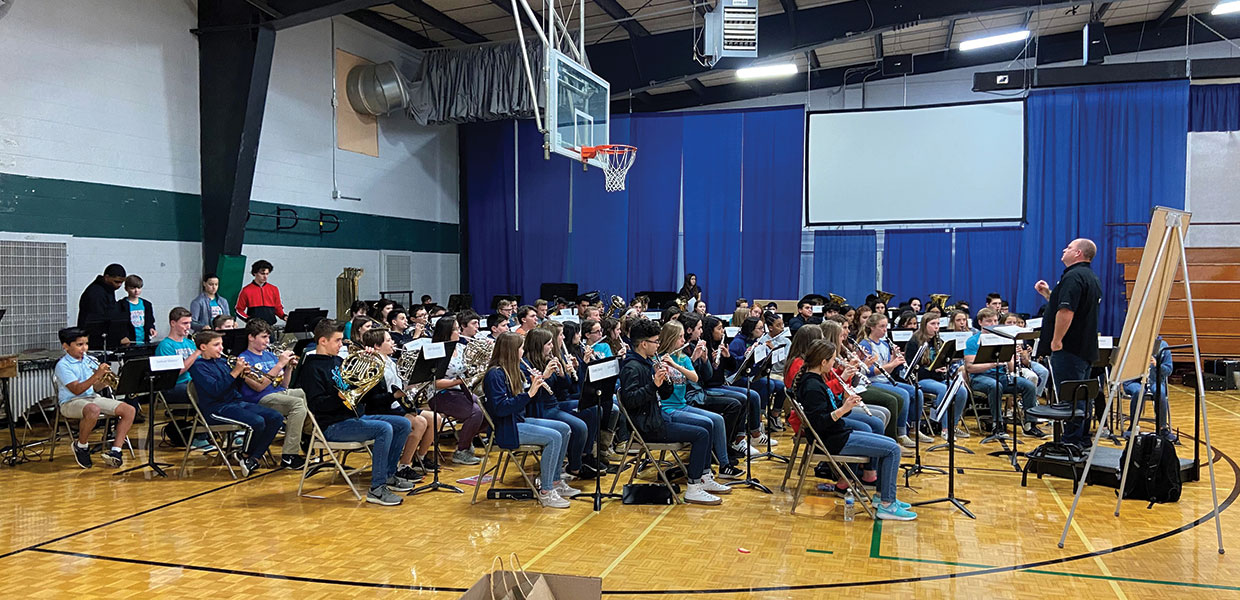 The band practice was led by Don Huff from Spring Valley Academy.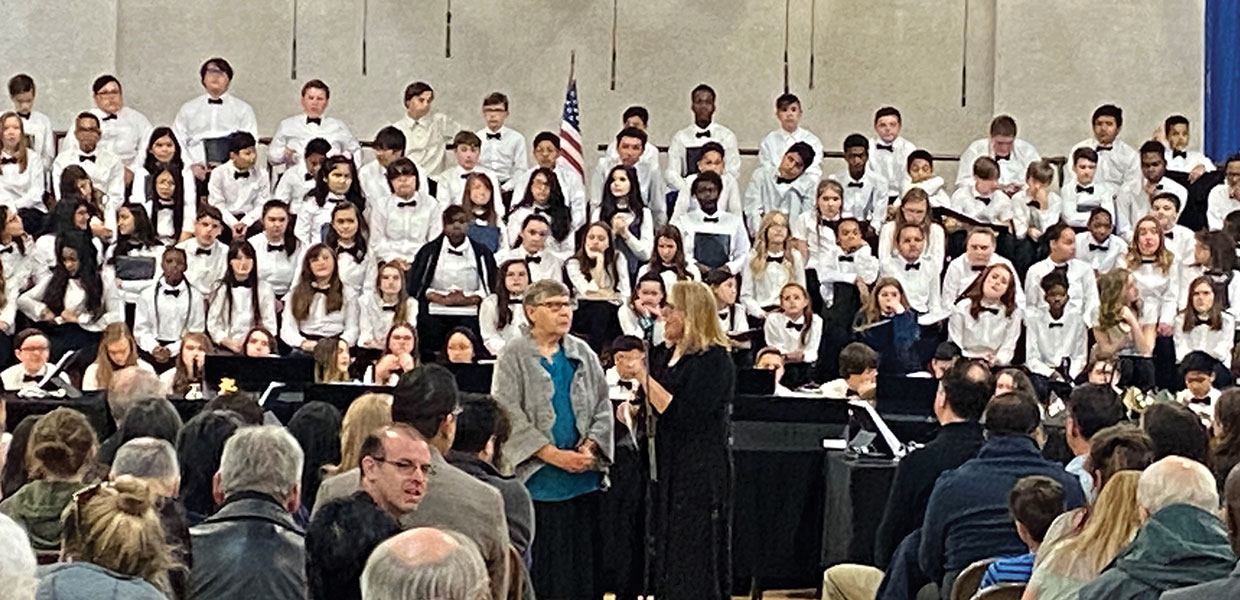 Pegi Flynt, Ed.D., Conference education superintendent, interviews Phyllis Labrenz who attended the first Highland Academy Music Fest in 1961.
Highland Academy welcomed more than 350 visitors from 15 different schools, including homeschoolers, and four different conferences, for the 59th Annual Kentucky- Tennessee Conference Music Fest on March 5, 2020. They had 100 more participants than were present last year. Clinicians from Tennessee, Ohio, Virginia, Florida, and California came to spend three days training and performing with the students.
Students in grades 6-12 were invited to participate in bells/chimes, band, strings, or choir. This year's theme was taken from Ephesians 4:4-6 and 1 Thessalonians 2:12. Steve Haley, president of the Kentucky-Tennessee Conference, opened the Friday night concert by reminding the group of the importance of all individuals standing together in unity of service to one God.
Chloe Young, student from Madison Campus Elementary, shared, "This week has been hard, but fun. My lips hurt from playing so long." Another student from Greenville shared that the best part of the weekend was performing: "It made all the hard work worth it." The students performed many beautiful songs, ending with "Build My Life." Madison's music teacher, Michael Pichette, arranged the piece which included all five ensembles.
Among those present for the concerts on Friday and Saturday nights was Phyllis Labrenz. Pegi Flynt, Ed.D., Conference education superintendent, had the opportunity to meet with Labrenz, and asked her to share the special connection she has with the Music Fest. Saturday night Labrenz shared that she had the privilege of attending the first ever Kentucky- Tennessee Conference Music Fest in 1961. She stayed in a Camp Meeting cabin, while boys who attended stayed in tents. Labrenz also shared that the four years she attended the Music Fest, from 1961 until she graduated from Highland Academy in 1964, were "life changing" for her, and played a part in her giving her life entirely over to Jesus, which remains her passion today.
The academy choir sounded especially pristine and angelic. This may be in part because of the new sound shells that the Conference and Madison Academy purchased this year. In the past, the shells were borrowed and transported from Southern Adventist University. The great sound may have also been thanks to the sound crew. Special thanks to Steve Keplinger and Barrett Mikkelsen for all their hard work.
On Sabbath morning, Highland Church hosted all the visitors and had a special joint Sabbath School. During the Sabbath School, individual schools shared musical numbers. Greg Taylor, Conference youth director and pastor, challenged the congregation to "Walk in a Manner Worthy of the Calling" by taking a look at the example of Peter. Afterwards, everyone was fed by the cafeteria staff at Highland Academy.
The music committee and Elaine Will are thanked for all the work they put into this event. Will has headed the committee for more than 25 years. Her hard work always pays off in an enjoyable and Christ-filled experience for all.
Kentucky-Tennessee | May 2020