BY Tamara Wolcott Watson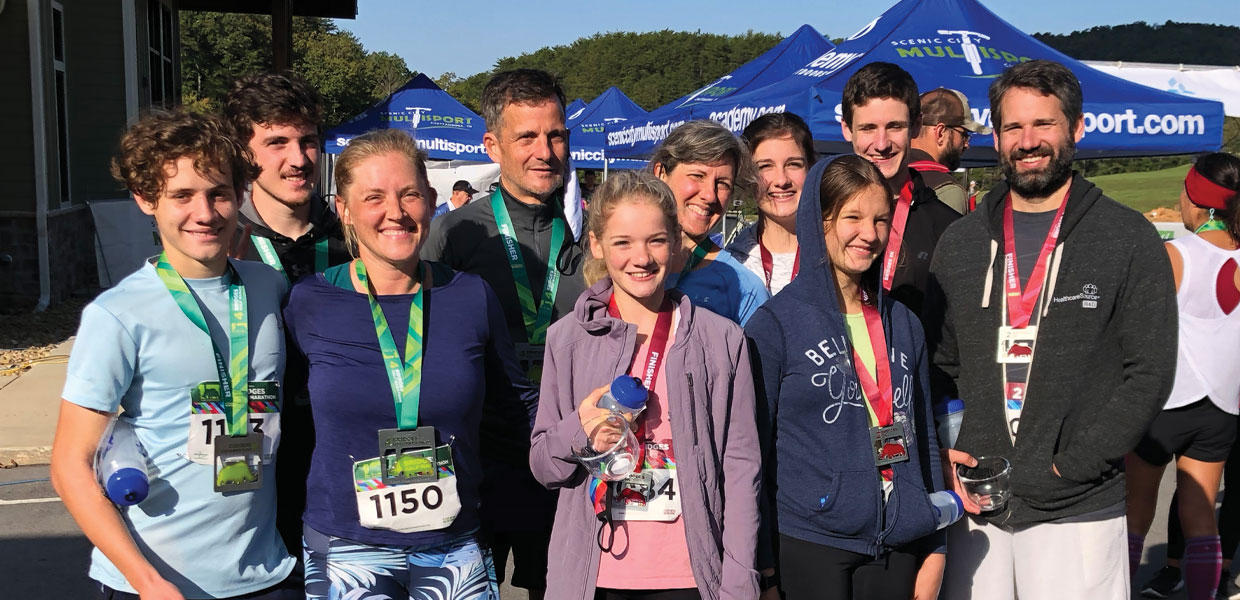 The Zeismer families from Las Vegas, Nev., and Cleveland, Tenn., run the 7 Bridges Marathon each year. They have participated in runs which include the 5k to the full half marathon. It has become a family tradition.
The 7 Bridges Marathon, organized by Scenic City Multisport and sponsored by Georgia-Cumberland Conference, held their 10th anniversary race at Cohutta Springs Conference Center in Crandall, Ga. Traditionally a downtown Chattanooga, Tenn., race spanning seven bridges, the pandemic provided the opportunity for a location change.
"Running my first full marathon at Cohutta Springs was not only physically, but mentally, emotionally, and spiritually challenging and rewarding!" said first-time marathoner Tony Sandoval, pastor for the Chattanooga Impact Company and the Ooltewah Hispanic Church in Tenn. "I've grown closer to God in preparation and accomplishing the full marathon." Sandoval said he has wanted to run a marathon since he was a child, and enjoyed seeing fellow employees from the conference as well as church members.
"We tried to anticipate every 'rough edge' of moving the race to Cohutta," said Jay Nevans, partner at Scenic City Multisport. He shared, "Everything went so well that we're making some of our adjustments best practices in the future for other races: drive-through packet pick up, on-site lodging and pre-race food (where available), awards given at instant results kiosk (COVID precaution to reduce crowding). Awards were chosen to be easier to ship, and the 'finishing' masks were a big hit which were branded with the race logo and the SDA logo."
Members of the Zeismer family from Las Vegas, Nevada, and Cleveland, Tenn., have run several races, from the 5k to the half marathon. Shari Zeismer, from Las Vegas, said she runs this race because it is tradition and two of her children attend Southern Adventist University. "I think why we keep doing this race is because it is home. It is also such a feel-good race. You see a lot of the same people. It is a legit big race and still feels local."
Chad Nash, a member of the Collegedale Church in Tenn., ran the first few years because it was conveniently located in his hometown. He said, "Now it has become a challenge to keep the streak alive." He likes the Cohutta Springs course as a replacement, and was happy the race happened. "I do prefer that actual 7 Bridges course for the uniqueness; running through the city and across all the bridges is a lot of fun."
Christy Zeismer, a member of the Collegedale Church who lives in Cleveland, Tenn., said, "It's been awesome. Our son runs cross country and decided to do the half. I said if he is doing it, I will do it. He smoked me by 30 minutes, but I beat last years' time."
In total there were 202 +4 relay teams participants who ran the marathon, 350 +4 relay teams runners in the half marathon, 122 5K runners, and nine in the fun run. The marathon has been sponsored by the Georgia-Cumberland Conference of
Seventh-day Adventists since 2015.
Georgia-Cumberland | January 2021