AdventHealth Corporate Communications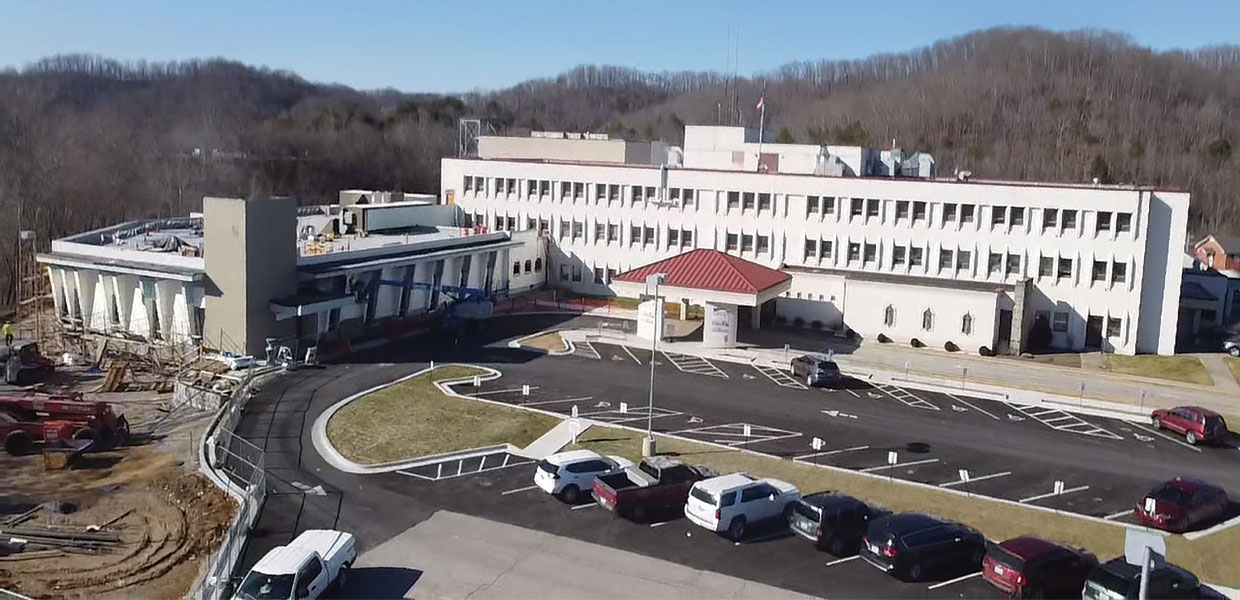 AdventHealth's presence in Manchester, Ky., reaches a significant milestone as care and services continue to expand in the community.
2021 is a milestone year for AdventHealth Manchester. In May, the facility opened a new $16.3 million surgical center as it gears up to celebrate 50 years at its current hospital site.
In total, AdventHealth's capital investments in new construction and enhancements for AdventHealth Manchester have surpassed $26 million in the last four years, and plans for additional expansions are in the works.
"I'm so excited for 2021," said Chris Self, AdventHealth Manchester president/CEO. "We have the tools in place to continue to grow for our community — to expand our services. We're investing a lot of resources into this market and we're so proud that, 50 years later, we're still continuing to extend the healing ministry of Christ."
AdventHealth Manchester is located in the scenic eastern Kentucky region, rich with Appalachian culture and history. Over the years, the hospital has partnered with local organizations, officials, and community leaders to improve the health and well-being of residents in surrounding rural areas. To have reached 50 years in this effort is a testament to its commitment to the community.
According to a January 2020 Pew Charitable Trusts report, at least 163 rural hospitals have closed since 2005, more than 60% of them since 2012. Residents in rural America often suffer from poorer health due to lack of access resulting from hospital and clinic closures.
From its earliest days, AdventHealth Manchester has worked to improve access to care for the Appalachian people. Opened in the late 1920s as Oneida Mountain Hospital, the early institution closed when it ran out of funding in 1952. That's when the community called on the Seventh-day Adventist Church to operate Oneida Mountain Hospital through its Kentucky-Tennessee Conference. Herb Davis, who was appointed administrator in 1963, oversaw a major relocation and construction project which led to the current hospital's founding in 1971.
AdventHealth Manchester is one of AdventHealth's 50 hospital campuses and one of 10 AdventHealth Global Missions footprints — the only one located in the U.S. The spirit of mission and service extends beyond hospital walls to care for people in their homes and places of work and play.
"Over the years, AdventHealth Manchester has become more involved in the community, finding ways to help people, and to build and develop things with and for the community. It really connects the hospital to people's needs," said former CEO Erika Skula, who now serves as president/CEO for AdventHealth Carrollwood in Tampa, Fla.
AdventHealth Manchester directly connects to people's needs through a variety of community projects, such as the Healthy Homes initiative, where hospital teams conduct a wholistic assessment — body, mind, and spirit — of local residents and find solutions to make their homes healthier places to live through construction, repairs, and other improvements.
Other ongoing projects include the installation of water kiosks to improve access to clean water, stocking and supporting a food pantry and homeless shelter, and providing recovery resources for substance misuse and addiction.
Back on the campus of AdventHealth Manchester is the AdventHealth Primary Care Clinic, a Rural Health Clinic (RHC) that is filling the high demand for specialty services in the region. One of three locations now, the strategy is to grow new RHC locations in outlying rural areas in addition to establishing a home visit program for patients with limited transportation.
Whatever the challenge, the Advent- Health Manchester team sets forth on finding a solution with and for their community — a legacy of extending Christ's healing ministry that is 50+ years in the making.
AdventHealth | August 2021