BY Gary G. Walker, MS, Health Ministries Leader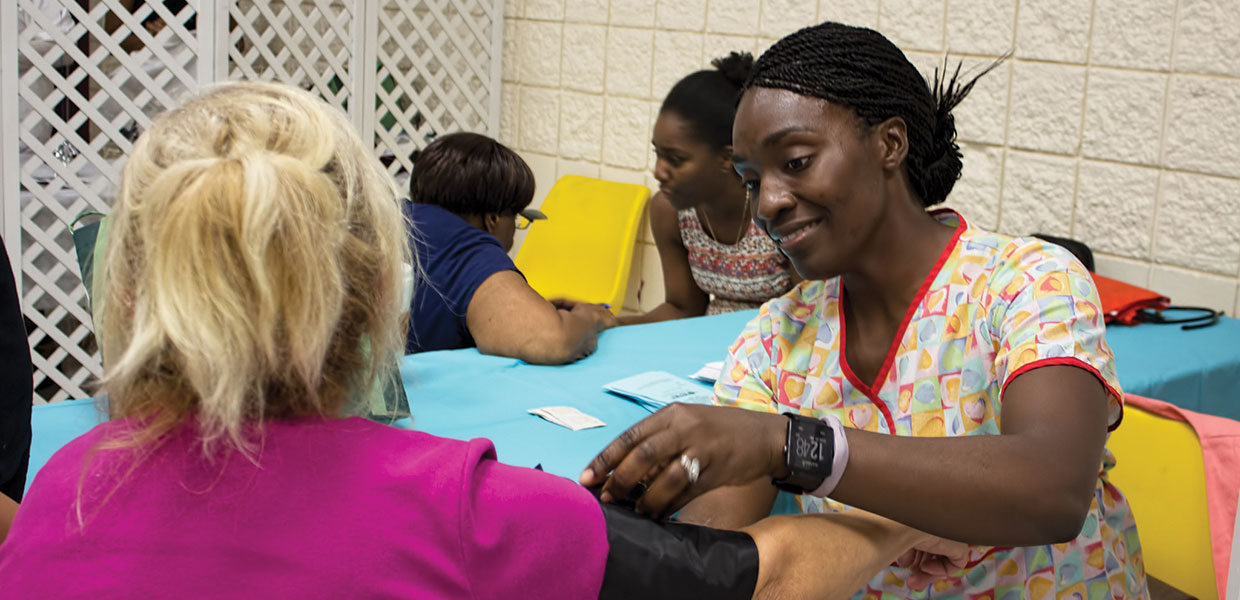 Blood pressure and blood screenings were given to many, and the screenings represented the theme, "Live Together, Screen Together."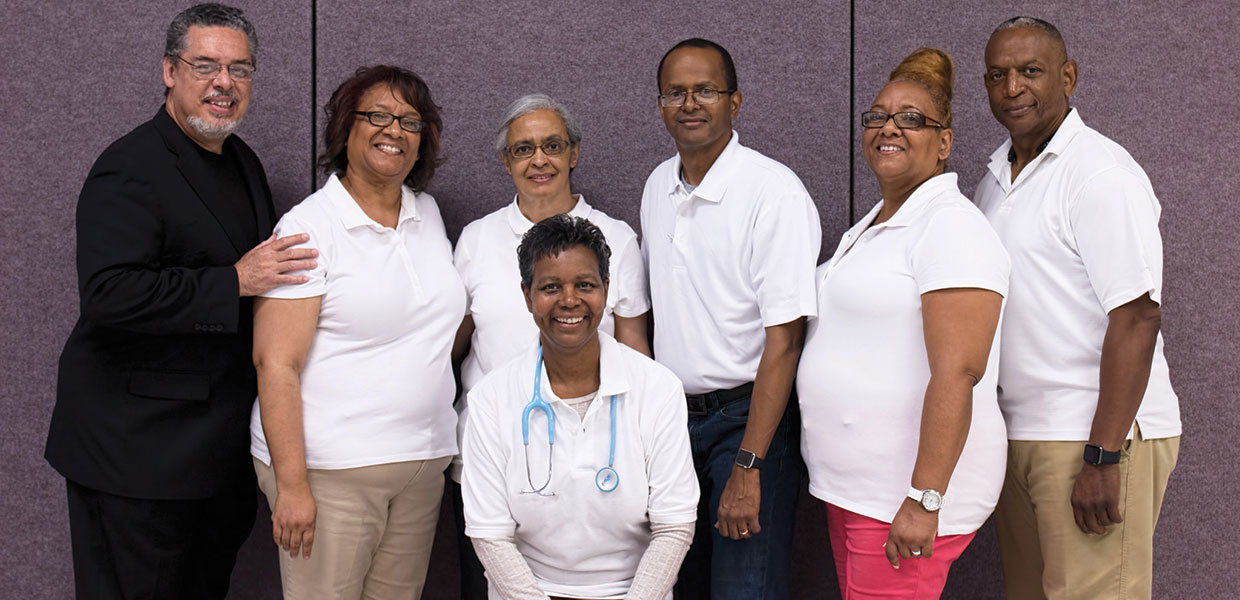 Richard Berry (left), M.D., North Carolina eastern district health ministries leader; Jean Adeyeye; Birtie Harris; Ann Mason, Tony Daniels, M.D.; Joan Daniels; and Gary G. Walker, Abney Chapel health ministries leader
The Health Ministries Department at Abney Chapel Church in Fayetteville, N.C., in collaboration with the North Carolina Cancer Prevention and Control Branch, hosted the "Live Together, Screen Together" Community Health Event at the College Lakes Recreation Center in Fayetteville on June 25, 2017. During a four-hour period, approximately 250 individuals were offered basic health and wellness check-ups and consultations, cancer prevention and management classes, and diabetes screenings.
Members from Abney Chapel turned out in great numbers to support this event. Various ministries of Abney Chapel set up booths to demonstrate the types of ministries available, and to provide practical, ministerial support to the community. Everyone worked together to make this event an immense success.
Private space was provided for the prayer ministries team for the sole purpose of praying with anyone desiring prayer. Abney's pantry ministry was on hand to distribute food commodities and clothing to families in need. The safety ministry provided education to community members about household safety and child public safety. Pathfinders were in full uniform to direct attendees to various stations, and to introduce the featured speakers. The BAT (Blood Alcohol Test) mobile from the North Carolina Division of Public Health was parked nearby to give demonstrations on how officers test for drunk or impaired drivers, and to provide education on how to avoid and prevent alcohol and tobacco use. Other ministries from Abney providing support were disabilities, photography, religious liberty, children's, media, communication, and personal/ SWAT (Soul Winning Action Team). Finally, the deacons of Abney endured sweltering heat to secure the parking lot, and to assist with other parking issues.
Community-based ministries include Praying for Our Children, Better Health, and All About Fitness. The North Division of Public Health was represented by the Cancer Prevention and Control Branch, the Early Intervention Branch, the Immunization Branch, the Blood Alcohol Testing Branch, and the Women's Health Branch. Other church health ministries supporting this event included Praise Tabernacle Church in Whiteville, N.C., and Southern Pines, N.C., Church.
This event proved to be a wonderful collaboration between community-based and state and church ministries working together to improve the health of the community. Feedback from the exit surveys were extremely positive. The efforts of Abney Chapel and the North Carolina Cancer Prevention and Control Branch were a blessing to a community in need. Abney Chapel will continue to be a beacon of hope in Fayetteville and surrounding communities.
South Atlantic | November 2017