Don Keele Jr.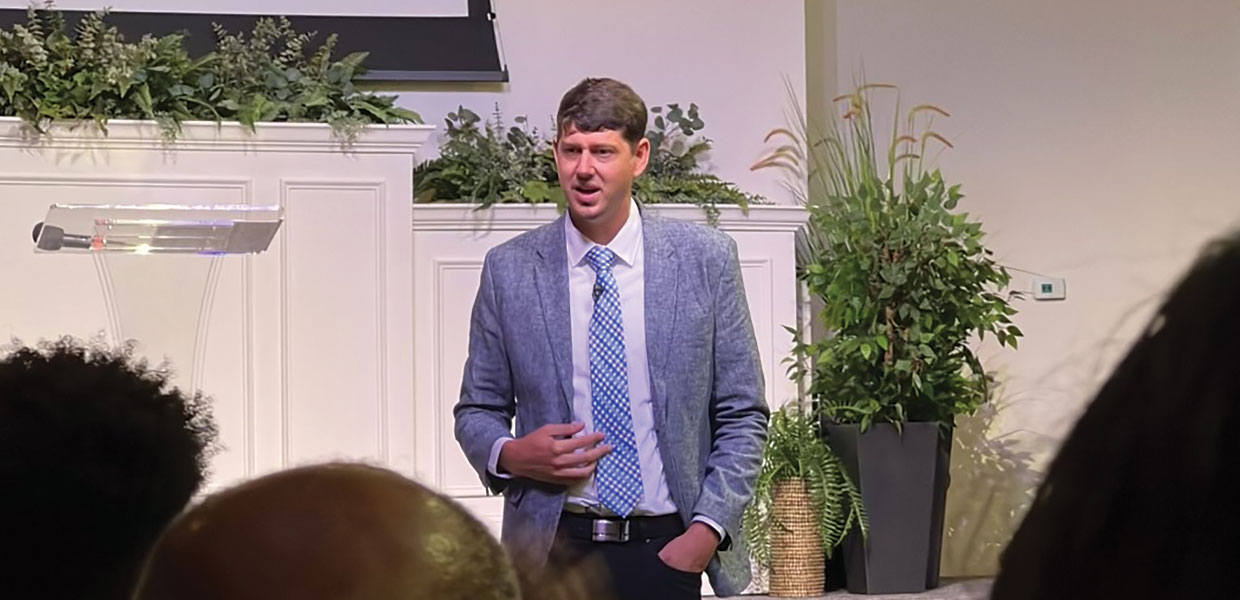 Keith Bowman, Hamilton Community Church associate pastor and weekend speaker for ACF ReStart, speaks on the theme "See For Yourself." Approximately 65 Adventist students and sponsors from public universities across the Conference attended the weekend event.
Don Keele Jr.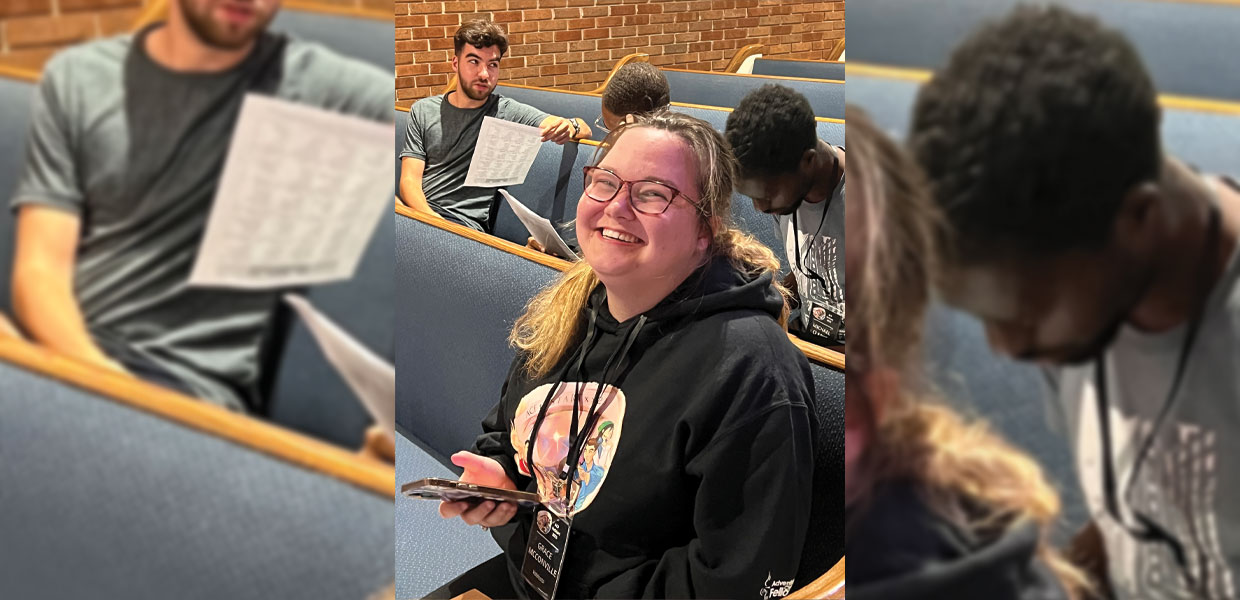 Grace McConnville, senior nursing major at Valdosta State University, is one of approximately 65 students and sponsors who attended this year's ACF ReStart. The conference is designed specifiically for Adventist students attending public universities in the Georgia-Cumberland Conference.
Don Keele Jr.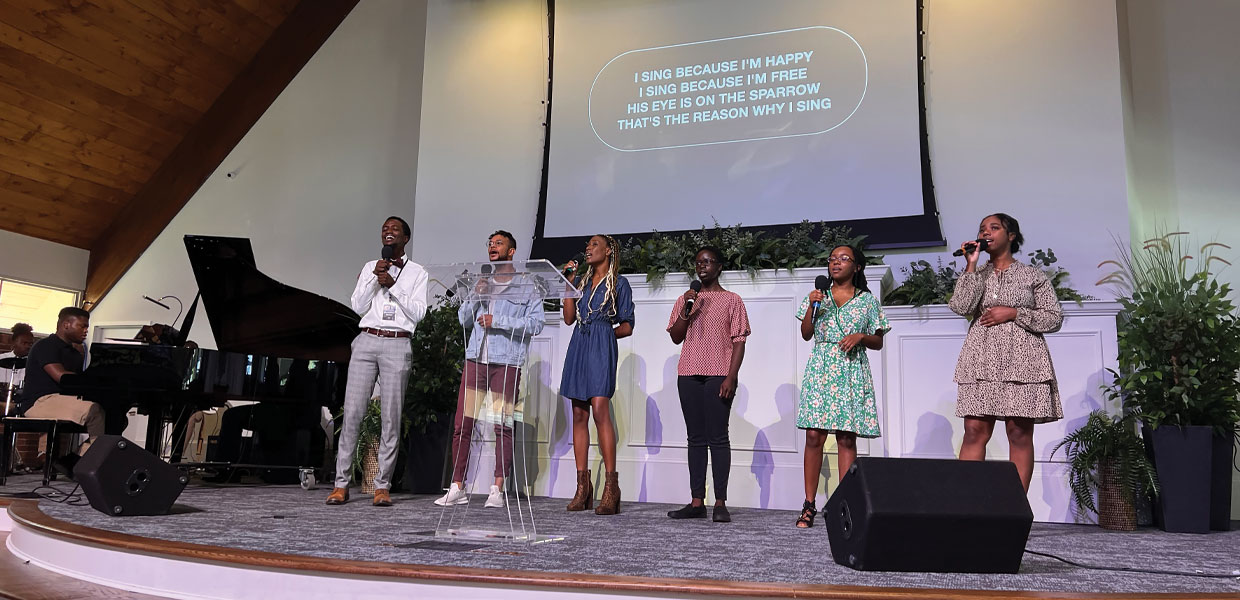 Jonathan Grand-Jean, Kennesaw State University; Darren Thompson, ACF alum; Providence Mpano, Georgia State University; Jonathan Debreuil, ACF alum; Chelsea Walter, ACF alum; Dammary Ojwang, Augusta University; Liane Muir, Emory University; and Janeen Reynolds, ACF alum, lead worship in music at Marietta, Ga., Church. Not pictured behind the piano: on guitar, Josiah Saint Hillaire, Kennesaw State University, and Henrickson Edouard, Kennesaw State University, playing bass. Marietta Church hosted the ACF ReStart Conference, and benefitted from the students leading out throughout the church service.
Don Keele Jr.
Approximately 65 students, advisors, and supporting pastors gathered August 25 and 26, 2023, for the Georgia-Cumberland Conference Adventist Christian Fellowship (ACF) 2023 ReStart Conference, held for Seventh-day Adventist students on public university campuses from around the conference
"It was a wonderful blessing to witness young people on fire for the Lord, engaged in the ACF mission to share the Gospel with students on their respective campuses," said Rene Harper, M.D., faculty advisor for the Augusta University chapter. "We enjoyed beautiful music and uplifting sermons, great food, and heartwarming fellowship with the students and Marietta Church members."
"It was great to see young people alive and excited to serve," said Joseph Wamach, senior pastor of Marietta, Ga., Church, which hosted the weekend.
ACF is the official ministry for Adventist students attending public universities, and this year's conference featured Keith Bowman, associate pastor of the Hamilton Community Church, speaking on the theme, "See For Yourself." Bowman began Friday night speaking on the topic of "The Jesus Who Was," helping students re-examine the Gospel of Emmanuel — God with us.
Sabbath morning, Bowman continued the theme, addressing "The Jesus Who is to Come." Diving into Revelation, Bowman's Scripture-packed message highlighted how the judgement proclaimed in Revelation is Good News.
"Judgement is given in favor of the saints," said Bowman. "Justice is finally coming to all of those who have been persecuted by the devil, and his little demons and dominions and authorities. But, hold on saints, because Jesus is coming …. That's the Good News."
Later in the day, students were introduced to "The Sabbath Gift," a resource designed to get people to think differently about time, and more specifically about getting the rest they need by focusing on the weekly cycle. The Sabbath Gift is a small boxed kit taking one (or a group) on a self-guided tour through a week, featuring a daily card with a QR code to take the person to a video feature, and a way to think differently about time for that day. The logical conclusion of thinking differently about time leads one naturally to the Sabbath.
The Sabbath concluded with Bowman talking about praying for divine appointments as he inspired the delegates through the topic, "Jesus and Me." Bowman shared stories of his personal walk, and numerous divine appointments that God had set up for him.
"ACF ReStart was awesome," said Daniel Andre, president of the Georgia- Tech chapter. "It encouraged me to pray to be bold for Christ!"
These sentiments were shared by many of the attendees, including Providence Mpano, senior psychology major and ACF president for the Georgia State University chapter: "ACF ReStart was extremely uplifting, from seeing people from different campuses to delving into the Word together."
On Saturday night the students were able to enjoy great fellowship with a game night featuring volleyball, basketball, table games, and even a very lively Mario Kart tournament.
"I had a great opportunity to get to meet and know former advisors, pastors, and some of the ACF Fellows on a more personal level, and it was invigorating," said Kerwin Lawrence, faculty advisor for the Kennesaw State Chapter.
"[ReStart] is the most practical and helpful ongoing event I have been a part of through these years to promote ministry on the public university campus," said Gary Wagner, D.Min., retired chaplain, pastor, and missionary, who is now a volunteer chaplain with the University of Tennessee, Chattanooga chapter. "I have been a chaplain for ACF chapters for 25 years in three conferences, [and] I find the ReStart weekend to be an amazing opportunity to rub shoulders with the generations who attend."
Summing up the weekend, Grace McConnville, Valdosta State University senior nursing major, exclaims, "It was an amazing weekend! I enjoyed every second of it!"
For more information on ACF in the Georgia-Cumberland Conference, go to acfgcc.org.
Georgia-Cumberland | October 2023