nathan zinner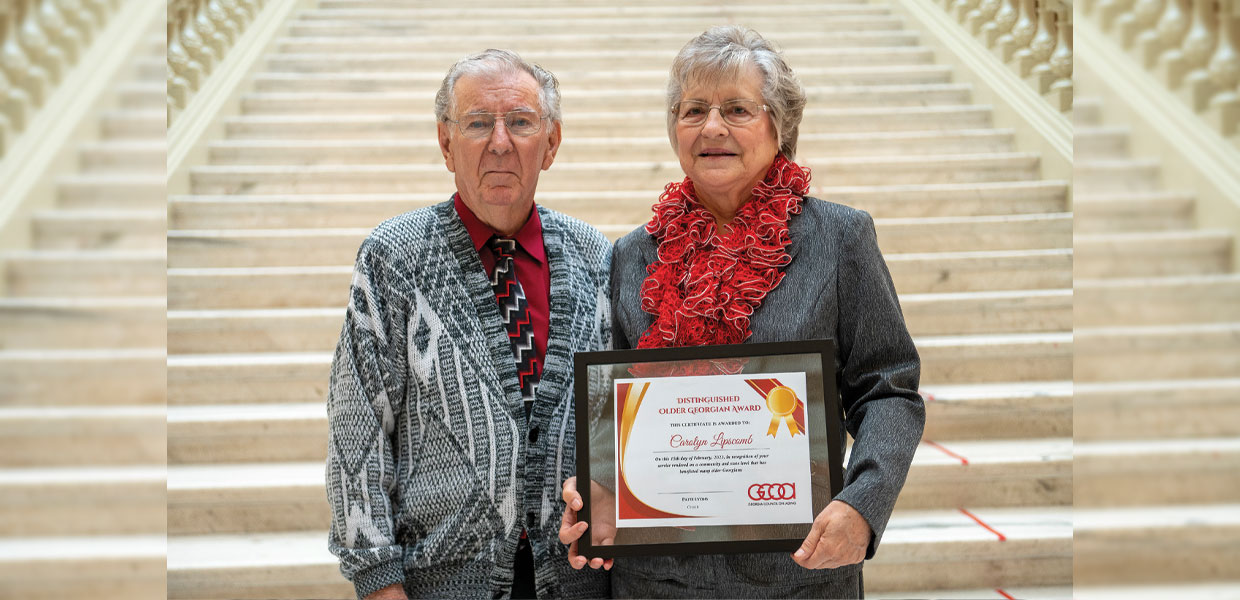 Carolyn Lipscomb (right), South Georgia Adventist Community Services (ACS) coordinator, with her husband, Hew. Lipscomb was recognized at the Georgia State Capitol for her work serving older residents in the state on February 15, 2023.
Nathan Zinner
Carolyn Lipscomb, South Georgia Adventist Community Services (ACS) Coordinator, was recognized at the Georgia State Capitol for her work serving the older population in south Georgia on Wednesday, February 15, 2023. State Representative Noel Williams presented the Distinguished Older Georgian Award on behalf of the Georgia Council on Aging.
"I am greatly humbled and honored to be the recipient of this award," said Lipscomb during the awards ceremony. Every month, Lipscomb oversees the delivery of 25,000 to 30,000 pounds of food to low-income seniors.
With Hew Lipscomb, her husband, standing at her side, she was quick to highlight that they would be celebrating their 59th wedding anniversary the very next day. "Without his support, what has been accomplished wouldn't have been possible," she said. "He has given constructive criticism, been the truck driver, the forklift operator, the maintenance man, and a whole bunch of other things."
In 2001, Hew Lipscomb, who was South Georgia ACS coordinator at the time, and his wife recognized a need for providing food to underserved seniors and started the food bag program. Since its inception, the program has continued to grow, now serving around 1,900 seniors every month across 32 counties in south Georgia.
The average age of residents in south Georgia is 62, with 55% of those seniors being food insecure, said Carolyn Lipscomb. "Nine percent of [the seniors] are living on less than $500 per month."
"If we stop the work [in south Georgia], they will miss us. That's how relevant and important the work is that they are doing," said Luis Biazotto, Georgia-Cumberland Conference ACS director.
In addition to coordinating the food bags for the seniors' program, Carolyn Lipscomb also coordinates health screenings and disaster response across south Georgia.
She also serves as the chairperson for the River Valley Regional Commission Area Agency on Aging Advisory Council. This agency is part of the Georgia Council on Aging which was established by the Georgia General Assembly to serve the needs of older individuals in the state.
The Distinguished Older Georgian Award is only the latest of several awards Carolyn Lipscomb has received this year. She has also been recognized for her leadership and vision in serving those in the aging network, for making a positive contribution to the lives of older adults, and for being a positive role model for understanding and addressing the needs of old people.
While the awards recognize the work of Carolyn Lipscomb and South Georgia ACS, that's not what gives her the greatest joy. "There is so much satisfaction in helping somebody that really needs the help," she said.
Georgia-Cumberland | April 2023