BY GEORGE CARPENTER AND DEAN FLINT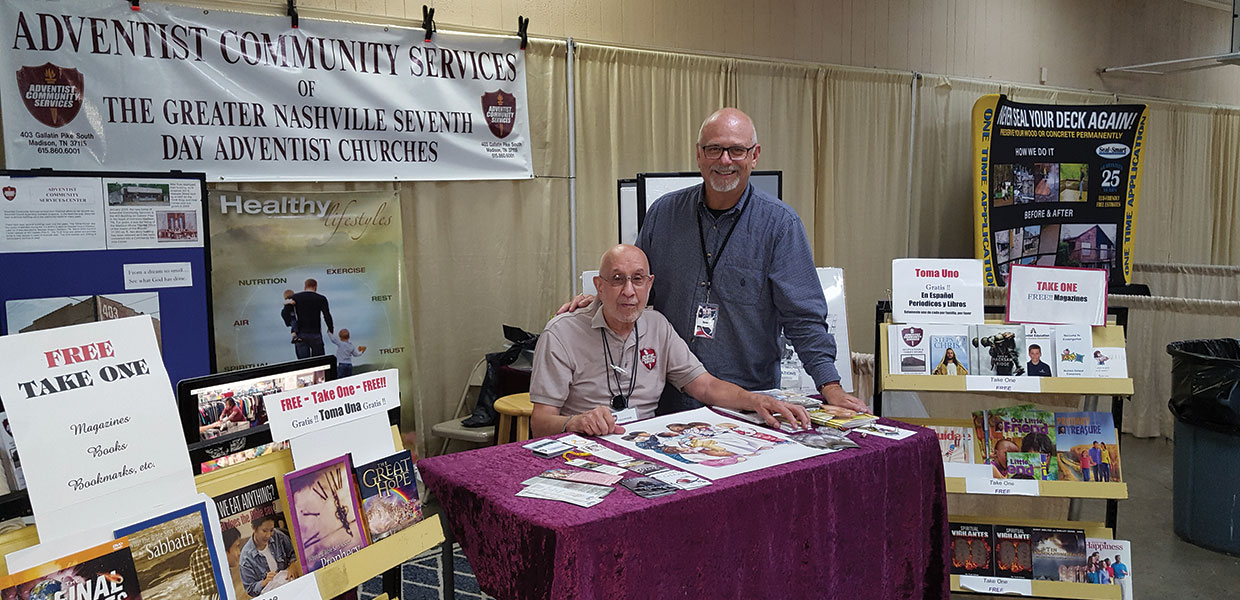 Dean Flint (seated) and George Carpenter
The 2017 Tennessee State Fair has come and gone. But, many people have a greater understanding of Jesus because God blessed the Adventist Community Service Center booth, which is sponsored by the Nashville area Adventist churches.
Otto Hirsh, a 97-year-old member of the Ridgetop, Tenn., Church, works diligently throughout the year to provide challenging handmade wooden cross puzzles to be used at the booth. These puzzles were a great conversation starters with those who walked by the booth.
Those passing by the booth were asked if they liked puzzles, and were offered the chance to complete the cross puzzle. As they started playing with the puzzle, a conversation would begin. As the conversation flowed, information about the 403 Center, an ACS center, would be given. There was an explanation that the 403 Center was a thrift store, and also offered help to those in need.
Visitors often asked why bad things happen to good people, about health, or about all the disasters that are happening. GLOW tracts were available when such subjects were discussed. Hundreds of cross puzzles were given out, along with Christian literature concerning subjects pertaining to today.
During slow times, those tending the booth got to know many of the other venders. One vender took about 45 minutes to talk about religious things. Another vender helped by sending people to the booth.
The organizers thank Hirsh and the supporters for their help and prayers.
Kentucky-Tennessee | November 2017