BY lisa esser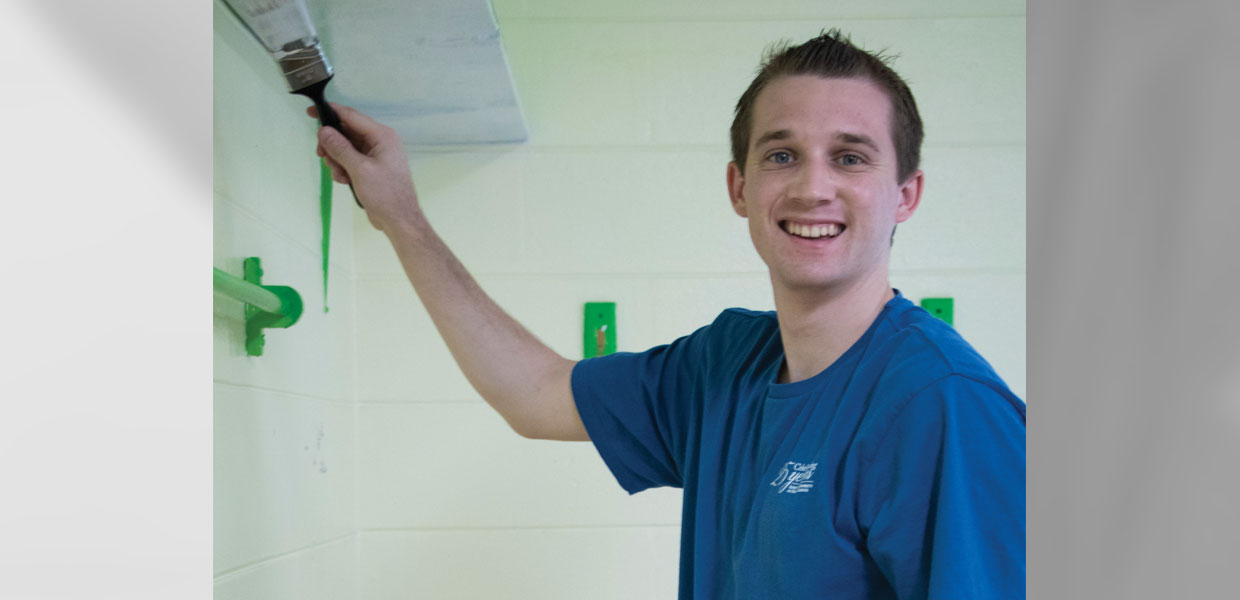 Alex Gallimore, an enrollment counselor at Adventist University of Health Sciences, helps to paint Forest City Spanish Church's new life management facility.
Adventist University of Health Sciences (ADU), Orlando, Fla., has been celebrating its 25th anniversary this year by committing 25,000 hours of service and 25 volunteer events to benefit the community by August 2017. There's no better time of year than now, the Christmas season, to reflect on the ways to better aid the community. Steve Roche, vice president for student services at ADU, is enthusiastic. "We're looking forward to the impact we can make as we celebrate 25 years as part of the Orlando community. The response from students, faculty, and staff has been overwhelmingly positive."
The majority of ADU's service hours are contributed by students as part of their service learning assignments incorporated into course curriculum. The remaining hours will come from student, faculty, and staff volunteerism, both on and off campus.
Service learning provides students with the opportunity to apply classroom learning to the needs of the community. In keeping with ADU's mission to develop skilled professionals who live the healing values of Christ, all service projects prepare students to gain an understanding of populations in the community, those who will one day become their patients. Students have already completed several service learning projects, with a minimum of 82 course sections implementing a project for the fall and spring semesters. During ADU's annual Pulse Week, ADU shut down for the day, and more than 250 faculty and staff members from the University volunteered their time at Quest Inc.'s Camp Thunderbird, a recreational program designed for both children and adults with developmental disabilities. Here, attendees learned skills while making new friends and fond memories.
Another highly successful volunteer event teamed ADU with Blessings for Babies, a charitable organization that collects donations and assembles care packages for families of premature babies. Donated items were brought to ADU, and then packaged and delivered to parents at Florida Hospital for children. Members from the University also gathered to assist the Forest City Spanish Church, Forest City, Fla., with cleaning and renovating buildings intended for a life management facility and food pantry.
During this past Veteran's Day, volunteers completed the Military Care Package project, and a similar project took place at ADU's Denver satellite location on November 16, to mark Denver's first site-wide volunteer project.
ADU will host a University-wide service project during their annual Thanksgiving meal. "It is important for ADU to acknowledge the blessings God's given us over the year. One way we show our gratitude is through service. At Thanksgiving, we choose to feed those in need because sharing a meal is an authentic, beautiful way to help others," said Kendra Van Houten, director of Community Engagement. In the past, volunteers packaged meals to distribute to those in need, and ADU plans to make a similar impact this year.
As the holidays approach, it's more important than ever to serve the community. In the spirit of the season, the ADU family strives to live the healing values of Christ.
Adventist University of Health Sciences | December 2016