BY lisa marie esser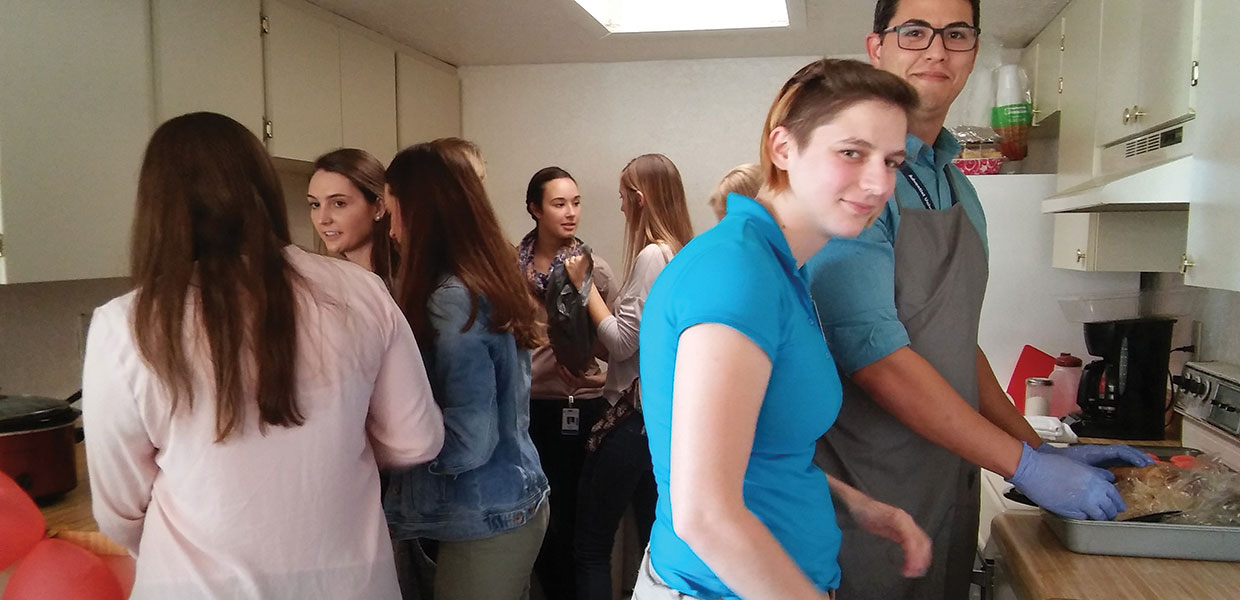 ADU's occupational therapy faculty and students gather in the kitchen at the Wayne Densch Center to prepare a Thanksgiving meal for the residents and staff.
With its focus on clinical care driven by Christian values, Adventist University of Health Sciences' (ADU) degree programs are built around a faith-based education. Students of all programs are required to complete service learning work to earn their degrees. In the required "Matthew 25" course for the occupational therapy (OT) and occupational therapy assistant (OTA) degrees, students must complete mission-focused clinical work serving the underrepresented population of the community.
In the past, the students have primarily completed this requirement at the Hope Clinic, ADU's free clinic, and occasionally through work with other community organizations, including the Wayne Densch Center.
The Wayne Densch Center is a nonprofit housing program in Orlando, Fla., that provides transitional housing for homeless individuals with chronic physical health, mental health, and/or substance abuse issues, for a period ranging from 30 weeks to a maximum stay of two years. The program allows each resident to have their own apartment, where they are required to meet standards of living.
The Center's "fragile housing" population often have specific medical needs that require counseling or medications that they are unable to afford, in addition to challenges in navigating daily life or maintaining a household.
In 2017 the OT Department chair, Tia Hughes, DrOT, reached out to the Center to establish a permanent partnership, which officially rolled out in the fall 2017 trimester, and has been well-received by students and members of the Center. OT students and clinical faculty from ADU visit the Center and provide life skills classes in a variety of areas, such as job readiness, anger management, assertiveness, and home maintenance.
"The individuals and families in these residences are trying to get back on their feet, and many have never owned a home before. Life skills such as cooking dinner or doing laundry are invaluable to daily life for most adults, but this population face physical and mental challenges that can make these tasks difficult," explains Hughes.
In addition, they educate residents on building healthy diets, as well as diabetic management for those who have special dietary needs. Other workshops have included sun protection and encouraging recreational activities by leading walks outside around the property's lake.
The OT Department also hosted a Thanksgiving meal in November 2017 for all the residents and staff of the Center. The students and clinical faculty brought food in addition to cooking meals there. They also set up board games and sporting events for recreation. "It was an amazing day," recalls Hughes.
Adventist University of Health Sciences | February 2018