BY lisa marie esser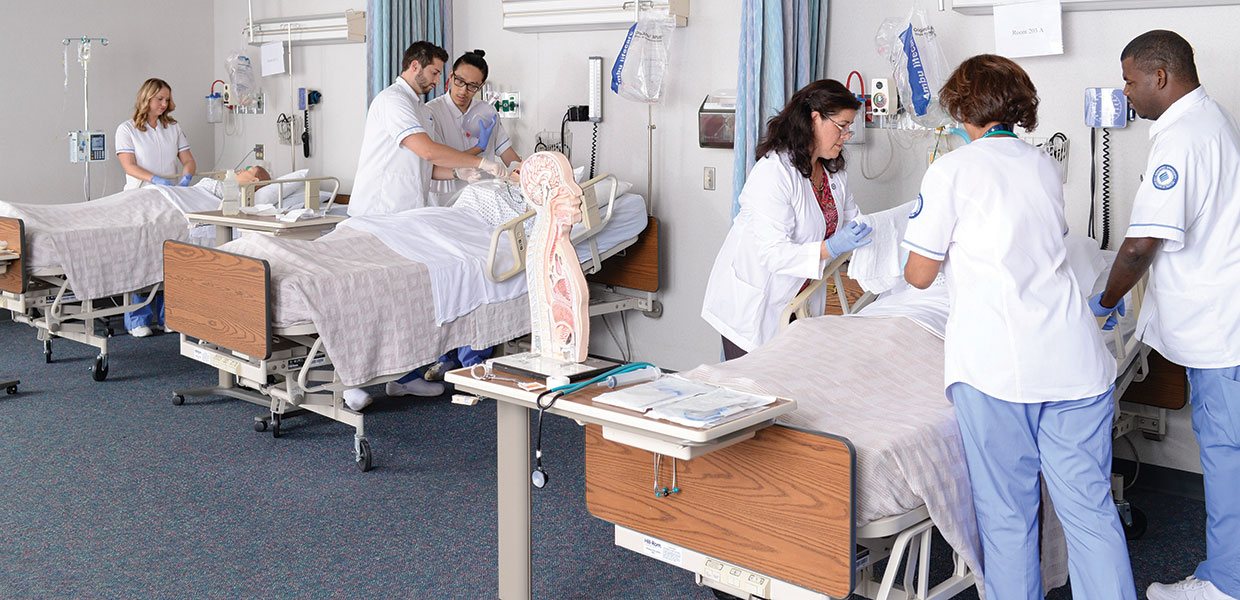 Nursing program students led by Alicia Franco, Ph.D., M.S.N. (third from right), use simulators to practice diagnosing and treating patients in ADU's labs.
Adventist University of Health Sciences (ADU) recently announced an evening option for their bachelor of science in nursing (BSN) program, beginning in the spring 2019 trimester, which will enable ADU to graduate more nurses yearly.
Nursing-focused studies over the past few years indicate a looming shortage of nurses, along with higher demand for advanced practice nurses in areas like primary care. According to the 2018 Florida Center for Nursing Report, about 45 percent of working registered nurses (RNs) are 50 and over, and may begin to phase out of the workforce through reduced hours and retirement in the next 5 to 10 years. This change will result in the loss of highly skilled mentors, exacerbating the growing concern of nationwide nursing shortages facing healthcare organizations.
ADU's Nursing Department chair, Alicia Franco, Ph.D., M.S.N., stated, "While we don't currently have capacity in our daytime program to add more students, the addition of an evening course option will enable ADU to graduate more nurses each year to satisfy the community's increasing need for healthcare workers." Leaders at Adventist Health System and Florida Hospital have expressed critical demand for entry-level nurses, with a plan to hire more than 28,000 RNs by 2022. To reach this goal, greater importance has been placed on developing a partnership with ADU to help feed more graduate nurses to the organization. ADU's mission-focused programs make its graduates ideal candidates for the Florida Hospital and AHS workforces, as they are educated in whole person care and share those organizations' values to extend the healing ministry of Christ.
In addition to increased demand for nurses, there are increasing educational standards for nursing professionals. The Institute of Medicine recommended in a 2010 report that healthcare organizations increase BSN nursing staff to 80 percent by 2020, after finding that BSN-prepared nurses are better equipped to handle increasing complexity in nursing care. The American Association of Critical-Care Nurses (AACN) backed this recommendation, emphasizing that hospitals hoping to earn Magnet status must meet this new demand.
ADU's nursing students already earn the recommended BSN upon graduation, and ADU Online's Nursing, RN-BSN Completion Option prepares working nursing professionals to enter an increasingly competitive workforce. Through these programs, ADU aims to assist healthcare organizations in meeting AACN standards.
Aside from shortages in nursing, there is an urgent need for primary care services nationwide as studies indicate a steady decrease in primary care physicians. Family nurse practitioners (FNPs), the fastest growing group in the primary care workforce, are being targeted to help close this gap. Just like primary care physicians, FNPs can provide continuous, comprehensive care through disease management, health promotion, health education, and preventative health services.
To help satisfy the projected increase in demand for FNPs, an FNP track is scheduled to launch in spring 2019 as the third track of ADU Online's master of science in nursing (MSN) degree.
ADU strives for excellence and innovation, introducing new degrees or expanding existing programs to support the changing needs of healthcare organizations. With an ever-growing healthcare industry, changes in society, and new trends in healthcare practice, the University maintains its focus to develop skilled professionals who live the healing values of Christ.
Adventist University of Health Sciences | September 2018