BY Ingrid Hernandez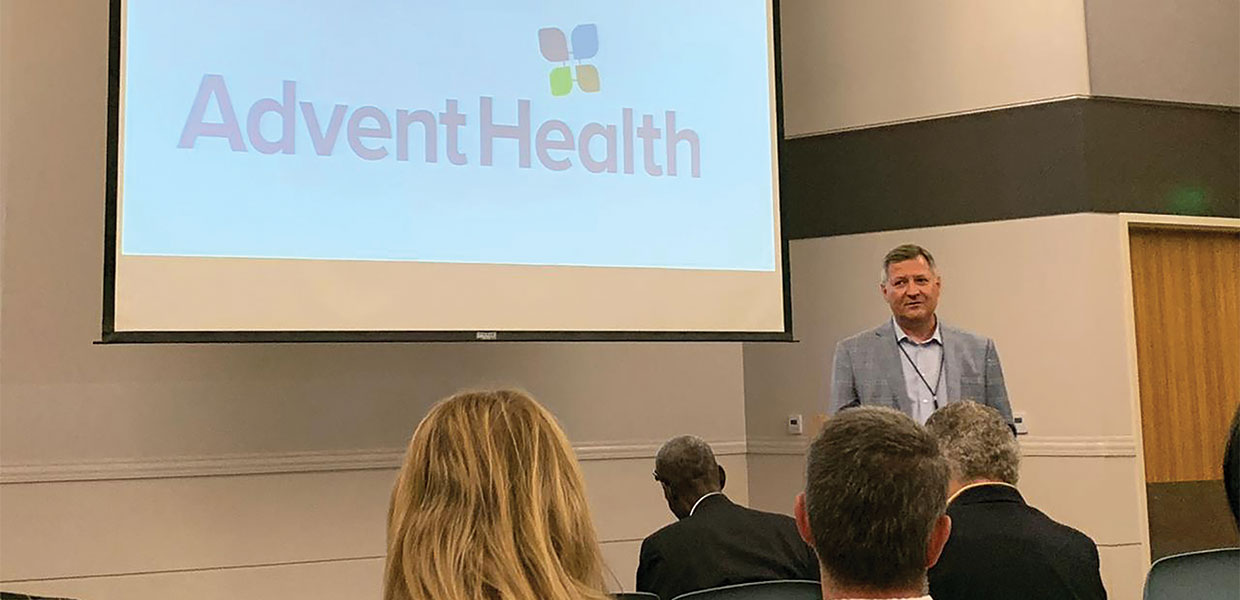 AdventHealth's president/CEO, Terry Shaw, participated during the conference's CEOs and Leadership breakout session during a presentation titled "Being Significant in our Communities."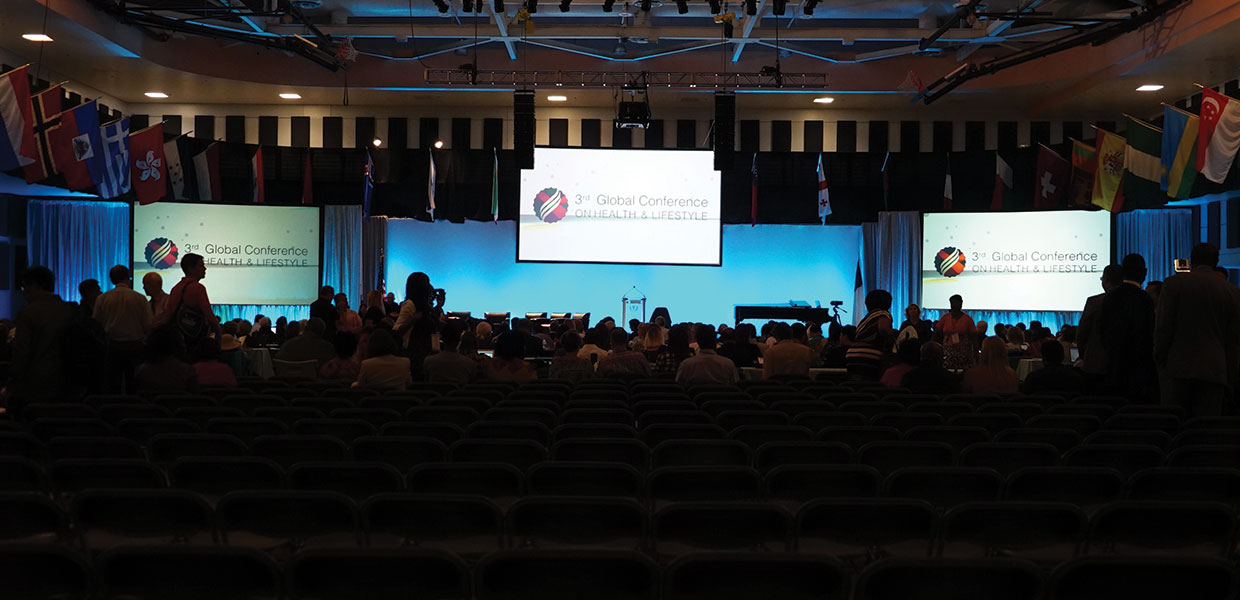 The third annual Global Conference on Health and Lifestyle took place July 9-13, 2019, in Loma Linda, Calif.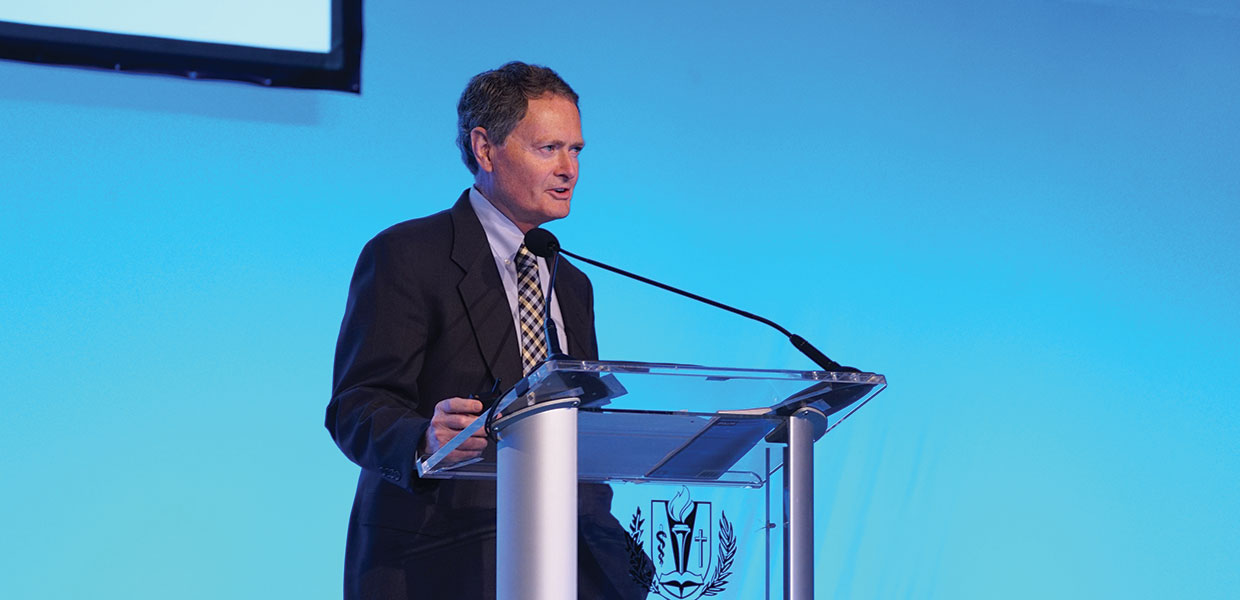 Ted Hamilton, M.D., senior vice president and chief mission integration officer for AdventHealth, spoke during a Wednesday morning plenary session, which included all 800 conference attendees.
Three AdventHealth executives traveled to Loma Linda, Calif., this past July to represent the organization at the third annual Global Conference on Health and Lifestyle. Terry Shaw, AdventHealth president/CEO; David Banks, executive vice president and chief strategy officer; and Ted Hamilton, M.D., senior vice president and chief mission integration officer, joined more than 800 international church and health leaders at the event organized by the Adventist Health Ministries Department of the Seventh-day Adventist Church.
Themed "Your Brain, Your Body," the conference's purpose was to explore lifestyle interventions and their impact on wholistic wellness. Leaders also used the time to bring a renewed focus on the Adventist health message and the Church's historical position on health.
"Whole-person care was the conviction of our founding fathers, and it is ours as well," said Shaw. "They deeply believed in the idea of wholeness as expressed in John 10:10. Today, health care continues to be a natural avenue for delivering on that idea."
The verse John 10:10, "…I have come that they may have life, and that they may have it more abundantly," informs AdventHealth's promise to help people feel whole in body, mind, and spirit.
This journey of wholeness is about more than just diet and exercise. It goes deeper into the concepts of faith, hope, and love — found in 1 Corinthians 13:13 — and their influence on health and well-being. This was the basis of Hamilton's plenary presentation on the first morning of the conference.
"It's not about tofu and triathlons," said Hamilton. "It's about how we live our lives, how we care for each other, and how we choose to spend our time."
Hamilton also spoke during the CEOs and Leadership breakout session, which included Banks, Shaw, and representatives from Adventist Health, the sister health system based on the West Coast. Following Adventist Health's presentation on the missional history of Adventist health care, AdventHealth shared examples of the current deployment of mission within its system. The executives talked first about the initiative to bring spiritual care to the outpatient setting. This initiative includes the Clinical Mission Integration program, which trains specialists to provide spiritual support to providers and front-line staff. It also includes a spiritual wholeness screening, which asks patients about the presence of love, joy, and peace in their lives, and if they say "no" to any one of these, it triggers a referral and call from an e-spiritual caregiver.
They then shared community impact examples, such as Global Mission Impact (GMI). Through GMI, AdventHealth partners with a fixed number of "footprint" health facilities around the Seventh-day Adventist World Church to offer support and expertise. Another example was CREATION Life, AdventHealth's framework for whole living based on eight principles: Choice, Rest, Environment, Activity, Trust in God, Interpersonal Relationships, Outlook and Nutrition. To date, CREATION Life resources have been translated into 10 languages for use across 89 countries.
Between the co-presentation with Adventist Health, listening to the other expert speakers, and engaging with health advocates and leaders from 90 countries, the AdventHealth executives found the conference an enriching experience.
"We always look forward to opportunities like this where we can connect with those who advance the global health ministry of the Adventist Church," said Banks.
To learn more about AdventHealth's mission and legacy of whole-person care, visit AdventHealth.com/Mission-and-History.
AdventHealth | September 2019