elizabeth camps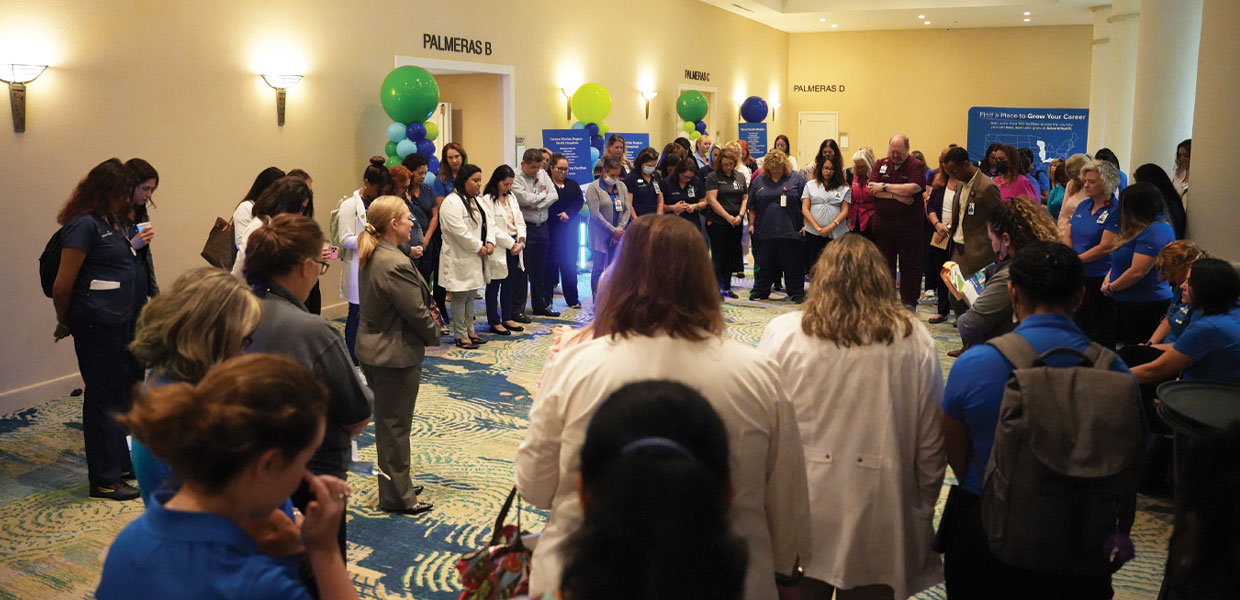 AdventHealth team members prepare for the first day of the hiring event in Puerto Rico with a team huddle and prayer.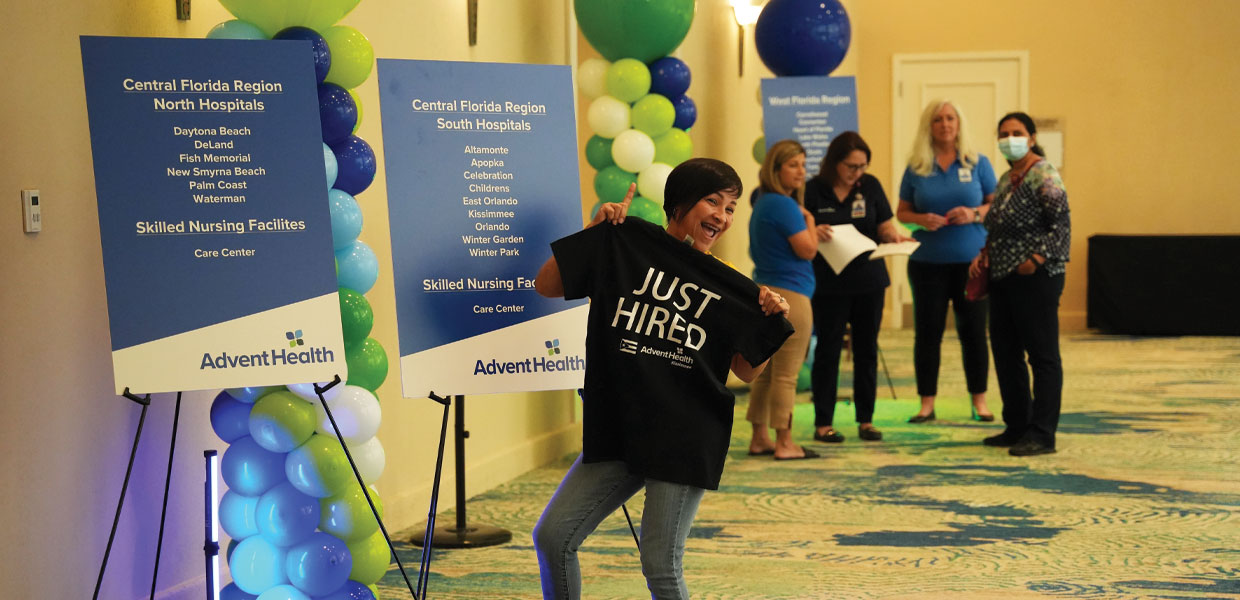 Out of the 390 people who attended the AdventHealth Hiring Event, 270 received new job offers, including more than 200 offers for registered nurses.
As part of AdventHealth's commitment to enhance workforce diversity and deepen inclusion at the workplace, the organization developed the Transcultural Assimilation Program (TAP) a few years ago to serve as a gateway for international nurses to join AdventHealth's workforce. To bring this initiative to life, AdventHealth embarks on several international recruitment initiatives in new regions throughout the year.
In the fall of 2022, AdventHealth held an international recruitment event in Puerto Rico for the first time. At the event, held near the capital of San Juan, attendees had the opportunity to interview with AdventHealth's hiring managers, network with regional leaders, and learn about the organization's innovative training programs. Out of the 390 people who attended the event, 270 received new job offers, including more than 200 offers for registered nurses.
I went to the event because I was looking to grow professionally," said Johnny Adamez-Collazo, a newly hired team member from Puerto Rico who now works as an ER nurse at AdventHealth Orlando. "I'm excited about my new AdventHealth role as well as the benefits."
Shortly after the event, Adamez- Collazo and other new hires arrived at the AdventHealth corporate campus in Altamonte Springs, Fla., to begin the onboarding process to become AdventHealth team members.
The TAP experience takes a cohort of new international hires through a four-week program that helps them successfully navigate life in the United States (U.S.), as well as transition and assimilate into the U.S. culture and health care system. With the success of every new hire in mind, the program aims to enhance personal and professional growth, and ensure new nurses are well equipped to deal with everyday personal and work-related matters. The program covers a wide range of areas, from setting up a personal bank account and cell phone services, to reviewing the U.S. health care system policies and guidelines.
It's a unique and innovative approach to onboarding international staff who helps to not only improve retention, but also enhance the quality of patient care.
"TAP is very different than what I have experienced in the past," said Enid Cruz, a newly hired ER nurse at AdventHealth Orlando recruited at the Puerto Rico event. "Usually when you start a new job, you get basic orientation on code of conduct and hospital policies. But here at AdventHealth, we get so much more, including learning about the culture, the people we will work with, and more. It's been great!"
"From the very beginning, the AdventHealth team at the event treated us all so well," said Jannat Heredia, a new Puerto Rico hire who works as an oncology progressive care unit nurse at AdventHealth Altamonte Springs. "They made me feel like they really wanted me there. It was so nice to feel like I already belonged — like I was already part of the family just by being there at the event."
To learn more about AdventHealth's Transcultural Assimilation Program for international nurses, visit AdventHealth.com/Careers/International-Recruitment.
AdventHealth | December 2022