elizabeth Camps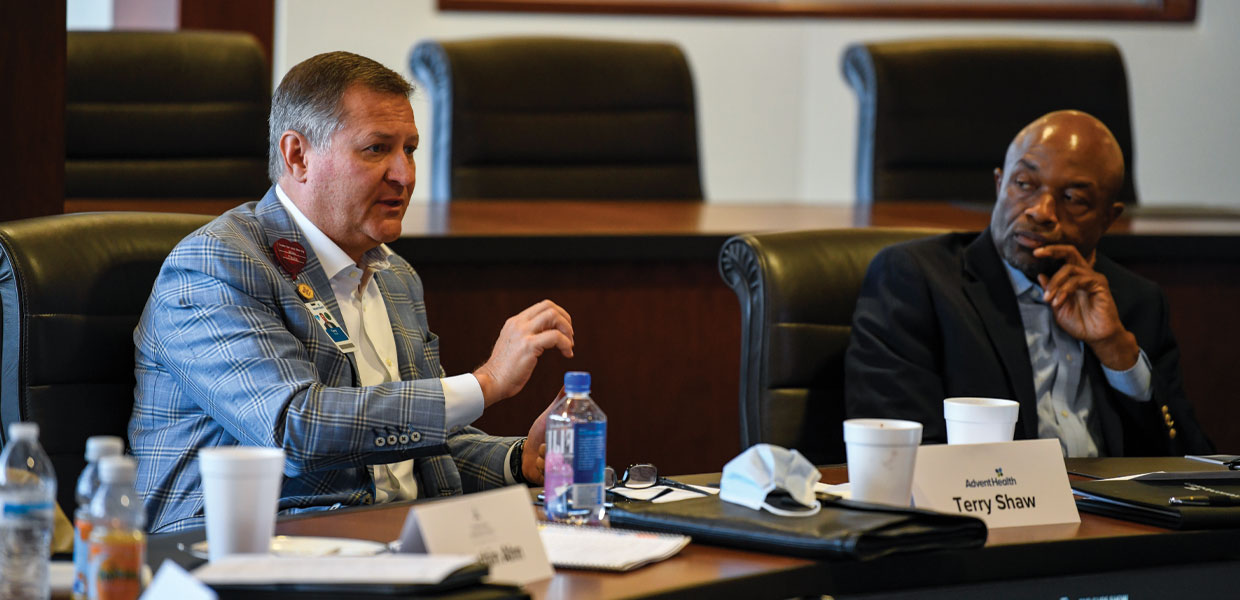 Terry Shaw, AdventHealth president and CEO, speaks during the discussions, while G. Alexander Bryant, North American Division president, looks on.
North American Division and AdventHealth leaders met in Orlando, Fla., for a day of vision sharing, design thinking, and collaborative planning for the future.
Leaders from the North American Division of the Seventh-day Adventist Church and AdventHealth met in Orlando, Fla., on Thursday, July 28, 2022, for a day of vision sharing, design thinking, and collaborative planning for the future.
"While our individual organizations have different endeavors, our principles are the same," said Terry Shaw, president and CEO of AdventHealth, who hosted the event at AdventHealth's corporate headquarters. "Today, we are here to discuss how we think about leadership, building teams, and being more effective in our markets."
Following a morning worship and a walk-through sculpture installation depicting key moments in Jesus' ministry, Shaw opened the day with an overview of the legacy and mission of AdventHealth. David Banks, senior executive vice president and chief strategy and organizational transformation officer, joined Shaw to share an overview of AdventHealth's vision roadmap through 2030.
"We're really excited for this opportunity to share how we're translating the mission of 'Extending the Healing Ministry of Christ' into our communities, and to share how we have structured our brand transition," said Banks. "I'm also excited to hear from [NAD president] Elder Bryant about the vision of the NAD, and how they're thinking about their communities and the churches they serve."
Participants had the opportunity to learn about AdventHealth's Leadership Institute, and the value it provides to current and emerging leaders across the health system to help them grow professionally, expand their leadership skills, and better align with AdventHealth's faith-based approach to healing. The delegates also toured the Leadership Institute to gain a better understanding of the facilities and how the institute operates.
In the afternoon, G. Alexander Bryant, president of the Adventist Church in North America, shared an overview of the vision, goals, and strategy of the Church for the coming years.
"Our theme for this visit is 'Together in Mission,' and the three strategic focus areas are multiplying the ministry of Jesus, effectively using media, and mentorship of the next generation of leaders for the Church," said Bryant.
The group also toured the Advent- Health Design Center, which brings together teams from across the organization to apply design thinking to solve key issues. Leaders participated in a design thinking session to discuss key ideas and priorities of the Adventist Church.
"We really appreciate AdventHealth and the work they do, and the ministry they do for Christ," said Bryant. "We also appreciate the organization and how they are on the cutting edge in so many ways. We're hoping to extract some principles that we can apply to our organization and to the North American Division Church so that we can grow and learn, and we're hoping to find other ways to better collaborate with AdventHealth."
AdventHealth | October 2022