BY Mario Roberts, Senior Communications Specialist at Adventist Health System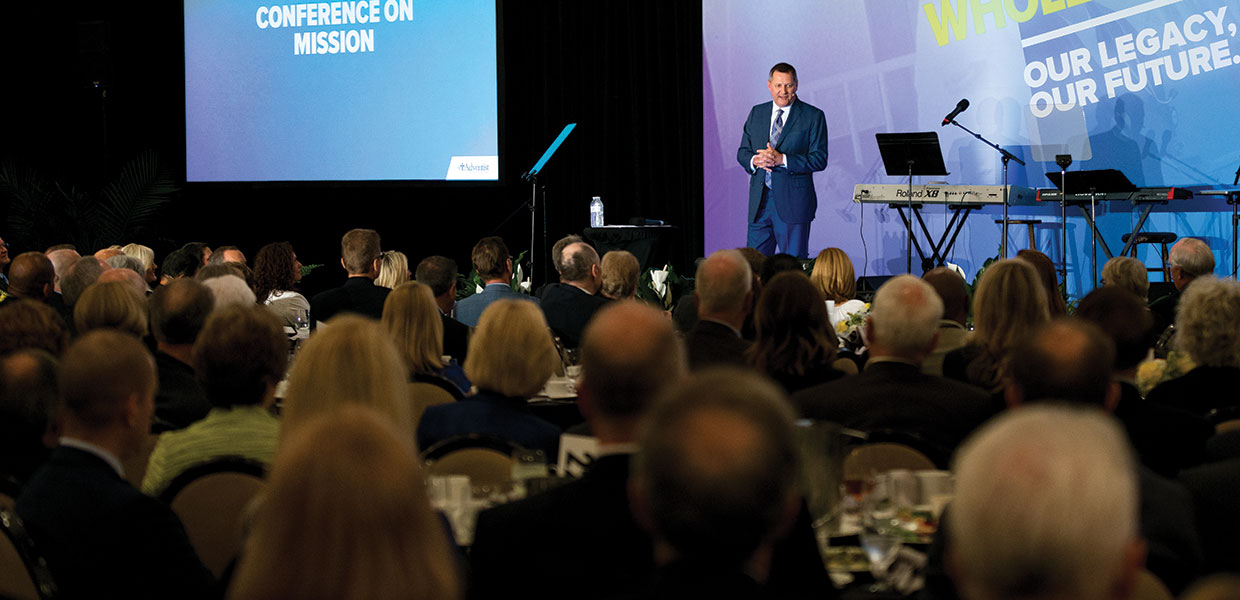 Terry Shaw, Adventist Health System president/CEO, delivers his keynote address at the 27th annual Conference on Mission.
Church leaders, physicians, and Adventist Health System (AHS) leadership came together as AHS held its 27th annual Conference on Mission in Maitland, Fla. The theme of this year's conference was "Wholeness: Our Legacy, Our Future." More than 400 attendees celebrated the organization's mission of Extending the Healing Ministry of Christ, and discussed how the expression of wholeness and intentional delivery of whole-person care can further that mission to make an even greater impact on patients and communities.
The conference began with a Thursday evening opening session and banquet that featured songs by Lifelong Music, the music ministry of Florida Hospital Church. In addition, Terry Shaw, Adventist Health System president/CEO, delivered an insightful keynote address titled "Wholeness: A Vision for 21st Century Health Care."
"Think about where we all, together, have been called to serve. In the midst of an eclectic mix of society, we have dedicated our lives to Extending the Healing Ministry of Christ – a sacred calling to reach as many people as we possibly can with the healing message of a loving Savior," Shaw said in part during his keynote. "Our daily interactions attest to our desire to wholly meet the needs of those entrusted to our care," he added.
The evening also included an awards ceremony, where six AHS employees were recognized for exemplifying the organization's mission. Pamela Foster of Central Texas Medical Center and Irfan Ali, M.D., of Florida Hospital Wesley Chapel received the Christian Service Award; Michelle Brokaw of Littleton Adventist Hospital and Lorna Jean Hagstrom of Florida Hospital DeLand received the Trustee of the Year Award; and Erika Skula of Manchester Memorial Hospital and Ted Hamilton, M.D., of Adventist Health System received the Crystal Angel Award. The evening concluded with a powerful blessing and dedication of leadership delivered by AHS's own Benjamin Reaves, D.Min.
Friday began with a morning work session that consisted of presentations and discussions by AHS leaders about wholeness and whole-person care. The Friday night worship service featured two emotional and inspiring videos and live presentations that shared how two AHS hospitals played important roles in restoring hope, bringing about healing, and helping make families and communities whole in the wake of tragedy.
The first was a story of faith and forgiveness depicting how Littleton Adventist Hospital helped to repair the community after a 2013 school shooting that took the life of a local high school student. Her parents, who encouraged the community to forgive their daughter's assailant, were present at the Conference. The second video, a story of true resiliency, showcased how, through the care he received at Florida Hospital Orlando, a survivor of the 2016 Pulse nightclub shooting in Orlando was inspired to pursue a career in health care.
In a fitting end to the 2017 Conference on Mission, a Saturday morning worship service gave attendees the opportunity to gather in a time of worship and fellowship. A pastor for 18 years, Bill Knott, editor of Adventist Review and Adventist World, delivered a sermon titled "Healed – and Healed Again."
Adventist Health System | May 2017