BY nathaniel lyles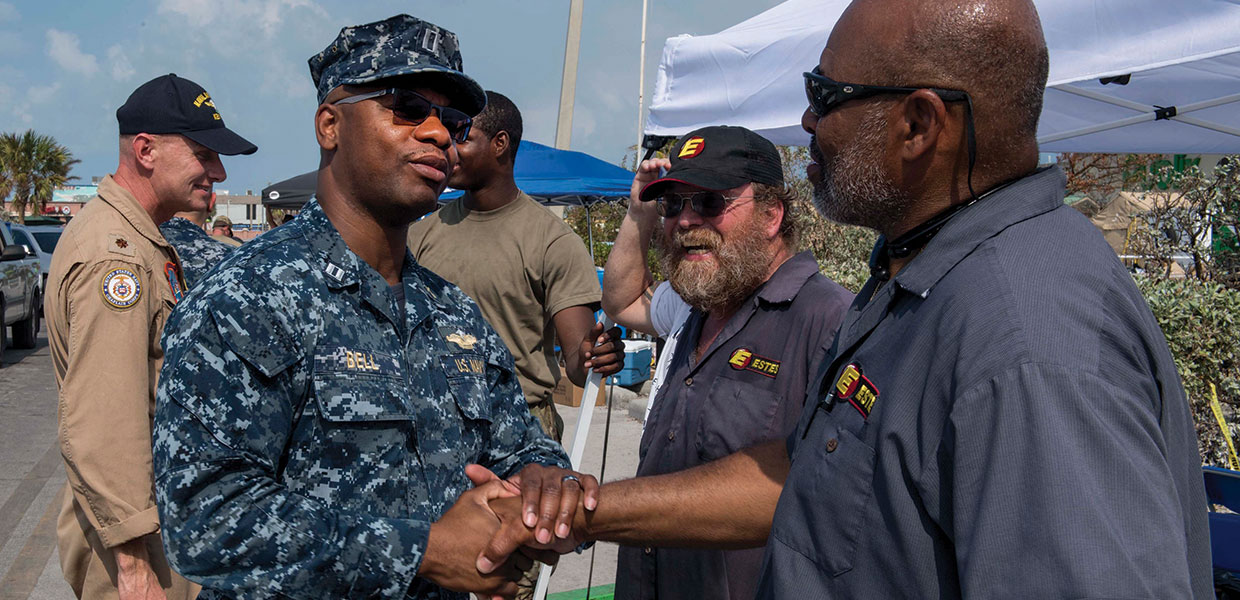 Naval chaplain Kyron Bell (left) greets hurricane Irma disaster responders in Key West, Fla. The U.S. military deployed nearly 21,000 federal service members to the area following the storm.
Hurricane Irma slammed into Key West, Fla., on September 10, 2017. Days before Irma's arrival, as thousands of Floridians were responding to evacuation orders, nearly 21,000 military personnel were preparing for deployment to the impacted region. Among those to be deployed was Lt. Kyron D. Bell, a Seventh-day Adventist Naval chaplain stationed at the Naval Air Station at Jacksonville, Fla., and member of First Coast International Church in Jacksonville.
After Irma hit landfall and veered northwest, Bell, along with other federal forces, was quickly deployed to the Naval Air Station at Key West to begin emergency response operations. "It was truly a ghost town," Bell recalls. "There was no power. Food was scarce and every business was closed." Residents were dislocated and nearly everything they owned was destroyed. In addition to supporting the work that the military, state, county, city personnel, and first responders did to save lives and restore essential resources, Bell's mission was two-fold.
For two weeks, Bell worked with federal government agencies to distribute supplies, while also providing encouragement and pastoral care to service members and local civilians most in need. Bell does more than simply serve his country in the military. He serves God first, and daily answers the call to offer hope. "My priority is humanity. When humanity is in distress, spiritually or emotionally, as a Bible-believing Christian and minister of the Gospel, my role is to walk that person through the stress and share the blessed hope that God holds their future."
Southeastern | December 2017