BY lisa marie esser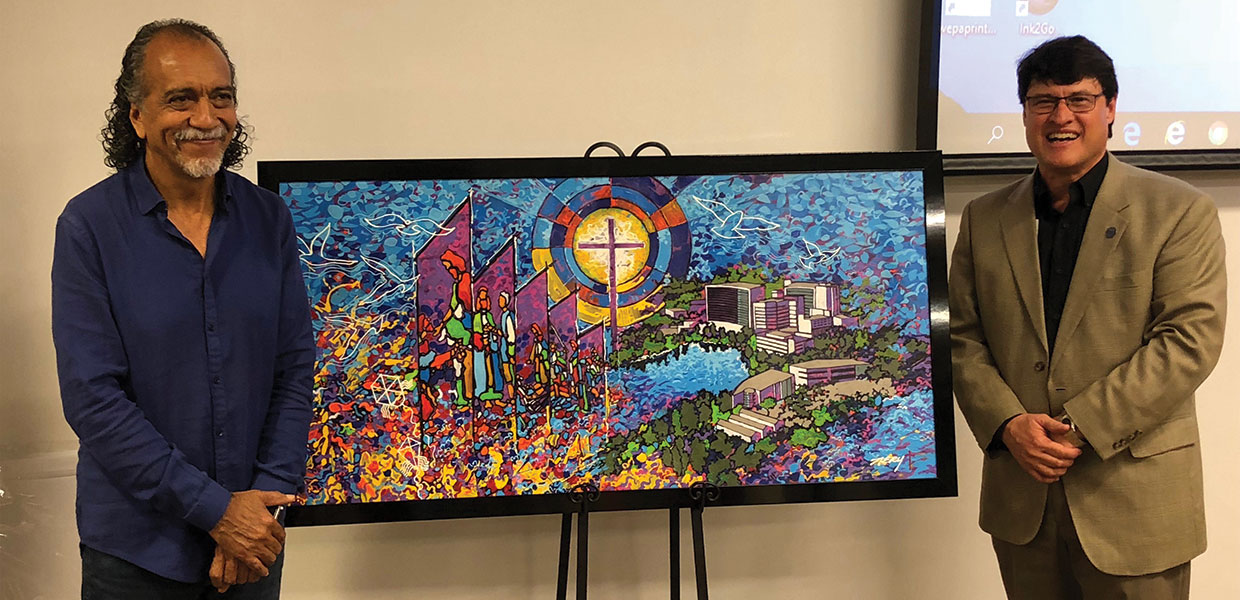 Artist Nery Cruz (left) and Edwin I. Hernández, Ph.D., reveal Cruz's commissioned painting, Rising Together, to ADU faculty and staff at the inauguration lunch.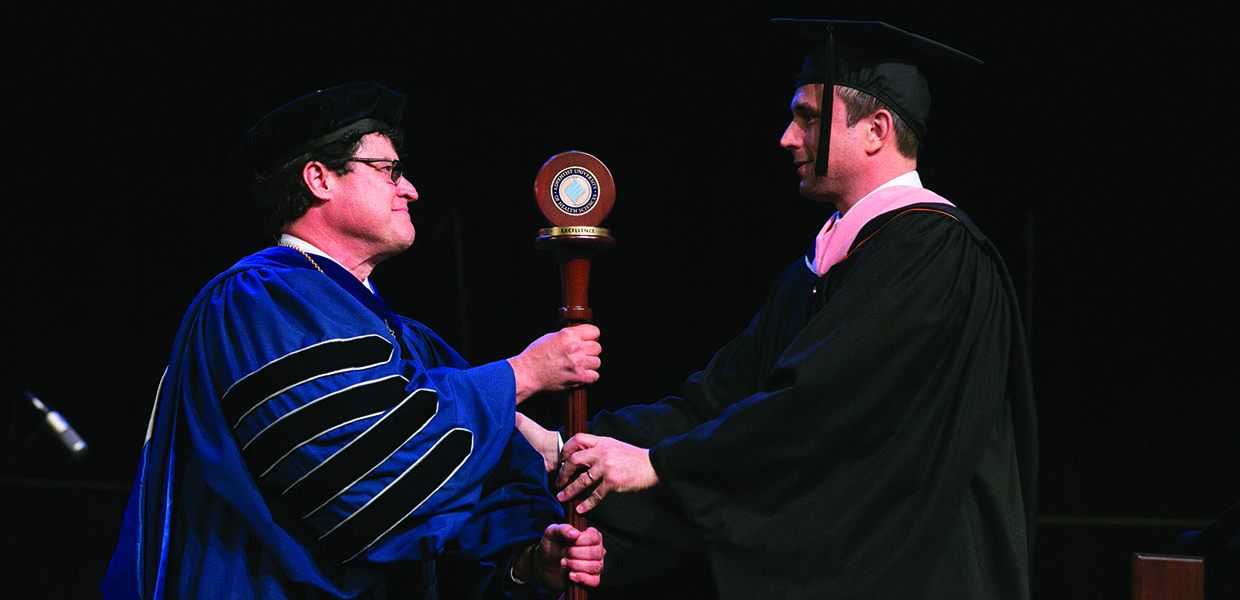 Daryl Tol, president and CEO of Florida Hospital, hands Edwin I. Hernández, Ph.D., the ADU mace.
In January, Adventist University of Health Sciences (ADU) inaugurated its second president, Edwin I. Hernández, Ph.D. Hernández served as ADU's provost for two years prior to succeeding the school's founding president, Dave E. Greenlaw, D.Min., in August 2017. Under his leadership as provost, ADU sharpened its standards, embraced innovation, and expanded its degree programs.
The inauguration brought together notable dignitaries from several universities, as well as members of the Seventh-day Adventist community, including Ella Simmons, general vice president of the General Conference of Seventh-day Adventists, and Larry Blackmer, vice president of education of the North American Division.
The president and CEO of Florida Hospital, Daryl Tol, spoke and welcomed the audience to this "occasion of faith, heritage, and promise." Buddy Dyer, mayor of Orlando, was also in attendance to speak and greet the new president. Dyer spoke of ADU's importance in the Orlando community, stating that "…as demand for quality healthcare grows, so will the need for quality healthcare programs."
During the ceremony the ADU choir, led by Ndala Booker, was joined by Cantabile, the Forest Lake Academy choir, and guest soloists Chelauna Chin King, Angel Smith, Brandon Harris, and Dwayne Thompson, to sing a powerful rendition of "My World Needs You," by Kirk Franklin, the anthem chosen by Hernández for the special occasion.
Richard Rice, Ph.D., delivered the inaugural address. Rice is a professor of theology at Loma Linda University, as well as Hernández' mentor and friend. He described Hernández as one who in all matters "…looks for openings to God and invites Him in," and the University as "…an ideal place for students to prepare for their professional lives, and view their careers as life-long vocations."
In his speech Hernández talked about "Rising Together" as the key theme of his leadership, intending to cultivate an environment of collaboration, innovation, and leadership on the campus during his tenure. He said, "At ADU, I see our role as educating students wholistically, but with a specific focus on the three dimensions that characterizes Adventist tradition: the mind, the body, and the spirit."
At the gala dinner following the inauguration, Hernández announced the Presidential Scholars Award, which will be awarded to freshman undergraduates at ADU who exhibit extraordinary potential to be the transformational leaders of their generations. A specially commissioned painting, Rising Together by artist Nery Cruz, was also unveiled during the dinner. The art piece celebrates the divine force uniting ADU, Florida Hospital, and Adventist Health System. In the painting, the Cross of Christ extends its rays toward ADU's Garden of Miracles, the campus of learning, and the centers of healthcare, a visual expression of the shared mission to extend the healing ministry of Christ.
On his vision of ADU's future, Hernández affirmed, "ADU will be regarded as a singular place of academic learning and spiritual development, where young people come in as students, and they leave as exceptional practitioners who reflect and exemplify the extraordinary values of Christ."
Adventist University of Health Sciences | March 2018