BY Florida Hospital Media Relations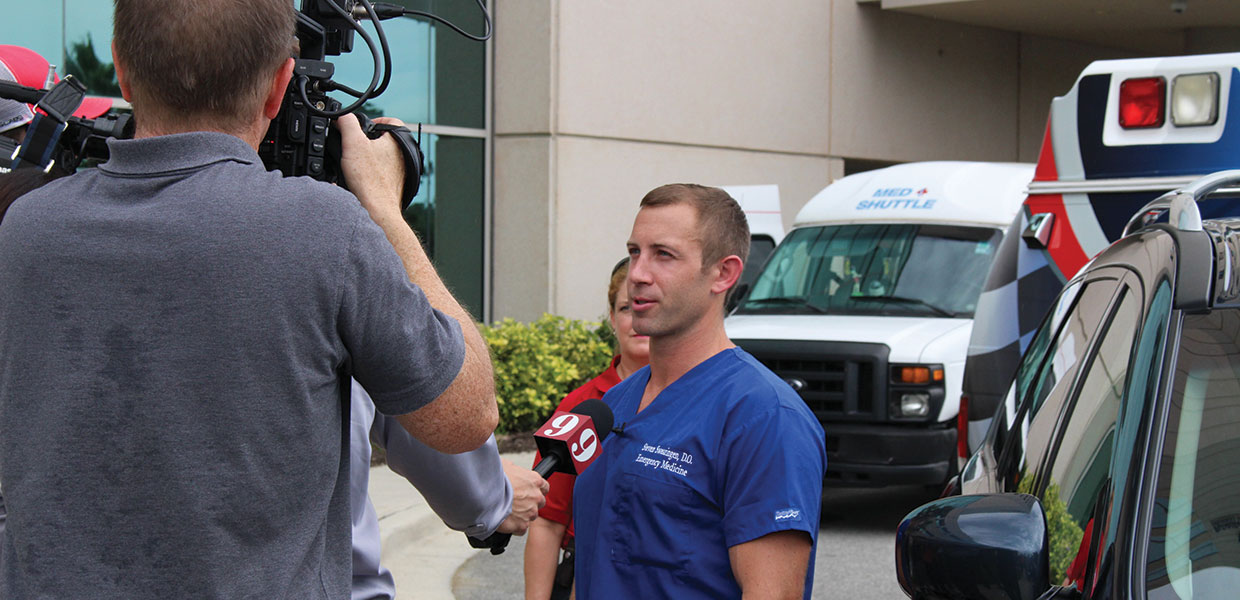 Steven Swearingen, M.D., stresses the medical dangers that can occur when sitting in a hot car for minutes at a time.
An emergency medicine physician at Adventist Health System's Florida Hospital Memorial Medical Center wants to remind adults how dangerous cars can become for children during the hot summer months in Florida.
To demonstrate how quickly vehicles can heat up and explain the onset of heat stroke symptoms in children, Steve Swearingen, M.D., emergency medicine physician at Florida Hospital Memorial Medical Center, sat in a car with engine and A/C turned off and the windows rolled up for 15 minutes.
The purpose of this short demonstration was to highlight how dangerous it can be to leave a child in a car.
"Heatstroke is more common during these summer months, April through September," Swearingen said. "When body temperature reaches 107 degrees, cells start to die and organs begin to fail. Symptoms of heatstroke in adults and children who are trapped in a hot car include dry and flushed skin, fast heart rate, confusion, hallucinations, seizures, or loss of consciousness. In extreme cases, death can occur."
Even with cloud coverage and a sprinkle of rain during the demonstration, it was 84 degrees outside, and the parked car's temperature quickly climbed nearly 20 degrees to just over 102 degrees.
While in the car, Swearingen's vital signs were monitored, including heart rate, blood pressure, respiration, and oxygen saturation.
Upon entering the vehicle, his heart rate was 87 beats per minute (BPM), but 15 minutes later it had risen to 105 BPM.
"This is a drastic increase for someone who is sitting still. The average resting heart rate for an adult is between 50 and 100 BPM," Swearingen said. "Thanks to the clouds! I honestly don't think I would have made it the full 15 minutes if the sun had been out. During the dry run earlier this week, with the sun out, the car got to 116 degrees in just 10 minutes."
In the U.S., 21 states have laws with specific language addressing leaving a child unattended in a vehicle. Four states allow a period of time that a child may be left unattended before it becomes a crime. Under Florida law, a child can be left alone in a vehicle for 15 minutes or less, as long as the car's engine is turned off.
According to NoHeatStroke.org, there were 42 pediatric vehicular heatstroke deaths in the U.S. in 2017. This year, there have already been 12 deaths reported.
"Children's thermoregulatory systems don't work as well as adults, so they can show signs of heat stroke or heat exhaustion three to five times faster," Swearingen said. "The changes in my vital signs over the course of 10 minutes can happen to a child in just two minutes."
To help prevent accidents from occurring, Swearingen suggested a few tips to adults.
"Maybe put your purse, your phone or your wallet in the backseat when you drive," Swearingen said. "These are things you are more likely to remember to take out of the car with you, and you can remember that your child is in the car."
Adventist Health System | August 2018