BY lisa marie esser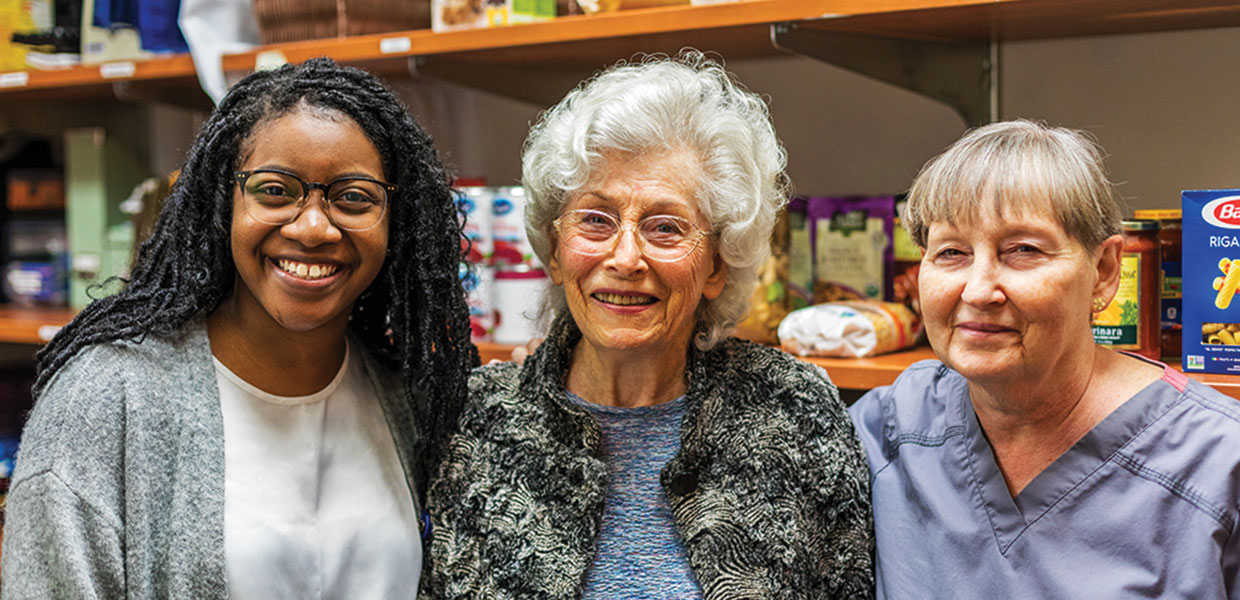 Jean Riley (center) poses with volunteers at the AHU Food Pantry.
Since 2013, the AdventHealth University (AHU) Joseph L. Riley, M.D., scholarship has provided financial support to caring, altruistic, and service-oriented students in the nurse anesthesia program. The scholarship was established by Jean Riley, longtime friend and donor to AHU, who embodied a lifetime of nurturing and faith.
After several months of illness, Jean Riley passed away on Thanksgiving morning, November 2019. Her legacy of fostering student growth began in memory of her late husband, Joseph Riley.
The Rileys married at the end of their freshmen year at Emmanuel Missionary College (now Andrews University) in Berrien Springs, Mich. Upon earning his pre-med degree, Joseph Riley was accepted to Loma Linda University School of Medicine, graduating in 1954. Soon after, he established a practice so that the young couple could settle down in a house with their burgeoning family.
After 14 years of family practice, Joseph Riley wanted a change, and decided to seek specialization in anesthesiology. Seeking a warmer climate, he applied and was accepted to the University of Florida's two-year nurse anesthesia program as a resident at Shands Hospital. Three years later, he was invited by administration from Florida Hospital (now AdventHealth) to lead their Nurse Anesthesia Department as they were introducing an open-heart surgery program.
The family, now including three children, moved to Orlando, Fla. The couple was active in the Adventist community, and part of the founding members of the Markham Woods Church. Riley worked tirelessly in his role at AdventHealth for 18 years until he retired in 1989. His group grew into a corporation, and upon his retirement the company was named in recognition of his influence in the central Florida anesthesiology community.
In 2010, Jean Riley lost her husband to illness after 62 years of marriage. To honor her husband's influence, she established the scholarship in his name, choosing AHU as the recipient for her generous donation. The University's connection to the place her husband dedicated much of his professional life to seemed the right place for the scholarship.
Riley said about her husband, "He loved his work, and … gave his life for [Florida Hospital], and I am so proud to honor him in this way." The scholarship recognizes Joseph Riley's lasting contributions to the practice of nurse anesthesia in the Orlando community.
Allison Frederick, 2019 recipient of the scholarship, said of Jean Riley, "The generosity and caring attributes that she possessed literally brought tears to my eyes when I accepted the scholarship. She and her family's generosity made a tremendous impact on my entire family … I am blessed to have met her."
In addition to the scholarship, Jean Riley became a devoted benefactor for AHU in other ways. AHU has a food pantry which exists to help students facing financial difficulties. When she learned of the student pantry, she was reminded of the struggles she had faced early in her life as a college student. She frequently donated carloads of nutritious, vegan foods to the AHU student food pantry to make sure it was well-stocked for students who needed it. "She never wanted students to go hungry," said Carol Bradfield, director of grants, alumni, and philanthropy at AHU, "Jean's kindness will be remembered by the many students whose lives she impacted through her charitable spirit."
Riley was one of many people who support AHU's food pantry and its scholarships. According to AHU's 2018 president's report, gifts made it possible to award almost $300,000 worth of scholarships to 105 students. "Our students are blessed with generous donations from many contributors, including AHU employees, who share resources to advance our mission and enhance our learning community," said Bradfield.
The gift of education is truly one that continues to give. When she wrote about establishing the scholarship, Jean Riley credited a physician who helped fund her husband's medical education decades earlier. Joseph Riley used that gift to bring healing to his patients and, eventually, to an entire community through his work. Jean Riley continued, as do hundreds of AHU donors, that tradition of giving to advance AHU's mission to develop skilled professionals who live the healing values of Christ.
AdventHealth University | February 2020