BY Lisa Marie Esser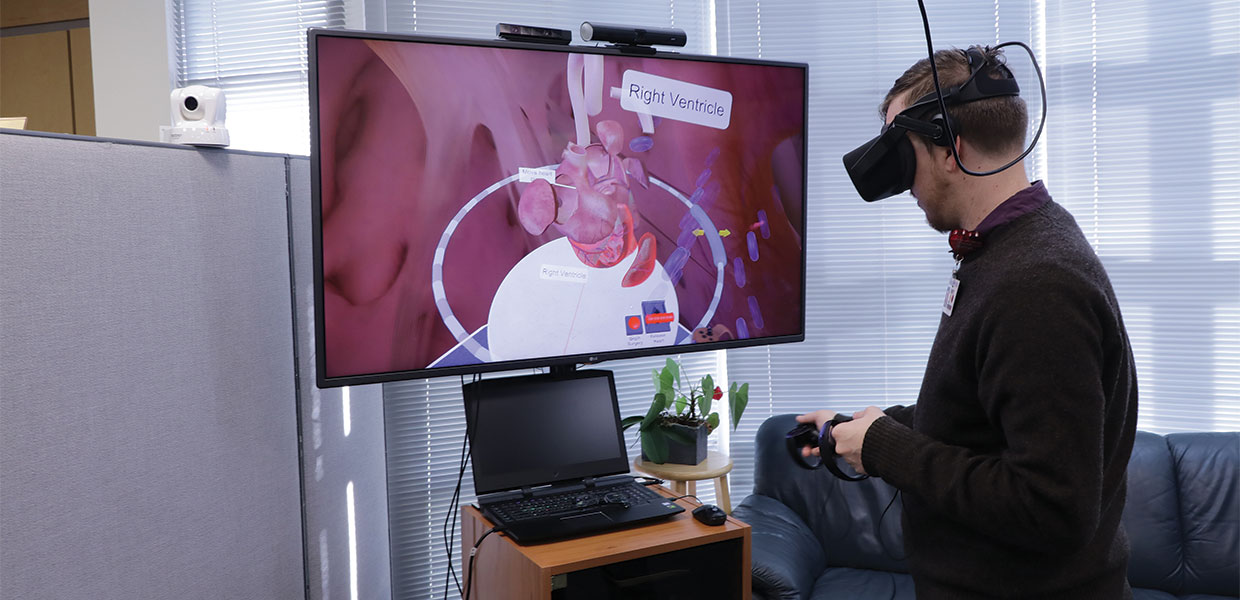 Robert Down, RN, graduate research assistant in AHU's Immersive Technologies Lab, demonstrates the Stanford Virtual Heart application on the lab's Oculus Rift system.
Lisa Marie Esser
AdventHealth University (AHU) was faced with a challenge. Radiography students at their Denver, Colo., satellite location didn't have access to an exclusive piece of portable x-ray equipment at the Orlando, Fla., campus. Students in Denver view class lectures via Polycom live streaming provided through the University's Center for Educational Technology (CET).
So, how could the team still give students the opportunity to effectively experience and understand how the equipment worked? The team turned to a solution in virtual reality (VR) and 360-degree video technology.
Dan Lim, Ph.D., vice president of educational technology and innovation, and his team at the CET developed a 7-minute, 360-degree video that would be viewed through a Samsung Gear VR headset. This method fully immerses the viewer in the video, blocking out visual and auditory distractions. The team collected data based on student feedback, and concluded that this mirrored the learning experience of the students in Orlando.
Intrigued by the results, Lim and his team restaged the project in Orlando to test the retention of information delivered via VR and 360-degree video. The results were positive, with students reporting higher engagement and recall of the material they viewed. Lim hypothesized, "The feeling of receiving a one-to-one demonstration may increase the attentiveness of the student. It also leaves less opportunity to be distracted by things you might see or hear in a normal classroom setting."
The potential for VR in education is broad. Anything that can be filmed or replicated in 3D can be turned into an application that students can either view or even directly interact with depending on the format. The team continued to develop new projects, including 360-degree video orientations of clinical sites for nurse anesthesia students, and a 3D interactive experience for students that simulates using a machine in the hospital that dispenses medication. Both are still working on official release, but as new projects continued to develop and succeed, the CET team realized that a dedicated working and research space was needed. This led to the opening of the Immersive Technologies Lab on campus. The lab is intended to be a research hub for projects utilizing VR and 360-degree video. Additionally, it serves as an incubator for faculty and students to share ideas and explore unique solutions to challenges in healthcare education and AHU.
The lab recently partnered with Stanford University to be one of 15 research sites for their Stanford Virtual Heart application. Developed by a pediatric cardiologist, the VR app presents a digital rendering of different hearts presenting a variety of illness and defects. The application allows the player to pull up each heart and expand it to look in depth at each part in a way that can't be replicated in real life. They can even run simulations of different surgical procedures.
Feedback from users will be gathered and sent back to Stanford University to help refine the app. As part of the agreement, AHU's immersive tech team can conduct their own research and publish findings based on the Stanford Virtual Heart App.
Graduate program students join chaplains on their rounds at hospitals to experience the journey of patients and their families. It's an impactful part of the program, but with a shortage of available chaplains there is difficulty in coordinating schedules to make this happen more frequently.
The team sees a potential solution in an immersive VR experience, which would supplement chaplain shadowing. Working with Don Williams, Ph.D., assistant to the president for mission, they've been brainstorming ways to effectively implement this by staging scenes with actors, creating realistic environments, and even finding a way to link multiple users into the same VR scenario simultaneously.
This project is still in the concepting stage, but this demonstrates that VR and 360-degree video technology can reach into any area of a student's educational journey — from classroom lectures and clinicals to spiritual growth.
Better healthcare professionals build stronger communities. AHU's mission to develop skilled professionals who live the healing values of Christ means continuously looking for innovative methods to ensure students graduate as confident healthcare leaders. The Immersive Technologies Lab will continue to explore these emerging technologies, and incorporate them in a way that blends AHU's faith-based mission with its goals for academic excellence.
AdventHealth University | April 2019