BY lisa marie esser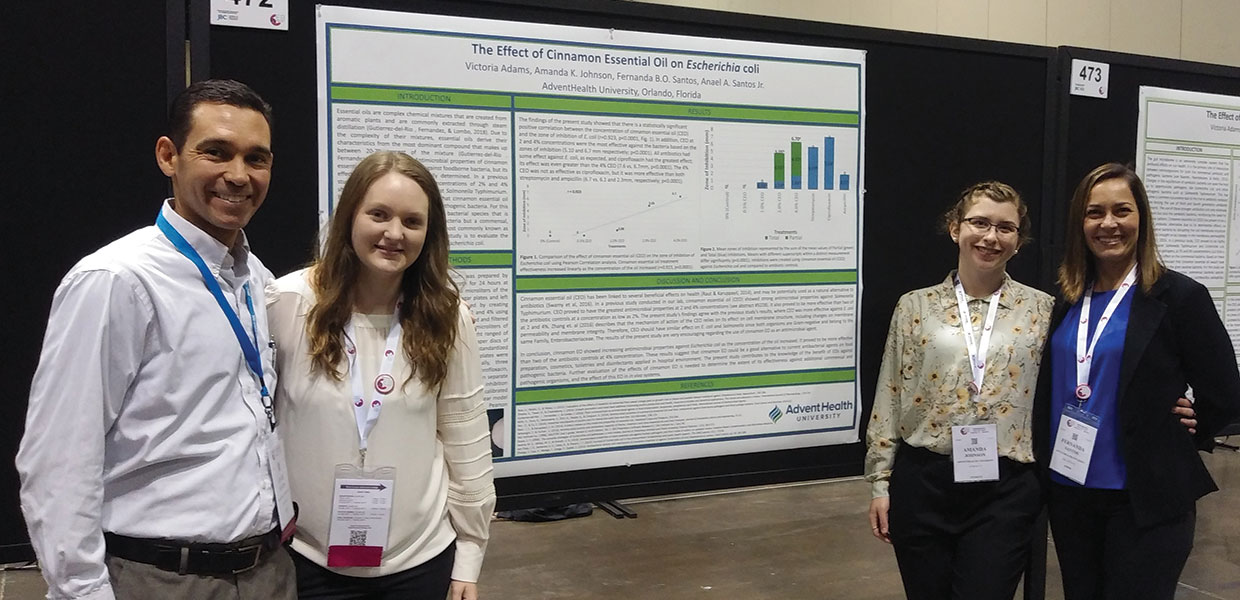 Anael Santos, Ph.D. (left), Victoria Adams, Amanda Johnson, and Fernanda Santos, pose in front of one of their presentation boards at the Experimental Biology Conference.
Members from AdventHealth University's (AHU) Healthy & Biomedical Sciences (HBS) Department were present at this year's Experimental Biology (EB) Conference in Orlando, Fla. EB gathers more than 12,000 scientists and 25 guest societies to present from various disciplines, including anatomy, biochemistry, pharmacology, and more. The Conference welcomes all scientists interested in "advancing the latest research impacting life sciences."
AHU faculty Anael Santos, Ph.D., professor of biochemistry and genetics, and Fernanda Santos, Ph.D., professor of microbiology, pathophysiology, and genetics, were in attendance. Along with fellow research authors Amanda K. Johnson, Victoria R. Adams, and Brittany L. Walker, all graduates of the HBS program, they presented findings from five research projects which were published as articles at the Federation of American Societies for Experimental Biology (FASEB).
Four of the studies were focused on nutraceuticals and performed in the biology lab at AHU. According to Santos, "We study nutritional strategies to improve health, specially looking at the microbiome of the intestinal track." These studies included researching the effect of cinnamon essential oil on both beneficial microorganisms and human pathogens such as salmonella; E. coli; and the digestive "friendly" bacterium, lactobacillus, which is found in some fermented foods like yogurt.
Johnson is a safety officer at AHU while working on her M.S. in nutrition, and Adams has been accepted to the Ph.D. biochemistry program at North Carolina State University. Walker is now an employee at AdventHealth.
At AHU, advancing research in healthcare, particularly whole-person care, is a priority. Faculty, students, and alumni are encouraged to pursue innovative studies to continue serving as leaders in healthcare.
AdventHealth University | July 2019