lisa marie esser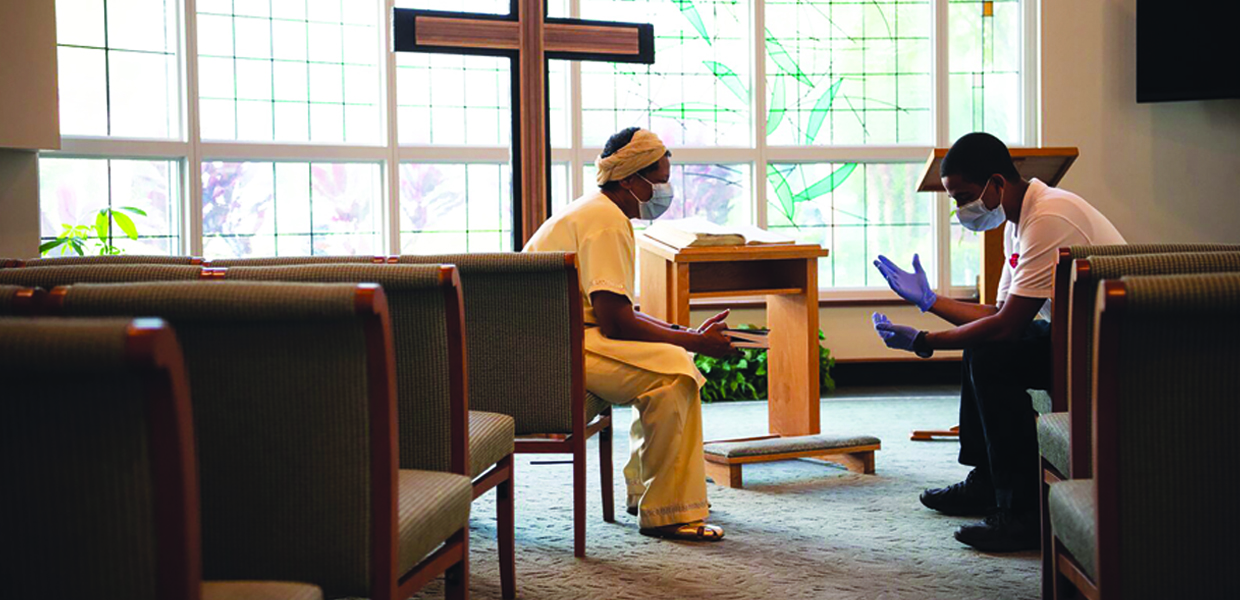 Hospital chaplains provide spiritual care to patients as well as staff and visitors.
AdventHealth University (AHU) is adding a new degree to its online department in collaboration with AdventHealth (AH). The Master of Science in Spiritual Care (MSSC) program will launch in January 2021, and begins accepting applications on September 1, 2020. This is the first theological degree from the University. Its mission-focused curriculum will prepare graduates to provide whole-person spiritual care.
AdventHealth employs more than 150 chaplains across its healthcare system. Over the next five years, AH anticipates a growing need for more chaplains as some retire and chaplaincy roles expand within an already growing healthcare system.
In his letter of support for MSSC's accreditation, Terry Shaw, president/CEO of AdventHealth, wrote, "The planning of the [MSSC] has been a collaborative effort on behalf of the University and the healthcare system. University officials and faculty have worked closely with spiritual care and chaplaincy leaders from the healthcare system to design this program. We believe it will be a significant compliment to whole person care, and that it will provide well-trained chaplains and leaders to sustain our mission of extending the healing ministry of Christ."
Only two schools in the North American Division prepare chaplains specifically for hospital ministry, which "is simply not adequate to fulfill the current and future needs of AdventHealth," according to Stan Dobias, D.Min., MSSC Program director. He led a committee of AH leaders and AHU faculty in its development.
Dobias said, "The MSSC was envisioned a little more than five years ago as an opportunity for AHU and Advent- Health to collaborate in more connected ways by bringing the excellence and resources of graduate education, online platforms, and academic experts, along with the expertise of clinical providers, in preparing chaplains who will serve in and out of AdventHealth."
For almost 30 years, AH has sponsored an accredited Clinical Pastoral Education (CPE) program offering theological education for ministry of all types taught in a clinical setting. The CPE's integration into the MSSC program offers the experiential aspect of chaplaincy preparation from a robust program with a legacy for educating board-certified chaplains.
AH has five accredited CPE centers across five states, including its Orlando, Fla., campus. Additionally, there are more than 300 APCE accredited centers in the U.S., allowing MSSC students to access CPE training wherever they live while completing their coursework online.
Ted Hamilton, Ph.D., chief mission integration officer and senior vice president; Jay Perez, vice president for mission and ministry; and Ramona Reynolds, executive director of ministry education and research, were named as key AH members who played an instrumental role in developing and launching the program.
Reynolds said, "AHU's program also welcomes students from all faiths, and will be developing specialties that allow students to supplement their learning with specialties in bioethics, mission leadership, and healthcare administration — leveraging the academic expertise that already exists at AHU."
Students preparing for employment within AdventHealth facilities will take classes in Seventh-day Adventist doctrines, and participate in pastoral mentoring programs that will provide congregational connection and experience.
Edwin I. Hernández, president of AHU, said, "This degree will serve both Adventists and candidates from other faith traditions, creating a powerful learning environment to advance the mission of extending the healing ministry of Christ."
AH promises wholeness in healing to its patients. Spiritual care is key to meeting a patient's needs outside of just their physical pain. By understanding the importance of spiritual and mental wellness to a person's overall health, AHU's graduates are better prepared to become practitioners and advocates of whole-person care.
| September 2020