BY Lisa Marie Esser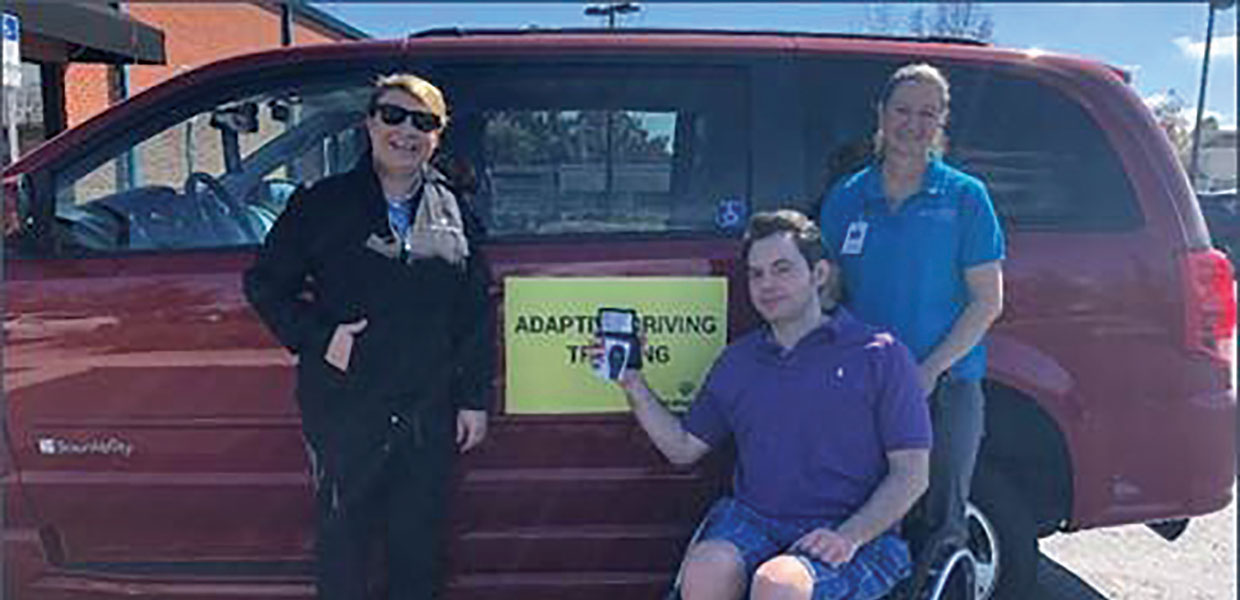 Dorothee Zuleger (left) and Jennifer Radloff, O.T.D. (right), with one of the clients (center) who received his adaptive license thanks to the collaborative efforts of AHU's M.O.T. program and The Neuro Hub
Dorothee "Doro" Zuleger, M.O.T., is the founder of The Neuro Hub, an occupational therapy clinic in Altamonte Springs, Fla. Her clinic provides "hands-on, evidence-based, skilled occupational therapy for adults and children with a range of neurological conditions." Zuleger attended AdventHealth University's (AHU) occupational therapy assistant program and earned her degree to become a certified occupational therapy assistant (COTA). She then continued in the master of occupational therapy (M.O.T.) program, earning her degree in 2013.
Soon after opening her clinic in January 2017, Zuleger discovered an unmet need in the community. Patients were asking her for information about adaptive driving training services, and there weren't any places in the city where she could refer them. Adaptive driving is an essential part of a patient's healthcare journey and recovery after spinal cord injuries, strokes, and other ailments that prevent them from completing daily activities as they had previously.
Zuleger had many clients who wanted to be able to drive again, but she's not certified in adaptive driving. Still, she said she "felt a responsibility to her patients" to ensure they could live a whole life. As an AHU graduate, Zuleger's education emphasized the importance of whole-person care. Emotional needs, like the happiness that comes from being able to drive without assistance, are as important as physical recovery.
Since Zuleger wasn't certified in adaptive driving, she reached out to Tia Hughes, Ph.D., chair of AHU's occupational therapy program, to ask about adaptive driving. Hughes gave Zuleger course resources to get her started. Then, a few months later, AHU's occupational therapy (OT) department hired Jennifer Radloff, O.T.D., who is a certified driver rehabilitation specialist (CDRS) through the Association for Driver Rehabilitation Specialists (ADED). At that time, Hughes reached out to Zuleger to bridge a connection.
Zuleger told Radloff her plans to learn and add an adaptive driving program to her clinic, and Radloff was happy to collaborate. Radloff became Zuleger's mentor, training her to become a DRS while also helping to serve the needs of patients in Zuleger's clinic.
This partnership adds a much-needed service to the community, and an opportunity for AHU to continue an educational relationship with one of their alumni. Additionally, Zuleger agreed to bring her adaptive driving van and some of her clients to AHU's campus to educate OT/A students on adaptive driving services. OTs need to know how to address driving and community mobility, even if they don't plan to become specialists.
"We can mentor and give back to our alumni while they give back to the community and our students," said Radloff. Radloff gave a presentation about this unique mentorship program at an ADED conference in August 2019, exposing other driver rehabilitation specialists to their model. The goal is to get more clients driving again, improving their quality of life.
Zuleger and Radloff began working together in the fall of 2018, doing their first drive with a client in January 2019. Initially, Radloff did all the driving training from the passenger seat while Zuleger shadowed from the back seat, taking client notes to observe their cognition and reactions during the drive.
Zuleger does the initial clinical evaluations for driving on her own, and then she works out a time and date with Radloff to do the actual driving assessment or training. Driving clients start in a low-traffic area like a park so they can get used to using the adaptions in the vehicles. They then progress to driving on residential, 2- and 4-lane roadways, working their way up to driving on the I-4 highway.
Some vehicle adaptations that patients might need training to use could include a gas pedal on the left side for stroke patients who have right side paralysis. Radloff and Zuleger help them re-learn to drive with only their left foot. A paraplegic patient would need training on using hand controls to operate their gas and brake pedals. They are taught hand coordination as they alternate between turning the steering wheel and activating gas and brake controls.
The experience has been positive for not only the patients, but for Zuleger and Radloff as well. "It's cool to come and give back to my alma mater," said Zuleger, adding enthusiastically, "I love the whole MOT Department."
The role a university plays in a graduate's life extends past their years in school. AHU professors like Radloff understand that education is a lifelong pursuit, and there are always ways to expand knowledge and continue to build relationships. By enabling its alumni to improve their community engagement, AHU continues the cycle of care and teaching far beyond its campus.
AdventHealth University | December 2019