JENNIFER AUDETTE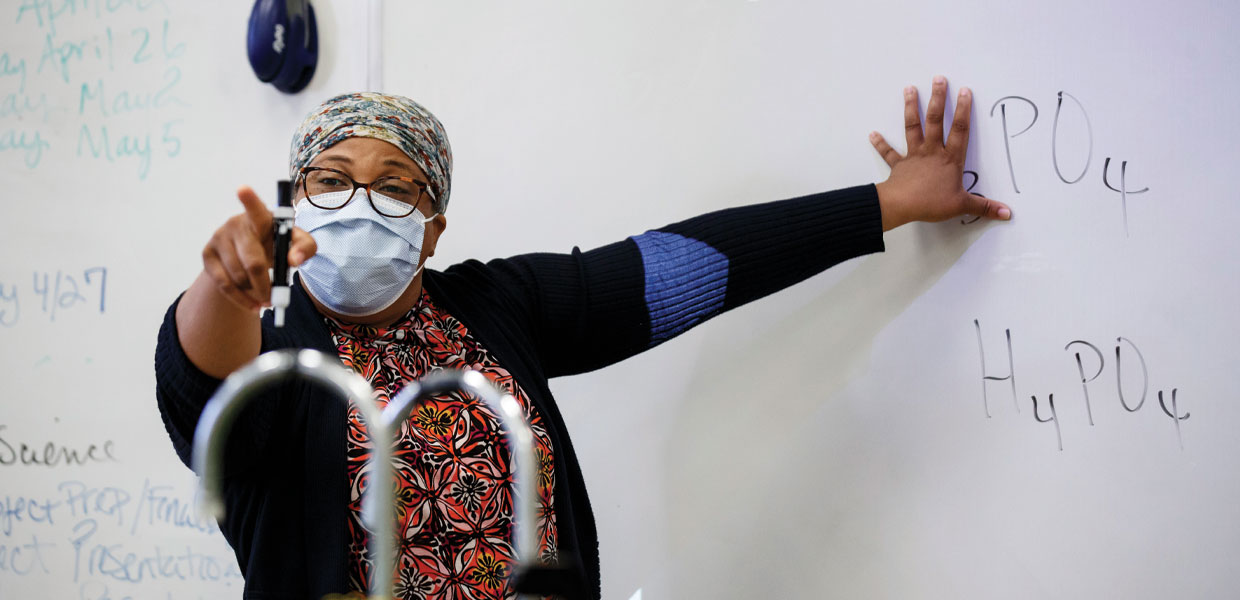 Nadia Edwin, Ph.D., chemistry professor at AdventHealth University, teaches chemical equations to students at Forest Lake Academy in Apopka, Fla.
Scott Audette/AdventHealth University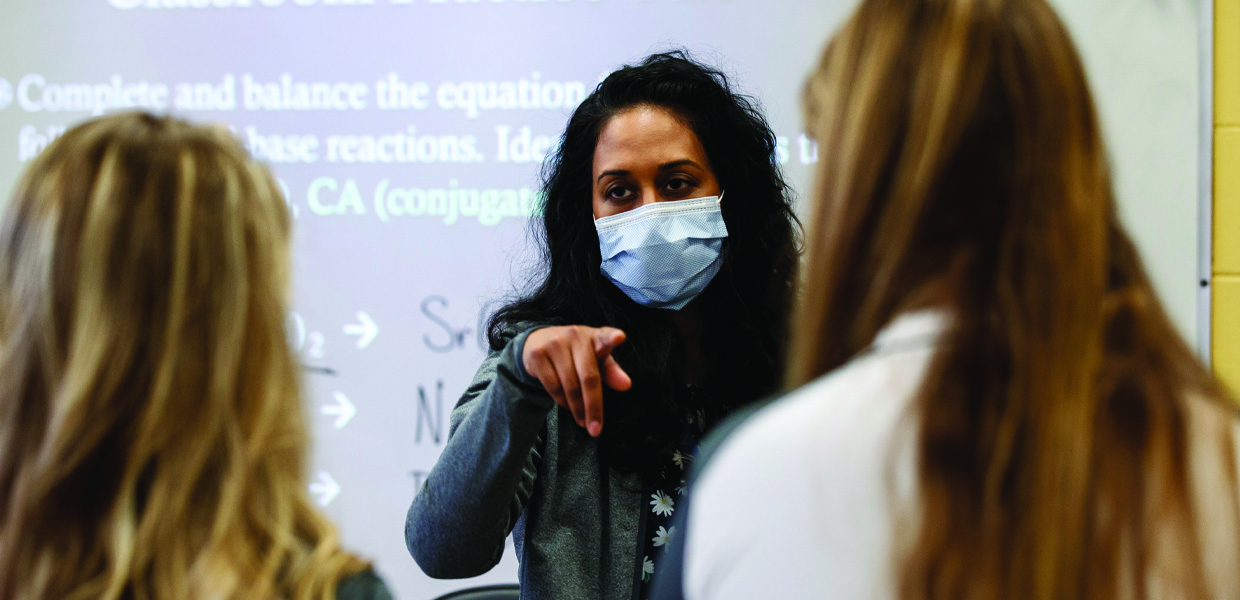 Benita David, M.B.A., D.B.A., chair of the healthcare administration program at AdventHealth University, helps with a chemistry class at Forest Lake Academy in Apopka, Fla.
Scott Audette/AdventHealth University
When her daughters arrived home from high school one day in April, Benita David, M.B.A., D.B.A., could sense their frustration.
"Isn't there anything you can do?" David's daughters pleaded.
Well, it just so happens, there was something David could do to alleviate her daughters' worries.
Two teachers were out on leave simultaneously at Forest Lake Academy (FLA) in Apopka, Fla., where David's daughters are juniors. One of those teachers leads chemistry, a more specialized class than general science and math.
With the blessing of AdventHealth University (AHU) leadership, David, chair of healthcare administration at AHU, rallied her fellow AHU professors to cover the chemistry, honors chemistry, and environmental science classes at FLA through the end of the 2021-2022 school year. That's six classes a day — in addition to the courses they teach at AHU.
Thanks to Nadia Edwin, Ph.D.; Carlo Semerzier, Ph.D.; graduate students
Katherine Gonzalez and Isobel Fitzhugh; and David, the students are completing labs, solving chemical equations, and preparing to pass end-of-year exams.
"It's a challenge at the end of the year to get them to understand the concepts," said David, who has been a professor of business, finance, marketing, and leadership at AHU for 13 years.
With a 100-year legacy of providing Seventh-day Adventist education, Forest Lake Academy is open to those in grades 9-12th.
"It's a different world teaching high school students who are not there by choice and college graduate students. I certainly admire what high school teachers are doing on a daily basis," said David, who earned her bachelor's degree in biomedical zoology from Andrews University, her master's degree in business administration from Valdosta State University, and her doctoral degree in business administration from Argosy University.
Administrators at Forest Lake Academy are extremely appreciative David stepped forward.
"It's great that we have someone qualified to do this," said Glen Baker, Ed.D., Forest Lake principal. "We're very grateful to have Dr. David do that."
This is not the first time Forest Lake Academy and AdventHealth University are collaborating. The two schools, both located in the same vicinity of central Florida, partner to offer dual enrollment classes for high school students wanting to earn college credit hours.
AdventHealth University | July 2022