lisa marie esser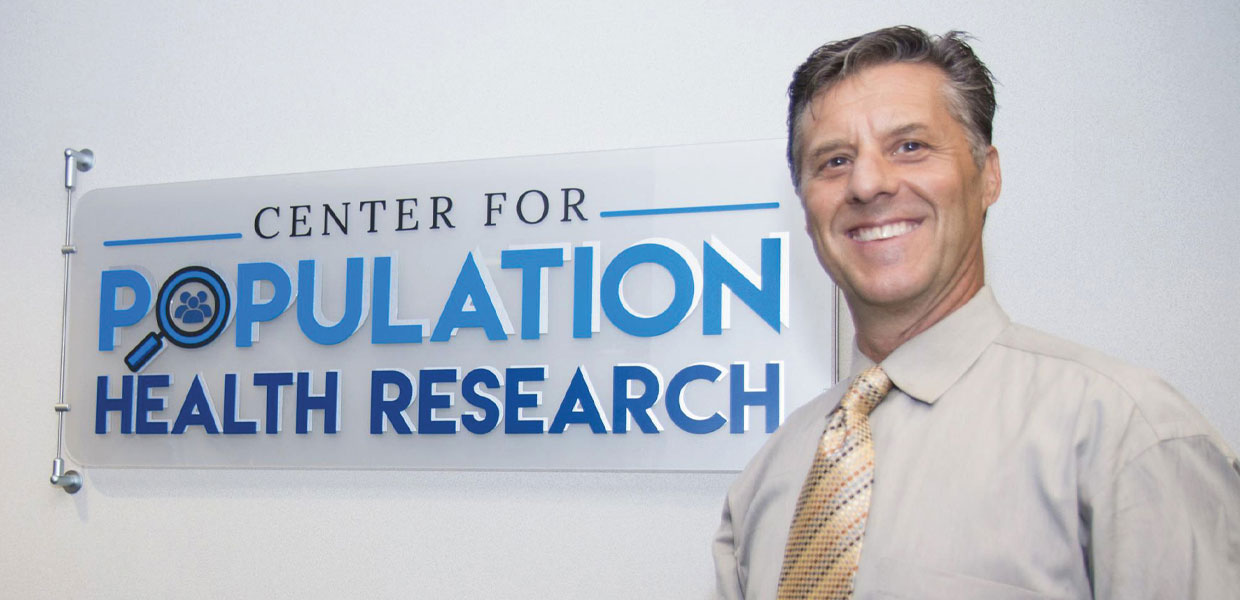 Russ Butler, Ph.D., stands in front of the Center for Population Health Research after its official opening.
AdventHealth University's (AHU) Center for Population Health Research (CPHR) was founded in 2016, to utilize geographic information systems (GIS) technologies to expand medical geography research in central Florida communities and beyond. The Center is directed by Russ Butler, Ph.D., a biology professor at AHU, who is an accomplished researcher in this field. He coordinates both faculty and student research in projects that are focused on population health.
Population health is an approach to healthcare that aims to improve the health of an entire population. Rather than focusing on individualistic, case-by-case healing, the CPHR develops long-term prevention methods and contribute to improving the health of central Florida's communities.
"It is my hope that this research will impact struggling areas throughout central Florida and beyond, closing gaps in health disparities across the population," said Lars Houmann, president emeritus for the Florida Division of AdventHealth, when the center opened in 2016.
CPHR engages students and faculty in applying geographic information systems (GIS) technologies to medical geography research. Medical geography is the science of understanding the spatial patterns of phenomena related to human health and well-being in order to identify various factors which may affect the health of a population. In an earlier project, Butler and his students conducted research on water quality in nearby Bithlo, Fla.
GIS technologies can be used to match research data with map coordinates that can reveal patterns of disease and illness as well as pinpoint high-risk areas. It uses spatial statistics, geo-spatial analyses, cartographic techniques, and remotely sensed data to assess and analyze spatial, and temporal trends. In "using that data, we can more accurately prescribe action," explained Butler about the benefits of spatial mapping technology.
The center's use of GIS technologies develops skills in spatial thinking, quantitative analysis, and problem solving while providing hands-on research experience to students. In providing students and faculty with this opportunity, the Center will contribute to the University's wholistic approach to education and treatment.
One graduate who has benefitted from the Center's research opportunities is Craig Gillen, who graduated with a bachelor's degree in biomedical science from AHU in 2016. He began his work with Butler in the CPHR after developing a mentorship with him while taking one of his courses. Butler invited Gillen to the Center to learn some of the programs they had installed on the computers for research. Studying textbooks in the lab, he learned how to use ARCGis and started helping Butler out with projects in the lab.
The skills he developed helped land him a position with the Florida Department of Health (FDH) in epidemiology at the Orange County Office after graduation. His first big project was working as the Zika coordinator for Orange, Osceola, and Lake counties, where he monitored the development progress of infants born from Zika- positive patients.
Recently, Gillen worked alongside Butler on a project that aims to help decision makers predict the impact of COVID-19 in different populations. For the project, they utilized ArcGIS Pro, a leading mapping and location analytics platform owned by Esri, a global market leader in GIS.
At the start of the COVID-19 pandemic, Butler and Gillen began working on a map that could help predict how susceptible different populations would be for COVID-19 so that decision makers could plan for its impact. Users can view demographics from the state level all the way down to zip codes and census blocks.
The data for ARCGis is curated by Esri from a variety of sources, including census and other government data. It's then made available for users like Butler to create map modelings. There are hundreds of applications in health and medicine for GIS technologies. When Gillen worked at the FDH, he worked on GIS maps for a hepatitis-A outbreak in Orange County. The maps could track the number of cases, and try to predict the spread so outreach efforts could be better targeted.
The CPHR has several other projects in the works, including one where they've partnered with another university. Butler is adamant about the multi-disciplinary aspects of population health research, and talked about the need to have diverse groups, outside of medical professionals, weigh in and offer insights that could lead to new discoveries.
AHU aims to innovate and advance the practice of whole-person care by empowering its faculty and students to pursue these valuable interdisciplinary research opportunities. Equipping students' hands to do God's healing work does not always involve patients, exams, or therapy. Many of AHU's graduates make their impacts on the community at the bedside. However, sometimes they're like Gillen, carrying out His work with technology and research, and using their skills to benefit entire communities.
.
AdventHealth University | October 2020