BY Sandra Dunbar-Smalley, D.P.A.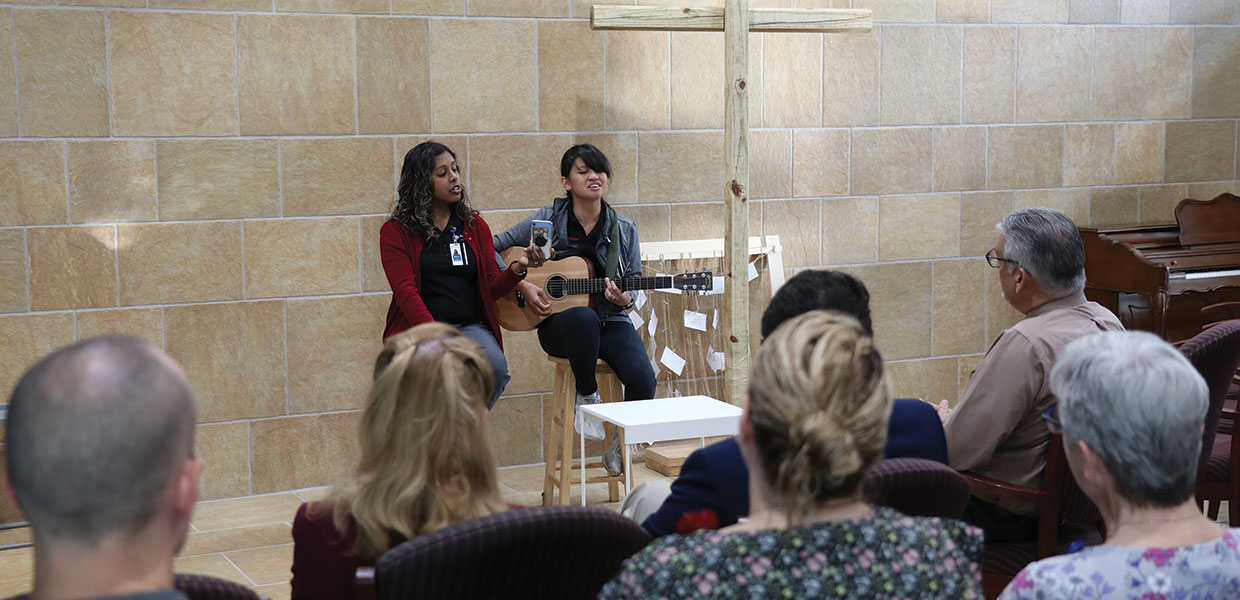 Chaplain Nieshe Steinke (left) and part-time chaplain and AHU alumna Karen Razon lead a song of worship for the First Friday Faithful gathering.
Martin Rodriguez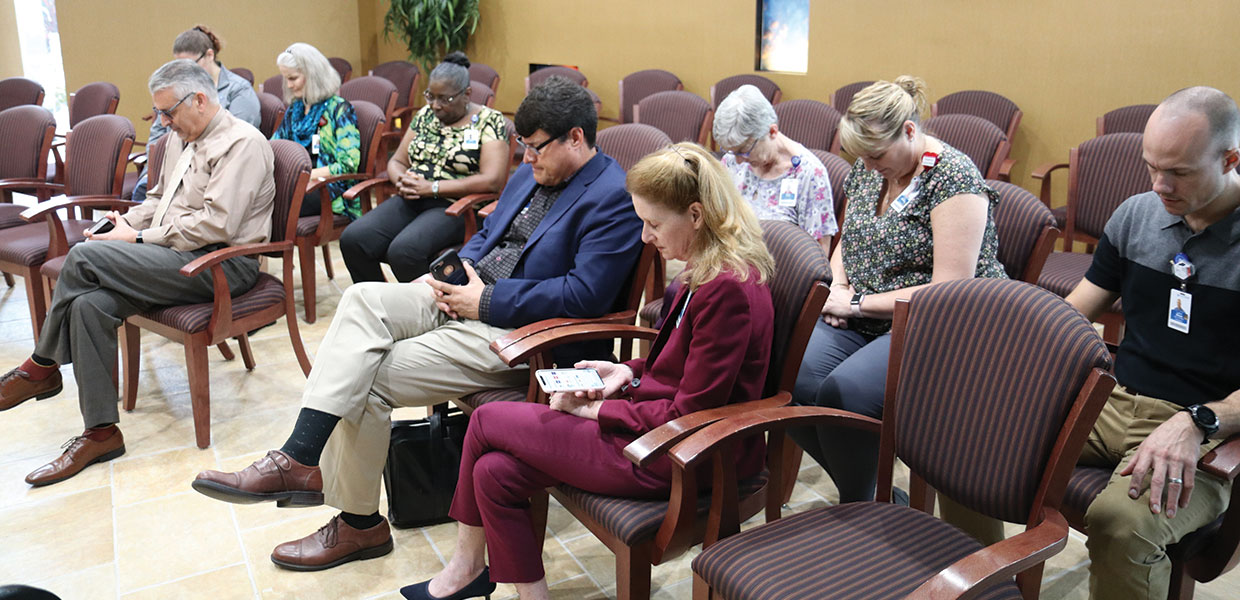 Attendees of the First Friday Faithful bow their heads in prayer, including Reynold Acosta (front left), chaplain, and Edwin Hernandez, Ph.D. (front center), AHU president, along with other professors and staff members.
Martin Rodriguez
AdventHealth University (AHU) serves an engaged student body of more than 1,600 individuals. Regular mission-focused events for them include a weekly prayer breakfast, Sabbath worship services in the dormitory, and monthly mid-day worship services. However, the need for spiritual growth avenues for faculty and staff was apparent on campus.
In the fall of 2018, a new initiative was started to ensure that campus employees also had opportunities to gather and share their faith. With the assistance of Reynold Acosta, chaplain, First Friday's Faithful was launched in the campus chapel on the first Friday of every month. This early morning worship service has provided a monthly expression of song, faith, prayer, and support for faculty and staff. Music is supplied by students, alumna and occupational therapist Karen Razon, or student life coordinator Jennifer Galeana, followed by a devotional from a staff or faculty member volunteer, and group prayer.
The topics have been rich with personal and touching experiences, such as dealing with the illness or loss of a loved one, applying God's encompassing love to one's earthly parenting, and preparing for a new trimester through God's promises in His Word. The opportunities for employees to share in this experience is enhancing the spiritual life on campus. Marie Smith, clinical coordinator in the Imaging Sciences Department, feels that it benefits her by giving "a Friday morning boost of inspiration and encouragement." She states that "listening to others share something that has deep meaning to them also reminds me that we are in this big world together and can lean on each other when in need."
The small group campus ministry is an extension of biblical examples of "house" ministry. "And they continued daily with one accord in the temple and house to house … with gladness and singleness of heart," Acts 2:46. There is a different type of engagement when groups outside of large church fellowship meet together in His name. This personal, intimate time among colleagues with God is an opportunity for spiritual growth. William Boekestein, in his article on the benefits of group worship, indicates that without small group ministry, it is difficult for the Christian to reflect God's ideal of community.
"For where two or three are gathered together in my name, there am I in the midst of them," Matthew 18:20. God is blessing the monthly worship services, whether a few attend or the room is full. Connections are made, prayer requests are heard, and there is a positive start to the day on First Fridays Faithful at AHU.
AdventHealth University | January 2020