BY lisa marie esser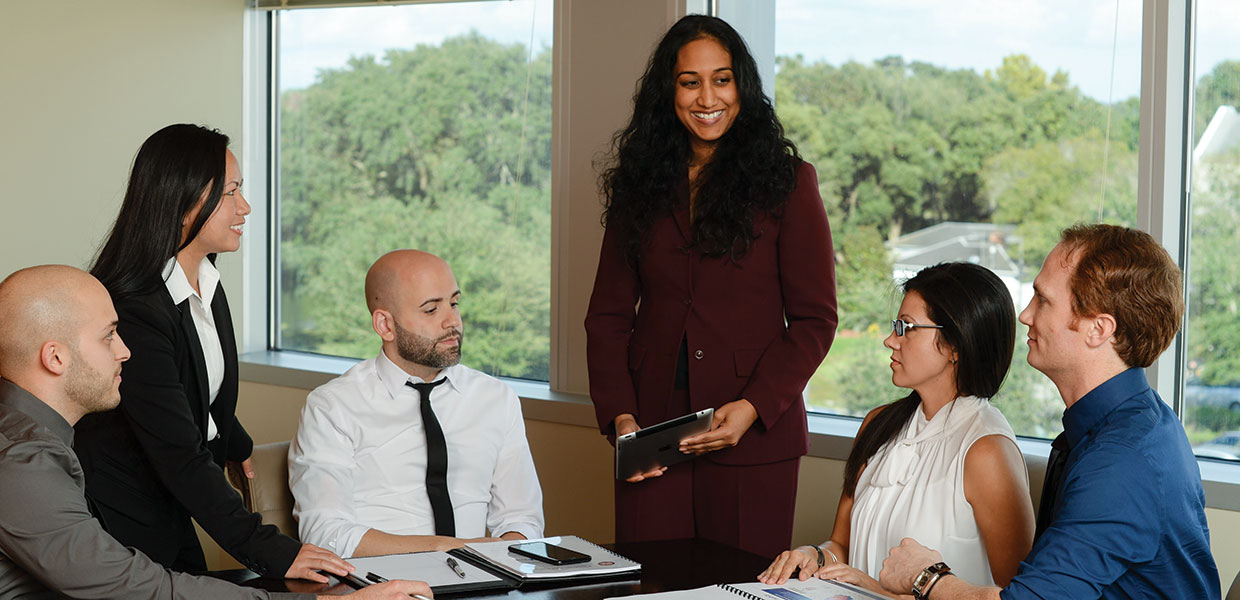 Benita David (standing, center) is the chair of AHU's healthcare administration program, and has been integral in the success of the on-campus M.H.A. degree since 2012.
Ask yourself, 'Why do you want the degree?'" This is the question posed by Lars Houmann, FACHE, CEO emeritus of the Florida Division of AdventHealth (AH). He continues, "Is it because you want some letters after your name … or is it because there's something in your heart that makes you want to serve better, serve more?"
Houmann's question is directed at prospective students of AdventHealth University's (AHU) master of healthcare administration (M.H.A.) program. The program was designed to be deeply integrated with the leadership at AH, its sponsoring organization. Houmann was instrumental in establishing the program and a driving force in its continued success.
For faith-based institutions like AHU and AH, building a strong foundation of mission in the organization's culture starts with Christ-centered leadership. AHU's M.H.A. program is built around a model of the servant leader. Servant leadership is a philosophy built around the idea that the person sees leadership as an opportunity to serve others rather than views leadership as power or a rank to obtain. Servant leaders share power and measure success through growth over output. Benita David, D.B.A., AHU healthcare administration chair, said, "The idea … is at the heart of everything we teach our students. Healthcare administrators … have to remember they're serving the needs of real people."
AHU M.H.A. alumnus Casio Jones, commented on "how much Jesus was woven in through the curriculum." When he described his experience in the program, he said, "Being a leader, it's your responsibility to not just guide [employees] to be the best they can … but help them with their relationship with Christ. I think that's what sets [it] apart from other organizations. This … is what healthcare should look like. You cannot have healthcare without having the true leader involved."
The M.H.A. program was founded in 2012, and enrolled its first students in 2013. For the program to be considered for accreditation by the Commission on Accreditation of Healthcare Management Education CAHME, it needed to graduate two cohorts of students. Just this past May, the program received initial accreditation status from CAHME) — a significant milestone for the program.
David said, "Receiving the maximum initial accreditation from CAHME has been the culmination of years of hard work from the program faculty and leadership at the University. It provides hospital leaders around the country the comfort and knowledge that a graduate from AHU's M.H.A. program has developed the skills, ability, and mindset to be an impactful leader in their organization."
"AHU will be vital to providing the leadership talent essential to the future of Adventist health care in North American and globally, wherever our mission is active," said Houmann. In an earlier video interview, he stated that AHU is "where the leaders of this organization ought to be developed."
AHU develops skilled professionals who live the healing values of Christ. Its graduates will become leaders with a commitment to serve as God's hands, guiding the healthcare industry as it continues to evolve and change.
AdventHealth University | August 2020