Waleska Gonzalez, secretary to Latin-American Ministries, GCC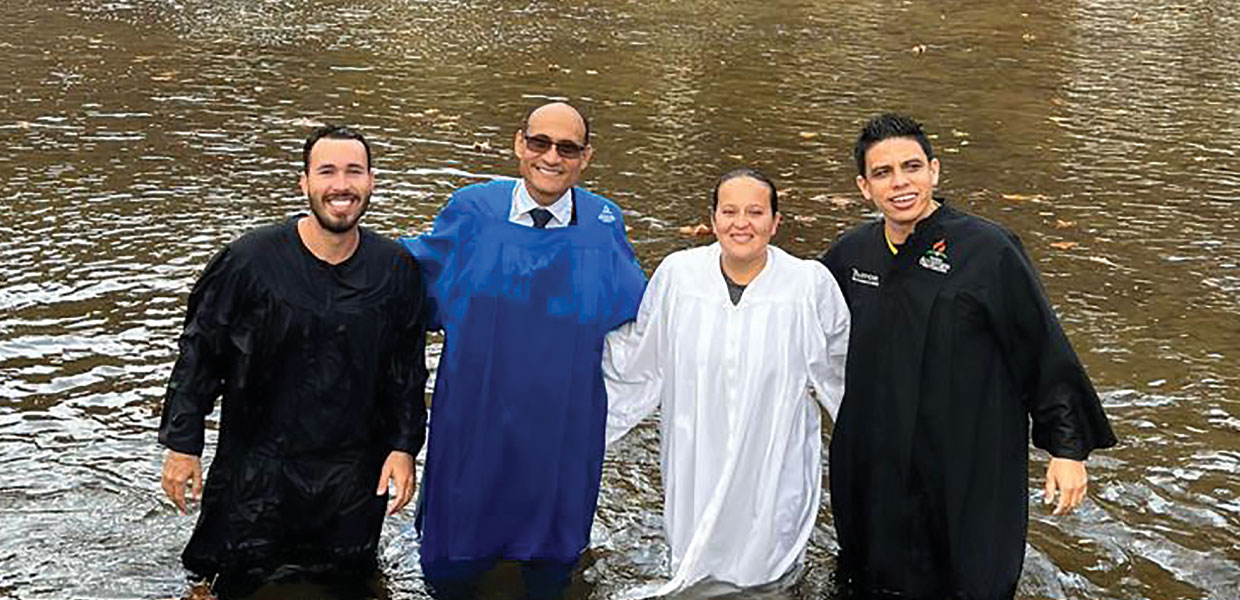 Kevin Vegas (left), joins Richard Urdaneta, Sevierville Hispanic pastor, Angela Ardila, and Jaime Celis in the river for baptism. Kevin made the decision while Angela and Jamie recounted their conversion story right before being baptized. These new members join more than 130 people baptized as a result of the Todo Neuvo evangelistic series.
Todo Nuevo, meaning All New, is what hundreds of people can say about their livee after the evangelistic series held October 1-8, 2022, all across the Hispanic churches in the Georgia-Cumberland Conference.
The Southern Union Hispanic Ministries Department, along with the Georgia-Cumberland Conference Latin -American Ministries, put their efforts together to host the evangelistic event in the first week of October from Albany, Ga., to Morristown, Tenn., at every Hispanic district simultaneously.
After almost three years of the pandemic, Todo Nuevo was the first in-person event for most of the Hispanic churches, so having this special evangelistic series back in their territories was a big affair, not only for the church leaders but for the members as well. Jorge Baez, Morristown Hispanic district pastor, still speaks about what a real blessing it was to see, once again, the church leaders and members actively involved with their visitors not only during the program but even now. Richard Urdaneta, Knoxville Hispanic district pastor, also mentioned how his churches rekindle their mission work during and after Todo Nuevo. But, God had much more in store for them, because not only were the churches being impacted, but the Holy Spirit was transforming many lives!
In Sevierville Hispanic, Todo Nuevo ended with the baptism of eight individuals at the local river. Among them were Angela Ardila and Jaime Celis, a Colombian couple. He was atheist and she was raised Adventist but rebelled and left the Church as a young woman. Still in the river waters, they were giving their testimony about how neither of them wanted to know about anything religious, but how God never gave up and the Holy Ghost kept chasing and reaching them in different ways through their lives' events, even jail time where Jaime started to hear about Jesus. And while they were talking about their conversion experience, a young man from the crowd, Kevin Y. Vegas, took off his shirt and got into the river asking for baptism. Vegas also attended the series every night, and later told Urdaneta that he couldn't resist anymore the impression he also felt during Todo Nuevo, and he wanted to start an all new life as the Colombian couple just did.
Maria*, a third-generation former Adventist woman who had left the Church more than 20 years ago, always felt that God was calling her back home. Her husband had recently died just a month after their newborn baby. Shattered, overstressed, and with compromised health, she finally decided to respond to God's call and came to the Todo Nuevo meetings at the Jonesboro Hispanic Church. Night after night, she felt like a little bit of her heavy load was lifted from her shoulders until finally she began to feel comfort. By the end of the week, she asked to be baptized and was able to perform a beautiful, special song after her baptism. Almost two months later, Enrique de la Rosa, pastor, saw her again but this time there was something different. She wasn't overstressed anymore, and she looked whole, healthier, and happier. Maria said she had found peace; her life now is all new, todo nuevo, in Jesus. Death is not the end; she knows that soon she will be reunited with her baby and loved ones for eternity. Certainly, Jesus can make all things new.
More than 130 people were baptized during that week while many other started Bible studies and attended Sabbath services. This effort did not end on October 8; it is the beginning of todo nuevo, all new, in the life of many more.
*Maria is a fictitious name for privacy purposes.
Georgia-Cumberland | January 2023