BY PEGI FLYNT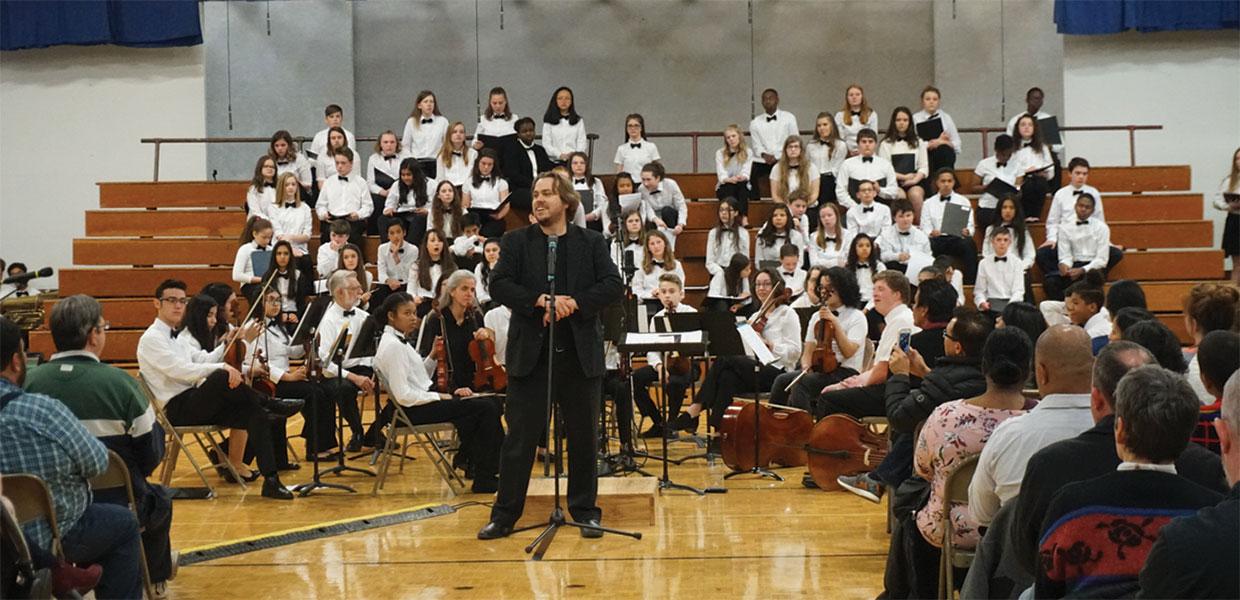 Daniel Bondaczuk (center), composed "Sing Alleluia" for the annual Kentucky-Tennessee Conference Music Festival.
With a rich 60-year history, the annual Music Festival, a premier event for the Kentucky-Tennessee Conference, was recently held at Highland Academy, where 268 students and more than 300 participants came together to lift instruments and voice in joyful praise to the Creator.
Along with Kentucky-Tennessee schools, two other conferences were also represented. Greenville Adventist Academy from the Georgia-Cumberland Conference brought 35 students; and Gurnee Christian School, traveling more than 1,000 miles to participate in the events, brought eight students from the Illinois Conference.
Elaine Will, a dedicated and talented musician and member of the Lawrenceburg Church, has served as the coordinator of this event for 12 years, and has provided leadership on the Music Festival Planning Committee for 25 years. Will states, "It is my great joy and privilege to share the gift of music with the students at this Conference." A highlight of the festival was the debut performance of "Sing Alleluia," which was composed and conducted by Daniel Bondaczuk, who serves as the minister of music for the Madison Campus Church. Commissioned by the Conference Office of Education, this piece was written to incorporate all performing ensembles, including vocal choirs, band, strings, and bells.
Clinicians included choral directors John Neumann and Jeremy Francisco, string ensemble director Ellen Francisco, band director Wes Bradford, and handbell and chimes ensemble director Shelly Miller. These musicians are dedicated to furthering in young people the understanding that music was intended to serve a holy purpose and "awaken in the soul devotion and gratitude to God," E.G. White, Christian Education, 62.3. Evelyn Hainey, science teacher at Gurnee, states, "There is a strong correlation between active participation in music programs and continued commitment to the Seventh-day Adventist Church in adult life, and this is where I need to be putting my evangelism dollars."
Kentucky-Tennessee | May 2019