BY Abigail King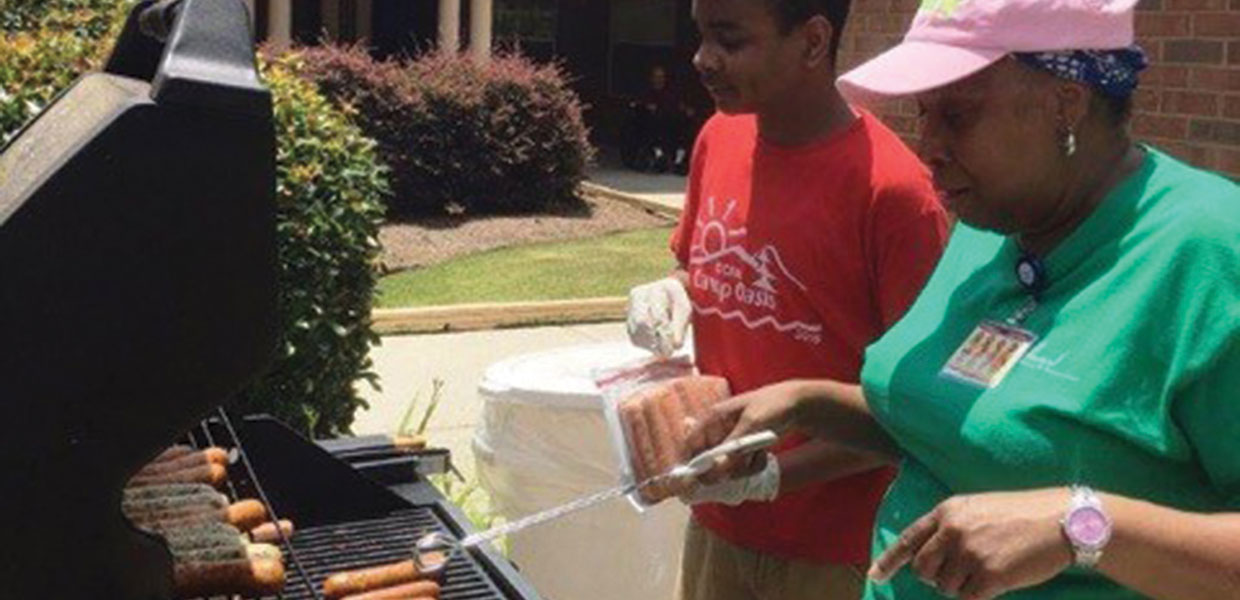 Christian Lawson helps Gloria Marshall, an activities assistant at the nursing home, grill hotdogs for the residents.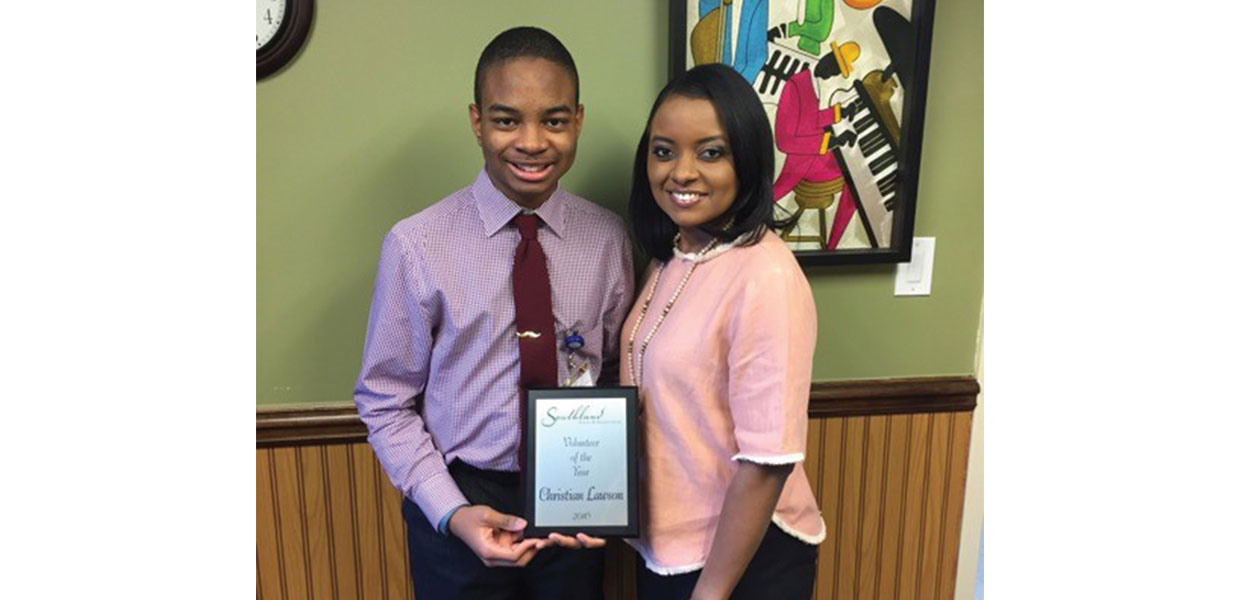 Patrelle Major Cross, Southland Nursing Home administrator, recognizes Christian Lawson as Volunteer of the Year.
Thanks to Southern Adventist University's ASSIST grant program for academy students, Christian Lawson has been excelling both in school and as a companion to the elderly. Lawson, along with other students in the program, works to improve the quality of life for older adults. In exchange, the students learn the value of service as they foster positive mutual relationships with the elderly, while also receiving tuition assistance for their participation.
As part of the ASSIST program, Lawson, a junior at Atlanta Adventist Academy (AAA) in Duluth, Ga., has been assigned to three residents at Southland Nursing Home. He chats with them about what is happening in their lives, their past life experiences, and his personal stories and challenges.
"I love talking with all of them," Lawson said. "Ms. Sammons always has encouraging words to share, and Ms. Allen is very wise and inspires me to continue toward my goal of attending college."
Recently Lawson received the Volunteer of the Year award at Southland for his outstanding devotion to the residents. Upon receiving the award, Lawson says he felt very humbled and even cried because of his love for the seniors.
Lawson has no living grandparents, so he enjoys the opportunity to interact with the older generation. He views each of his relationships with them as unique and personal, and enjoys being with them whenever he can.
"My relationship with Ms. Forester mirrors that of a mother and son relationship, whereas my relationship with Ms. Allen mirrors that of a grandmother and grandson," Lawson said.
Having been involved with the ASSIST program for several years, Lawson says he has fallen in love with all of the seniors. Despite his own issues with Crohn's disease, Lawson continues to faithfully serve the residents. He considers his work with them to be a ministry.
"I believe that God has placed within me a desire to help others, and to allow His light to shine through me as I interact with them," Lawson said.
Bob Mills, the academy's assistant treasurer and supervisor for the AAA students in the ASSIST program, has the opportunity to visit each of the participating nursing homes and discuss student involvement with the administrators. Mills shared that each time he checks in at Southland, he receives rave reviews for Lawson's work and his friendliness toward the residents.
"He is continually cheerful and energetic in his work, and is also an avid student leader at AAA," Mills said. "He carries himself with confidence and strength as he socializes with those around him."
When Lawson's parents filled out the application for AAA, they did not know how they were going to be able to pay his tuition every month. With the help of the ASSIST program, Lawson has been able to attend academy without financial struggles.
"I am so thankful to Southern for this program," Lawson said. "Without it, I would not have had the opportunity to attend a Seventh-day Adventist high school for the past three years. This program has been such a blessing to me and my family."
Lawson plans to pursue a degree in long term care administration, and dreams of becoming either a nursing home or hospital administrator.
Southern also has a similar opportunity for elementary school students through the PFE grant program. Providing tuition assistance to students in the PFE and ASSIST programs is just one way that Southern aims to make Adventist education more affordable for more people.
Southern Adventist University | May 2017