BY KARLA BLISS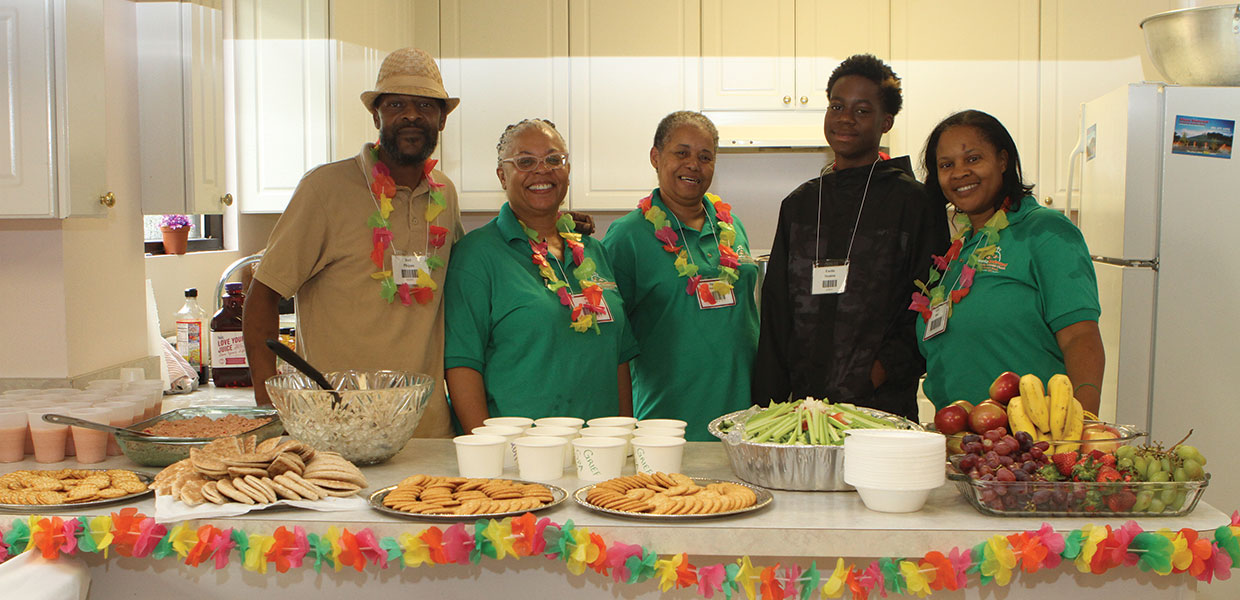 Atlanta Boulevard members display the food that was served during the CREATION Health seminar.
Reaching our Community with Hope, Wholeness, and the Love of Jesus Christ" is the mission statement of Atlanta Boulevard Church in Atlanta, Ga. To fulfill its mission, the church holds a Bible study for the community every Wednesday from 6 to 7 p.m. The themes vary in order to keep it fresh and appealing. Harold Thomas III, D.Min., pastor of Atlanta Boulevard, initiated a CREATION Health seminar on March 21, 2018. The word CREATION is an acronym for eight principles of a healthy lifestyle: C is for Choice, R for Rest, E for Environment, A for Activity, T for Trust, I for Interpersonal relationships, O for Outlook, and N for Nutrition.
One principle of healthy living was taught each week of the seminar. Under the direction of Rawanda Wynder, a team of nine people demonstrated how to apply the principles to daily living. For instance, when the participants learned about creating healthy spaces inside and outside the home, they touched, smelled, and saw plants that heal. When they learned how to replace unhealthy food choices with healthy food, they sampled healthy desserts and comfort foods. A very important component of the seminars was pairing people to offer each other support, prayer, and accountability. Many who came to class as strangers left as friends.
The program was well received in the community. Fifty-five people signed up for the program, with an average weekly attendance of 32. A diversity of religious backgrounds was present: Christians of various denominations, a few Muslims, and some with no religious affiliation. The desire to live healthier lives removed barriers and opened the door to fellowship.
After completing the eight-week seminar, there were two more weeks of healthy cooking classes. There were not only live demonstrations, but also hands-on food preparation. Everyone was provided with recipes to take home, a list of vegan-friendly stores, and instructions on how to make healthier lifestyle choices when shopping. The church will be offering quarterly follow-up meetings to give additional support to the participants.
Atlanta Boulevard seeks to follow Jesus' plan for healing and soul winning. CREATION Health provides a practical way of expressing that desire.
South Atlantic | September 2018