By Shelli-Ann Jackson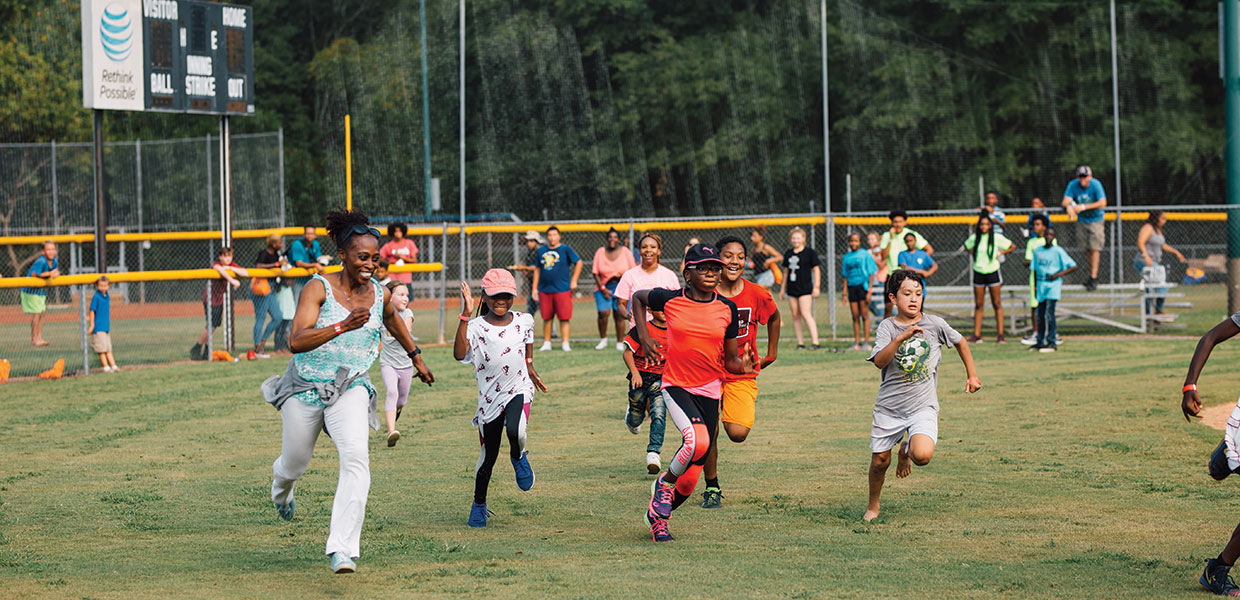 Gail Devers, three-time Olympic gold medal champion and inductee of the National Track and Field Hall of Fame, joined the fun last September at the Auburn Church Let's Move Day, The Georgia church members have actively involved their town and community in Let's Move Day even offering their first free outdoor clinic with a variety of health tests.
Submitted by Shelli-Ann Jackson
Through prayer and perseverance, the Auburn, Ga., Church members hosted another completely free "Let's Move Day!" on September 15, 2019. They partnered with the city of Auburn officials and 50-plus local businesses. The goal was to host a completely free health and fitness event as an outlet for families, and to provide a variety of community resources by having 27 sponsors onsite for the big day.
The Let's Move Day offered fitness alternatives, outdoor family fun, food, and health education; literature was distributed, and one or two health screenings were available. Outdoor fun included volleyball, soccer, kickball, basketball, hula-hoop, jump rope, tug of war, group fitness, obstacle courses, bounce houses, a fortnite dance-off, toddler games, and a citywide water balloon challenge.
In addition to their standard offerings and physical activity, they wanted to offer more, and so provided job recruitment and increased accessibility to clinic services. They partnered with licensed medical professionals and held their first free outdoor wellness clinic. Free medical services offered during the Let's Move Day include massages; HIV testing in a mobile unit; hepatitis C testing; a life coach and mental health; various health screenings, including spine, scoliosis, posture, blood pressure and blood sugar; thermal scanning for nervous system assessments; pulmonary function testing for asthma/COPD screening; and nutrition and health supplements (Arbonne) station.
Gail Devers, a two-time Olympic gold champion in the 100 meters who won her third gold in the 4 x 100 meter relay in 1996, joined the fun at the Auburn Church Let's Move Day as a special guest. Devers is also the 1993 World Champion in the 100-meter and a three-time world champion in the 100-meter hurdles. In 2011, she was inducted into the National Track and Field Hall of Fame. For fun, Devers accepted the race challenge from children at the event.
Members of the First Baptist Church and other local churches participated all day helping the Let's Move event, providing more awareness to the benefits of physical fitness and health. Additional highlights included E.W. Dempsey, Georgia-Cumberland Conference health ministries director, who participated by leading physical fitness activities.
The Lord has truly blessed the Auburn Church's Let's Move Day ministry that began in 2014 with one simple request from Jeff Westberg, pastor, to accept the call to reach out to the Auburn community through participation in the North American Division initiative called Let's Move Day. As a small church, its members are proud to sustain this event with the generosity of their sponsors; and, excitedly, for the fifth year, they offered Let's Move Day!
Special thanks to the 2019 Let's Move Day partners and sponsors.
Partners:
City of Auburn
Boy Scouts Northeast Georgia Council-Troop 750
Black Women Leaders in Nursing
Gold Sponsors:
Georgia-Cumberland Conference of Seventh-day Adventists
Adventists In Step For Life
Northeast Georgia Medical Center Barrow
Barrow County Health Department
Noire Nail Bar
Posh Hair Salon
Kumon Math and Reading Center
Edee's Place BBQ
Hue Graphics & Apparel
Allstate Namon Collins Agency
Georgia-Cumberland | January 2020