BY Saundra Kromminga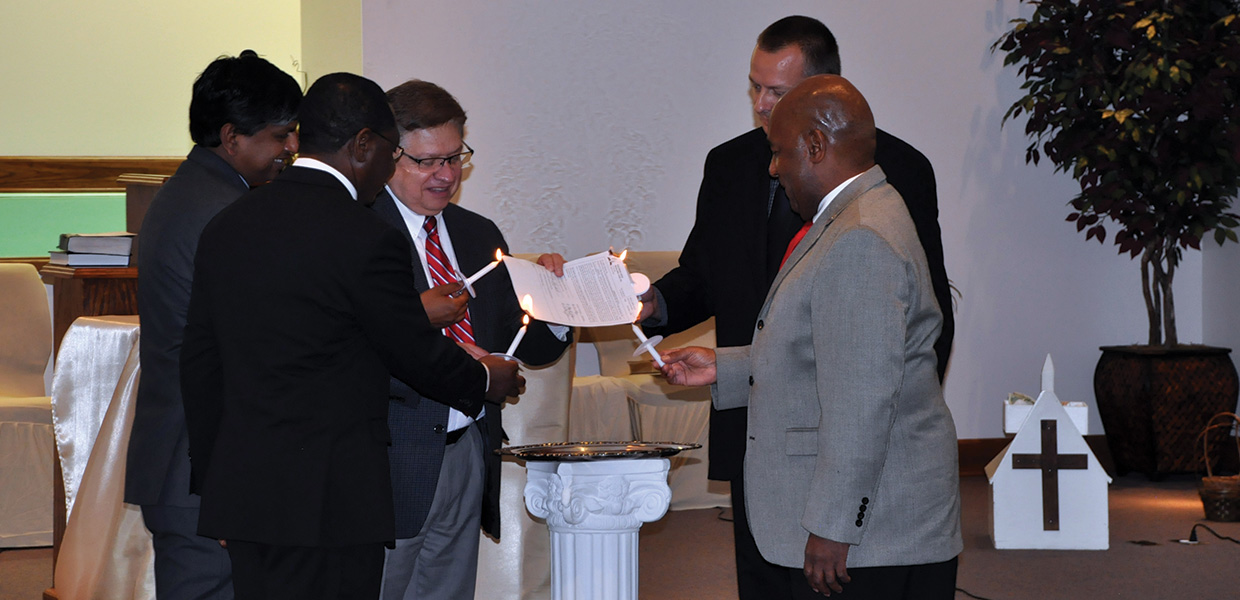 Participating in the mortgage-burning ceremony were Alan David (left), local elder; Venso Akingbemi, local elder; Pavel Kulakov, pastor; Derek Akins, local elder; and Patrick Jones, local elder.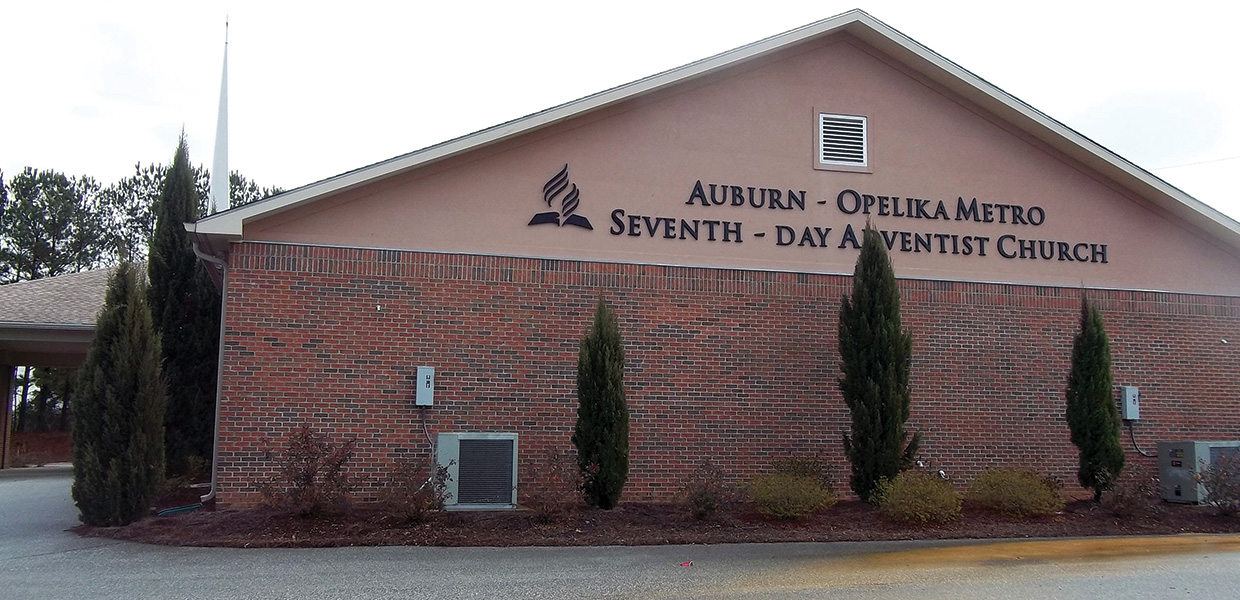 With the church mortgage eliminated, this congregation stands ready to be used for mission.
God's light shone in Opelika, Ala., when Henry L. Solomon, and his wife, Lucille, moved there in 1941. Sabbath services were held in their five-room home for years as Solomon invited his community to worship with them. The first Opelika Church was completed in 1984, and members expanded their vision to include an elementary school in 1986. As the church grew, that building was sold, and in July 2005 seven and a half acres were purchased for building a new church.
On the morning of August 25, 2018, members of the Auburn-Opelika Metro Church gathered for a memorable Sabbath service after years of prayer. After Sabbath School, the members gathered in the sanctuary as the students from Auburn University campus ministry led the group in singing the hymn of preparation, "To God Be the Glory." The congregation praised God for a debt-free church, and celebrated together as Pavel Kulakov, pastor, and the local elders set the four corners of the mortgage on fire, destroying it.
Dave Livermore, president of Gulf States Conference, and Brian Danese, Conference vice president of finance, joined in the celebratory Sabbath activities. Livermore spoke about being called to be a witness, and left the members with a challenge for total involvement in service to their neighbors and community. "Reach out and touch someone who needs prayer or Bible study, and connect them to God," Livermore stated. "We need to come out of our comfort zone and ask the Holy Spirit to open our eyes, and God will empower us with the strength we need," he concluded. Livermore left the members this thought from 1 Corinthians 9:22-23: "To the weak I became as weak, that I might win the weak. I have become all things to all men, that I might by all means save some. Now this I do for the gospel's sake, that I may be partaker of it with you."
A dedicatory prayer was offered by Danese, followed by a special thanksgiving fellowship luncheon. The members offer all praise and honor of this occasion to God.
Gulf States | November 2018