BY Shane Hochstetler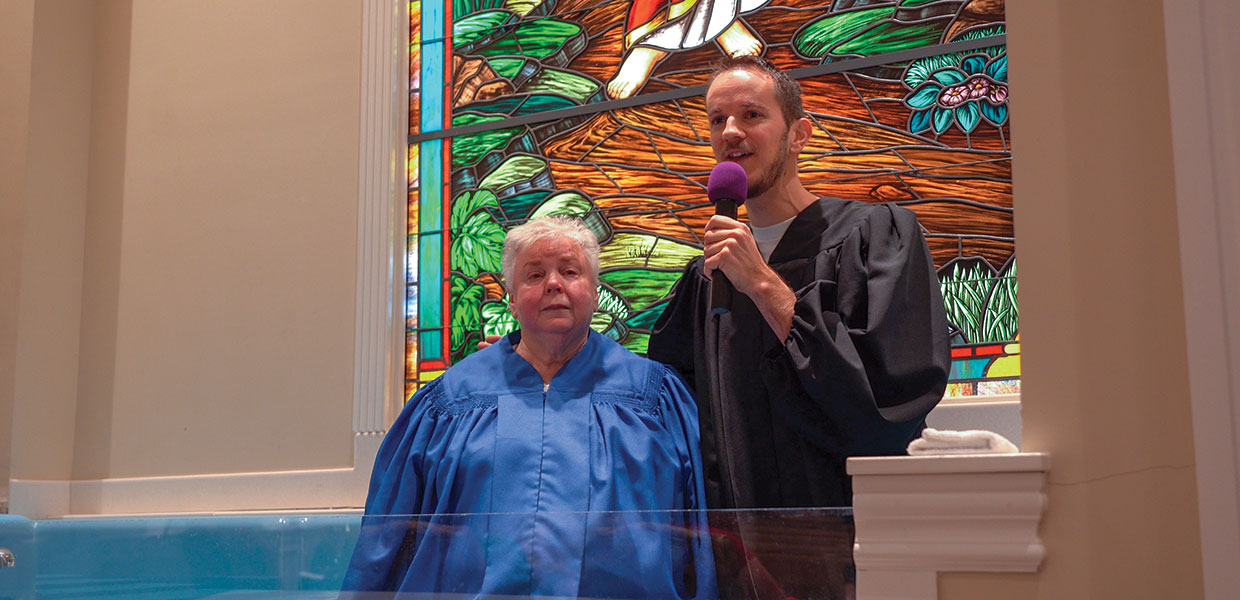 Willia Thomas (left) stands with Samuel Riemersma, pastor of the Community Church, as he prepares to baptize her.
Shane Hochstetler
The Community Church in Meridian, Miss., celebrated the baptism of their newest family member, Willia Thomas, on the first Sabbath of January 2019. Thomas joined the church as a result of several evangelistic efforts, a meeting series, small groups, and friendship. However, it was through faithful scheduling of "Baptism Sabbath" that made her decision to be baptized easier.
Baptism Sabbath is a pre-determined date when the baptistry will be filled and ready for use, regardless if anyone is scheduled to be baptized or not. Samuel Riemersma, pastor, shares the reasoning behind the plan: "I learned about Baptism Sabbath from a presenter at the Southern Union Evangelism Conference (EC3). The idea is that our purpose as a church, our business or job, according to Matthew 28, is to baptize people. If we aren't baptizing people, we aren't doing our job, and our mission will fail. Imagine … if a McDonald's didn't sell any hamburgers for a year or longer, that location wouldn't stay open for long."As these Baptism Sabbaths are advertised and promoted in the church, it gives visitors an opportunity to ask, "What is baptism? What does it mean?" And, it also makes it easier for those who were already considering baptism to take the next step and commit.
By faith, Community Church has scheduled these special Sabbaths to take place every two months.When asked what will happen if the baptistry is filled and no one is scheduled to be baptized, Riemersa answered, "It should cost us if we are not doing what God asked us to do — the monetary cost of water expense, as well as the experience of seeing the tank filled yet no one to participate in it. But, we shouldn't fear failure; if we do what God wants us to do, we can't fail. Even if there is no baptism, that can be turned into a teaching moment."
Following this year-opening Sabbath with a baptism and announcing the next Baptism Sabbath for March, the church is working with four more individuals to prepare for baptism. Implementing this faith-based plan is yielding exciting results for Community Church.
Gulf States | March 2019