lessie scurry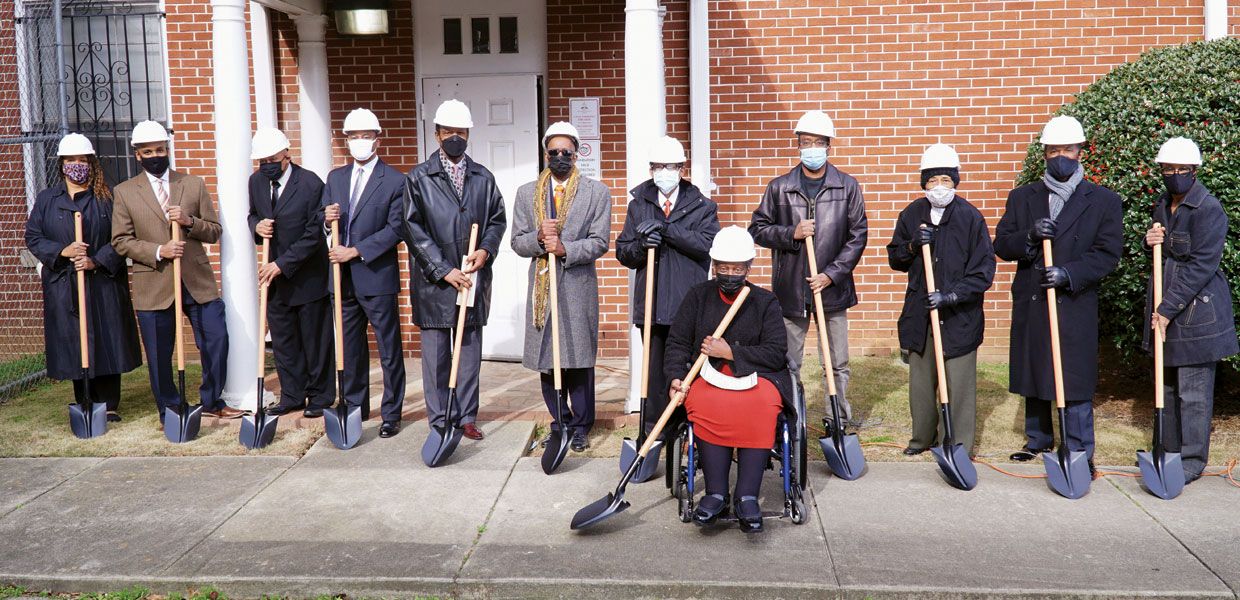 Participants include Alicia Harris (left), treasurer; Sam Palmer, head deacon; Norman Smith, deacon; Kenneth Frazier, deacon and project manager; Sherwin Jack, Ph.D., senior pastor; Gregory Saunders, associate pastor; William Winston, South Atlantic Conference president; Louis Merritt, treasury staff; Dorothy Mants, senior ministries leader; Michael Spann, head elder; Theresa Blakely, Berean audio team; and Joann Dickson-Smith (seated), disabilities ministries leader.
Bridgette Mack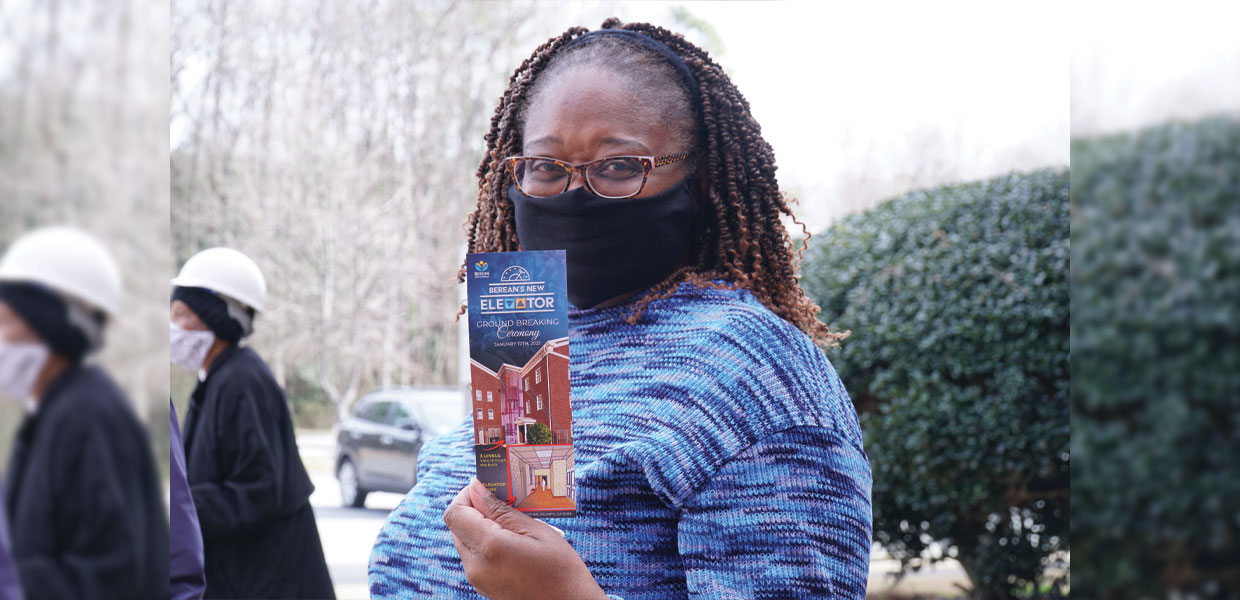 Rosie Pearson, Berean treasury staff, holds a commemorative bookmark.
Bridgette Mack
The Berean Church in Atlanta, Ga., recently held a historical groundbreaking ceremony for an elevator that will enhance the church experience for countless members and visitors for years to come.
Under the leadership of Sherwin Jack, Ph.D., senior pastor, and support from the South Atlantic Conference, the 58-year-old, three-story building will be retrofitted with an elevator that could accommodate up to six people comfortably.
The project is poised to allow senior citizens and physically challenged attendees to finally see parts of Berean Church that they couldn't access since the building's purchase almost 22 years ago.
Jack said, "We trust that it will be a blessing not only for the near future but in going forward to enhance what we do at the Berean Church."
Because the socially-distanced ceremony was held during a pandemic, it was live-streamed with few in attendance, including the Conference president, William Winston; the associate pastor, Gregory Saunders; first elder Michael Spann; head deacon Sam Palmer; Senior Ministries leader and local elder Dorothy Mants; Disabilities Ministries leader Joann Dickson-Smith; project advocate and deacon Norman Smith; and project manager and deacon Kenneth Frazier.
Bookmarks with artist renderings were distributed to commemorate the occasion.
Mants spoke on behalf of the seniors, stating how the elevator will eliminate their fear of falling on the stairs, and will improve their level of participation in church activities.
The six-month project is scheduled for completion in July of this year.
God has shown His hand in the process. The project received approval of the exacting Atlanta Urban Design Commission with no discussion or questions; the general contractor held the lowest bid well past its expiration date; and, a glitch at the City of Atlanta provided just enough time for the permitting process to be completed without having to start all over again.
Deacons Frazier and Smith have been involved with making this vision a reality ever since members of the elder and deacon boards joined forces in 2006 to explore its feasibility. But, it wasn't until recently, with the help of the church's R3 Project Committee, that plans gained traction.
Frazier said he's stuck with the vision all these years because of what he's witnessed on those Sabbaths when he was assisting churchgoers into and out of the building.
"While helping them, I'd see them struggling to get up steps, struggling to get down steps, every single Sabbath," he said. "That's what helped me to push this."
South Atlantic | March 2021