BY Izmane Jean-Louis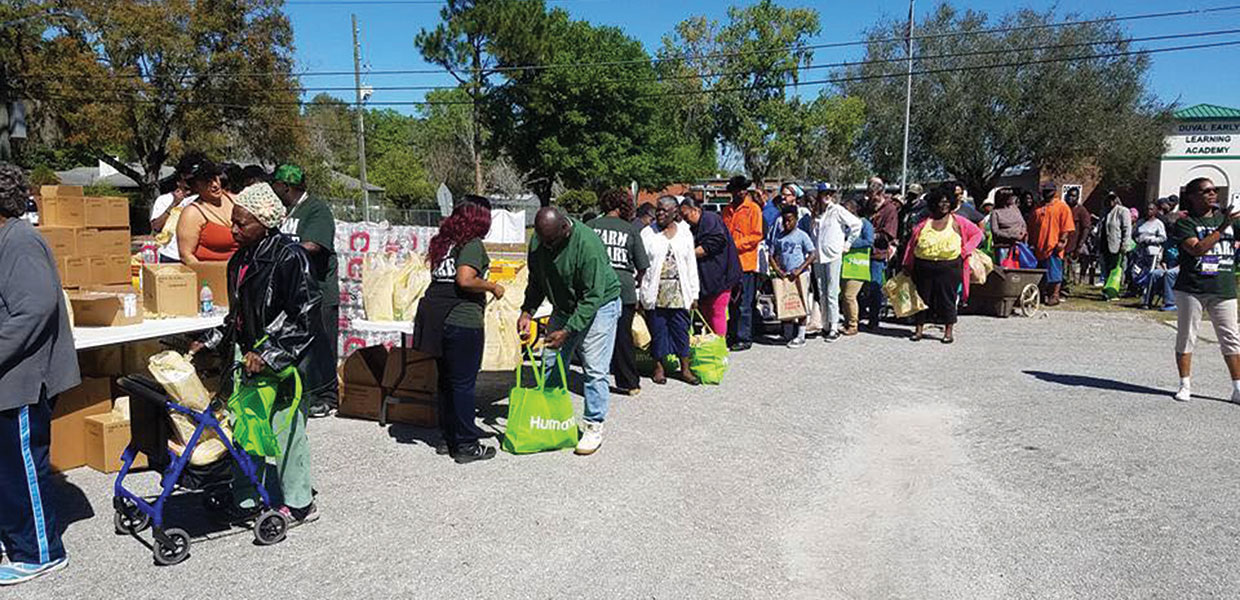 Food and clothing giveaway, and health screening at Bethel Church in Gainesville, Fla.
The atmosphere was joyous with music playing in the background as hundreds of people gathered at the Free Food and Clothes Giveaway to receive food and clothing for the family, along with health screenings, while the children were entertained with arts and crafts, games, and face painting.
Hosted by Women Working With Women, Inc., and Bethel Church, the giveaway was held Saturday, March 18, 2017, at Bethel Church in Gainesville, Fla.
Resident Mirror Mabry was busy loading food bags in her car, and shared, "It's wonderful for the community to get together to help each other."
Resident Karen Shepherd said the program is really helping her and her 16-year-old daughter. "Anybody who is on a fixed income, this [program] really helps," said Shepherd. "This is very well organized and very helpful."
In the parking lot, a Farm Share semi-truck was being unloaded."Today, we plan to serve 450 households," said Joy Mier, coordinator for the Emergency Food Assistance Program at Farm Share. She said 24 pallets were unloaded with 38 cases of cranberry juice, 19 cases of raisins, green beans, corn, and spinach; 38 cases of orange juice, 15 cases of rice, 23 cases of pasta, 38 cases of pink salmon, 38 cases of peanut butter, 76 cases of milk, 56 cases of grape juice, 113 cases of chicken, 49 cases of orange juice, 120 cases of eggs, and blankets and water.
In addition to food and clothes, there were health screenings by physicians and nurses from Bethel who volunteered their time. The UF College of Dentistry, which addressed dental concerns, dental hygiene, and proper brushing, and also gave away toothbrushes, discussed how to get dental assistance for free.
"It's a lovely idea," said Jennings. "It's helping a lot of people. I think it should happen more often in this city."
The giveaway event in partnership with Bethel Church and Women Working With Women, Inc., will take place every quarter at Bethel.
Southeastern | July 2017