Shane Hochstetler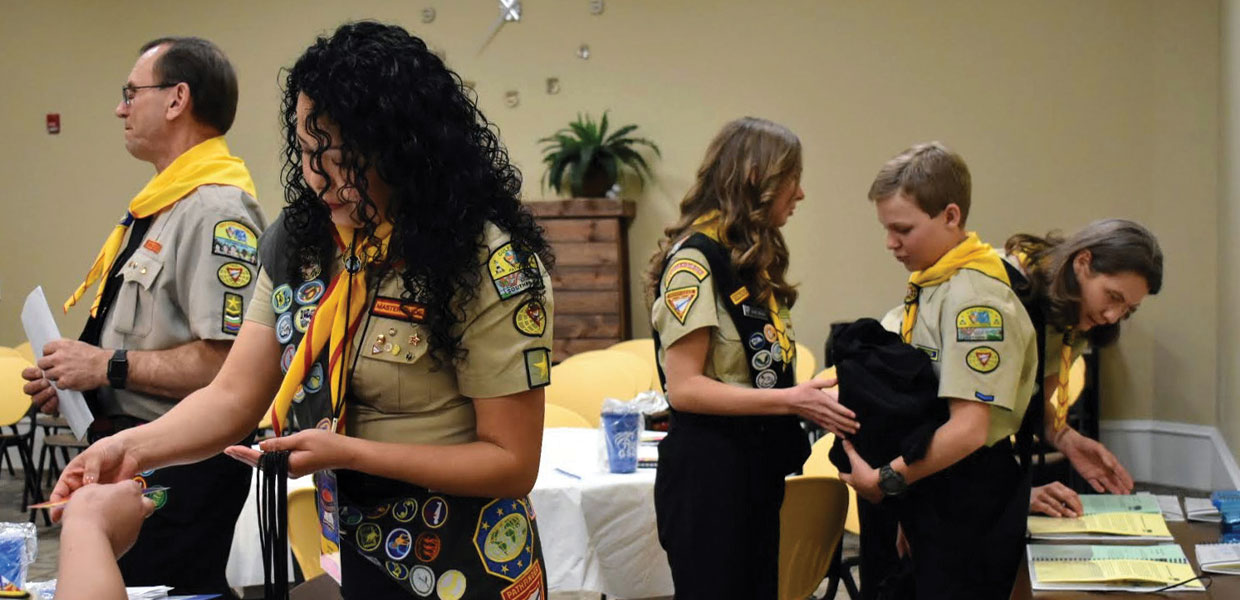 Pathfinders begin arriving and registering on Sabbath, February 26, 2022.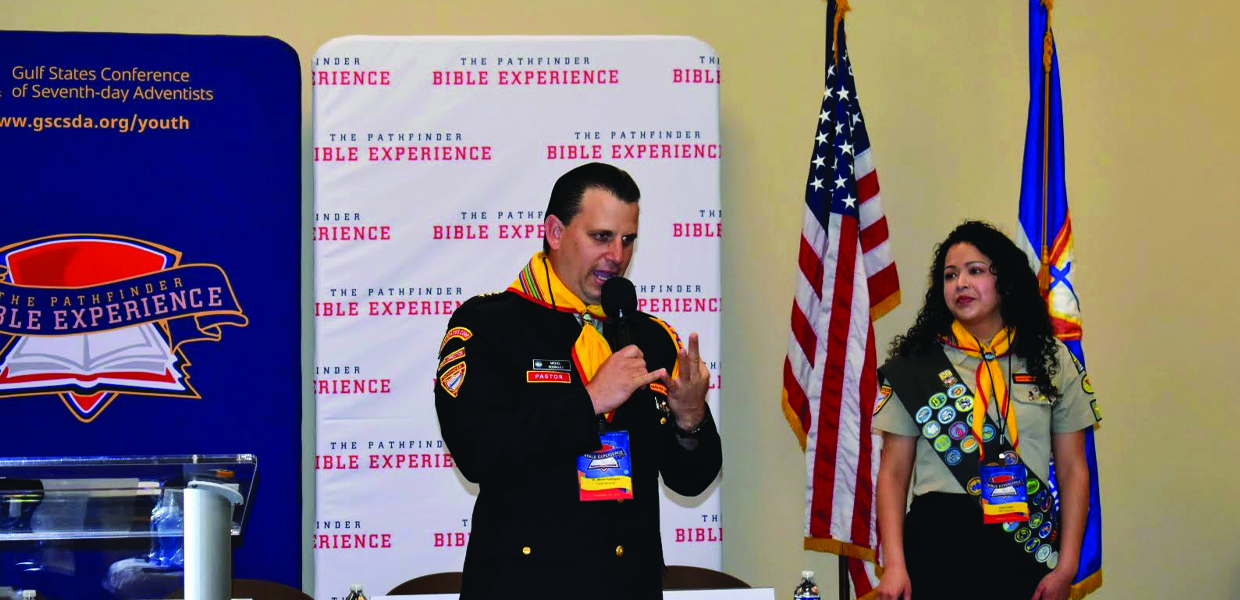 Michel Rodriguez (left), Gulf States youth director, presents during the worship service.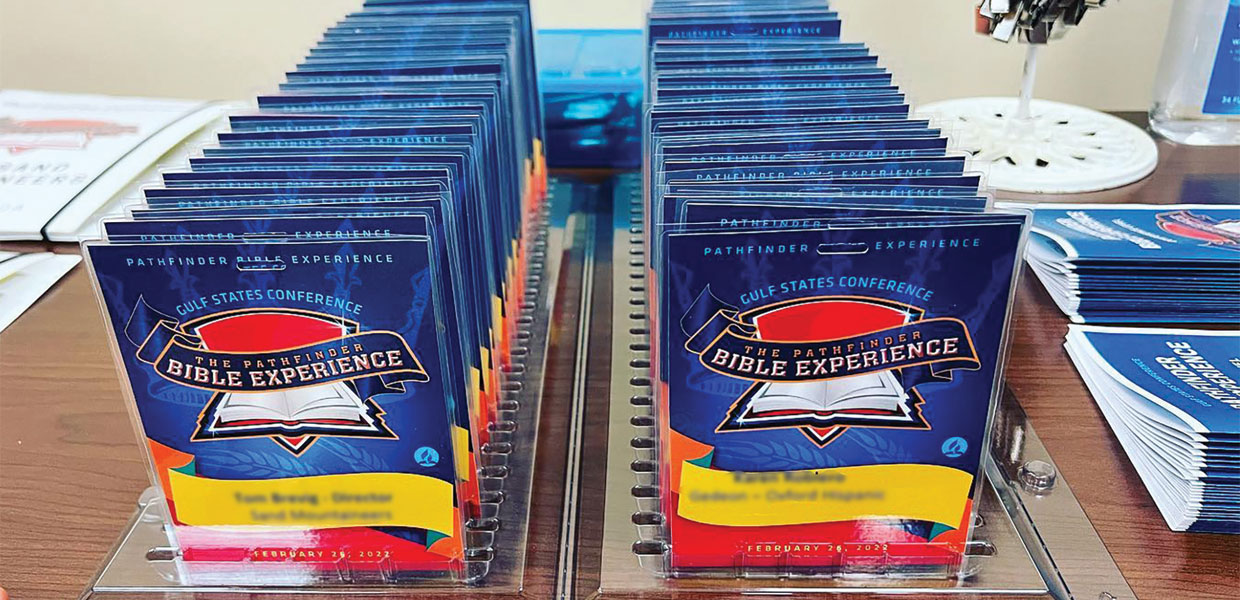 Registered attendees received a printed name badge upon arrival.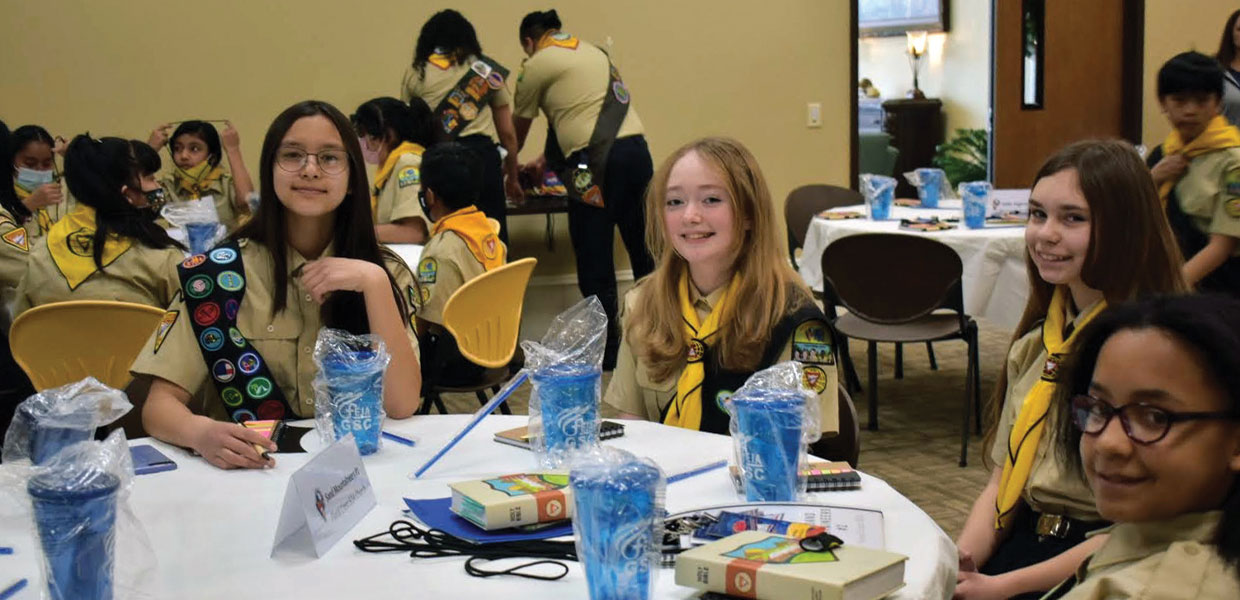 Team members take their places before the Pathfinder Bible Experience begins.
Six Pathfinders teams representing four Gulf States clubs assembled at the Gulf States Conference office in Montgomery, Ala., on February 26, 2022, for the Conference level Pathfinder Bible Experience (PBE). The North American Division-wide 2022 PBE will conclude April 22-23, 2022, in Eugene, Ore.
The morning started with Michel Rodriguez, Gulf States youth director, presenting for worship with a message to encourage all the teams that their presence at the event and their interest in studying the Bible already proved them to be winners. The Youth Department decorated Eisele Hall with PBE banners, and provided each participant with a printed name badge.
Of the four clubs represented, two participated for the first time: the Sand Mountaineers of the Floral Crest Church in Bryant, Ala., which sent two teams, and Gedeón of the Oxford Hispanic Church in Oxford, Ala. The Birmingham Highrisers of the Birmingham, Ala., First Church, sent two teams, and Warriors of Christ of the Montgomery, Ala., Hispanic Church, were also in attendance. "This is a very challenging event, and we were so excited to see the clubs that participated for the first time do so well," said Elizabeth Rodriguez, administrative assistant for the Gulf States Youth Department.
During the event, Pathfinders are tested over the assigned study books and the SDA Bible Commentary introduction to each study book. Each team that scores 90% or more of the test questions correctly advances to the next level of PBE. For this event, the first team of the Birmingham Highrisers succeeded and will advance to the Union level of PBE.
The Youth Department provided lunch for the event attendees and presented awards to the participating clubs. "We're excited with how this event turned out this year, and are looking forward to more clubs participating next time!" stated Elizabeth Rodriguez.
Gulf States | April 2022