By Paull Dixon, MPH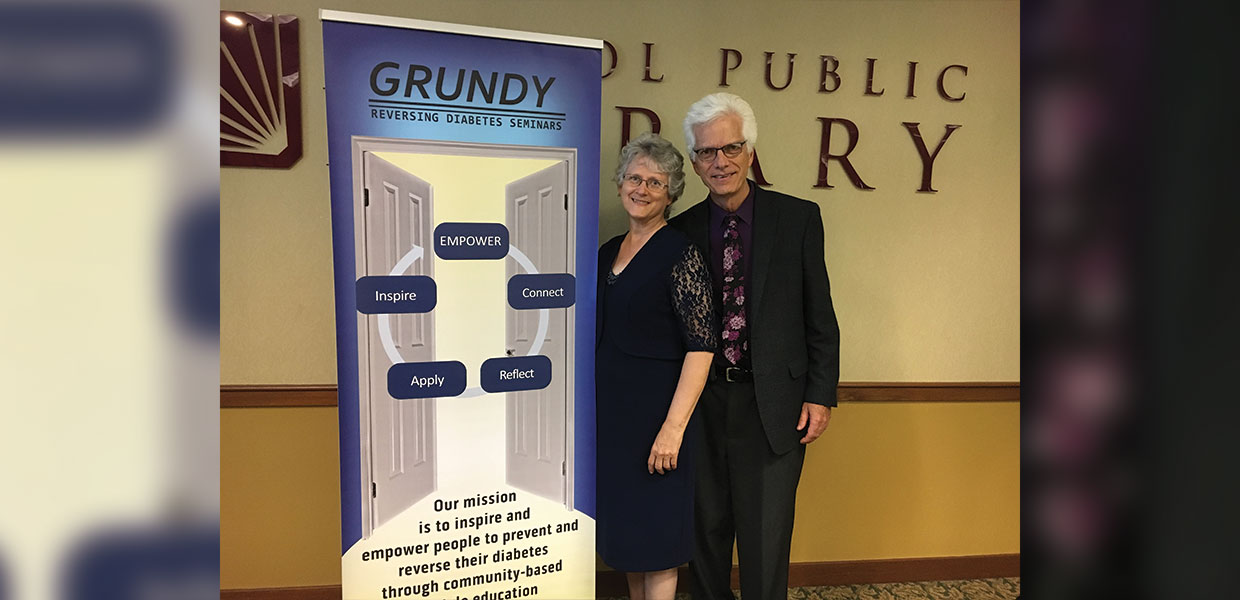 Stephen and Karen Wickham created the Grundy Reversing Diabetes program presented at the Bristol, Tenn., Church.
Submitted by: Paull Dixon
For the third annual diabetes prevention and reversal seminar held recently in Bristol, Tenn., about 35 people attended a weekend seminar in the conference room of the Bristol Public Library, which has an adjoining kitchen.
Because their small church doesn't have the medical and allied health personnel necessary to offer a full six-week program, they opted to invite Stephen and Karen Wickham, creators of the ministry formerly known as Grundy Reversing Diabetes Seminars, to conduct a two-day condensed seminar. The Wickhams have renamed their health ministry to Lifestyle Makeovers, a newly approved 501(c)(3) nonprofit organization.
On Friday evening and Saturday afternoon, the Wickhams took turns presenting the various topics, sharing their own personal journeys in dealing with food addictions and "insulin resistance," the precursor to diabetes.
An important selling point at this seminar was the delicious food samples, beautifully presented by Sarah Wickham Dixon and Peggy Richie, who spent a day in the kitchen tweaking the recipes to perfection. Imanuel and Cyndi Morenings assisted with food preparation and serving.
Two follow-up sessions, scheduled two weeks apart, included food samples prepared by a plant-based chef. These meetings gave participants an opportunity to share their progress and struggles with the group, and to watch video presentations which reemphasized how regular exercise, adequate sleep, and the right foods can beat diabetes.
A parish nurse from a local church who attended the seminar was positive in pointing out that there are also spiritual resources offered in the Wickhams' new booklet, How to Reverse Type 2 Diabetes, published by the Southern Union Conference of Seventh-day Adventists.
Georgia-Cumberland | August 2019