BY roger burke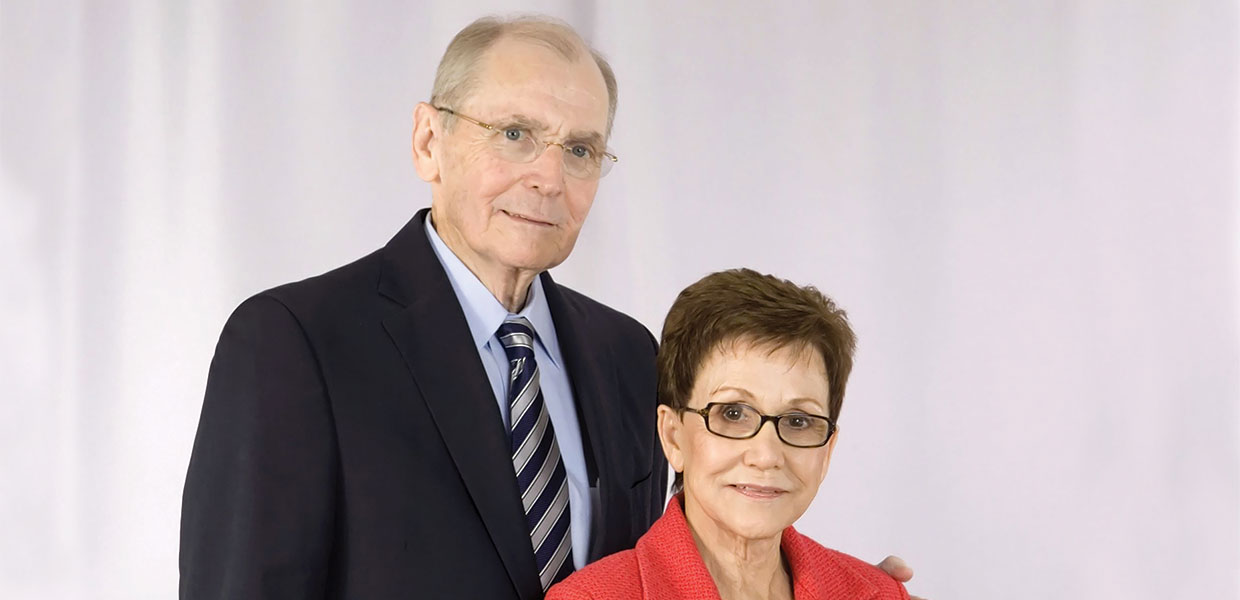 James C. "Buddy" McElroy, and his wife of 56 years, Joy
James C. "Buddy" McElroy, 79, passed away on January 7, 2018, surrounded by his family. Buddy, as he was affectionately known, was born May 28, 1938, at Rush Hospital to James C. McElroy Sr. and Celeste Swain McElroy. He spent his childhood in Cuba, Ala., working with his father in the family farming business. In 1954, Buddy, along with his mother, attended an evangelistic series in Meridian, Miss. As a result, he was baptized and gave his heart to the Lord, joining the Adventist Church.
Buddy began attending the University of West Alabama in 1956, but decided to transfer to Southern Adventist University in 1958. While at Southern, Buddy fell in love with his classmate, Cynthia Joy Tanner, from Americus, Ga. He graduated in 1960 with a B.S. in business administration, and married Joy in 1961.
After graduating college, Buddy returned to Cuba and was hired by Rush Hospital as a management trainee, becoming assistant purchasing manager in 1961. In 1968, he was named administrator of Rush Foundation Hospital and Rush Medical Group. Recognizing changing healthcare trends and the need for quality healthcare, especially in the rural areas of East Mississippi and West Alabama, Buddy was instrumental in founding Rush Health Systems in 1983, and became its first president and CEO. In 1992, he became chairman of the board of Rush Health Systems. Buddy retired from Rush in 1998, but continued to serve as chairman of the board for Rush Health Systems until his death.
Shortly after he began working for Rush in the early 1960s, Buddy realized a lifelong dream by starting his own business. In 1964 he purchased one pulpwood truck, a power saw, and a loader. The company grew throughout the 1960s, and was incorporated as Sumter Timber in the late 1960s. During the next 10 years, the company expanded into trucking. In the 1980s company operations were split, and McElroy Truck Lines was formed. During the next 25 years, both Sumter Timber and McElroy Truck Lines expanded, and new companies were added, including H&M Construction, Sumter Management, and most recently Two Rivers Lumber. Under Buddy's leadership and vision, what started with one pulpwood truck, grew into one of the largest flatbed trucking companies in the country, with numerous related enterprises.
During his lifetime Buddy served on numerous boards, including Rush Health Systems, Southern Adventist University, East Mississippi Business Development Corporation, and The Bank of York as chairman.
Buddy McElroy had a deep faith and gave God the glory for all the blessings in his life, including his wife and three sons. Today, his sons could easily say that hard work was what epitomized their father, and what he thoroughly instilled in them. Each of them could share their own story of how Buddy taught them the importance of hard work and a job well-done. "He'd met lots of very smart people who were not successful because they didn't know how to work," reminisced his eldest son, Glenn. "'Come early and stay late,'" said Sean McElroy, referencing one of the many lines he heard his father say during the years. And, although work was important to him, so was compassion, and more than any line he gave at work or home, the one most frequently heard was, "If you need me, call me."
His church was hugely significant to him; he was a lifelong member of the Community Church in Meridian, Miss., and was instrumental in multiple building campaigns during the years, serving in numerous positions in the Church. He visited others often, and was ready and willing to reflect the life of Christ to as many as possible.
Gulf States | March 2018