Barbara C. Willis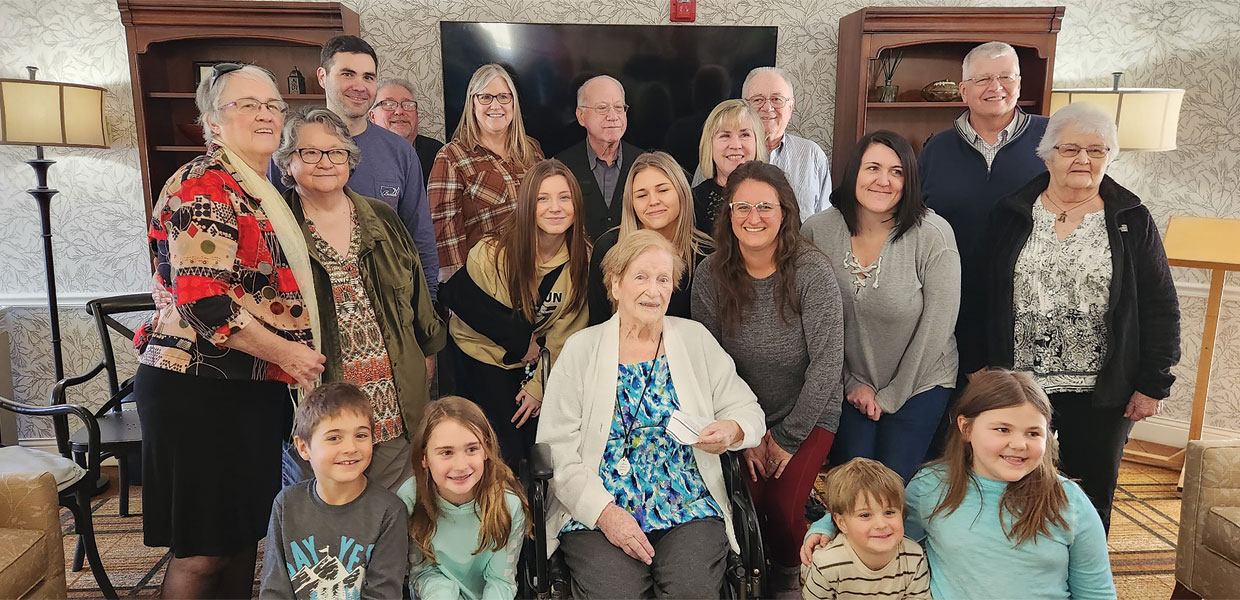 Surrounded by family, Joan Malcomson Willis (center, seated), celebrated her 100th birthday on February 26, 2023.
Joan Malcomson Willis was born in MacKay, Queensland, Australia, on February 26, 1923. One hundred years later in Calhoun, Ga., she celebrated her 100th birthday. Her life has taken her to many places across the United States, due in part to her husband, Harold (Hal), who was a U.S. Air Force weatherman. While she lived in Washington Court House, Ohio, Hal's mother influenced Joan and her family to attend the local Seventh-day Adventist Church.
The Dorcas Society at the church had helped Joan's mother-in-law during a stressful time prior to Joan and the boys' arrival. This impressed Joan and she decided to become a member of the Adventist Church. This decision changed the outlook of her life, developing a strong belief of Jesus and the Second Coming, and she became involved in a lifelong desire to care for her family and to be of service to others in need.
While they were stationed in Okinawa, Joan served the mission church in Shuri as the Dorcas leader. After returning to the U.S. and moving to Marietta, Ga., the family attended the Marietta Church, where she started leading the Primary Sabbath School. For the next 25 years, Joan taught children, first at Marietta, and then at Calhoun.
Since moving to Calhoun, Joan has been an integral part of the changes and expansion the church has seen, serving as Primary Division leader, Sabbath School secretary, community service leader (formerly called Dorcas Society), and church secretary.
While she officially retired from church duties at the age of 71, she continued to be involved in community service work for several more years.
Despite all the roles she has held, she has travelled back to Australia to visit family several times. She also has four children and several great-grandchildren, whom she loves to tell stories of her experience growing up in Australia.
Georgia-Cumberland | April 2023