ruth Hoffer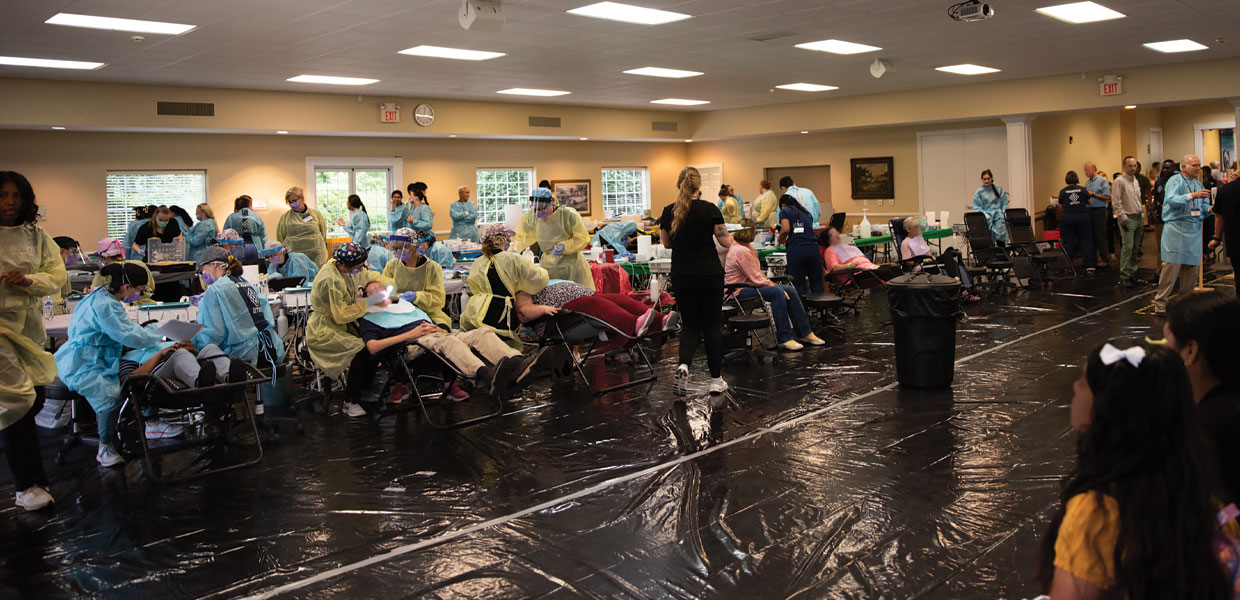 Gordon County residents lined up for hours to receive free dental cleanings and extractions at the AMEN Free Clinic on June 11, 2023. The clinic held at the Calhoun Church provided eye care, physical therapy, and other medical care to 360 people.
Rika Meyer, AdventHealth
Long lines of patients, especially for dental and vision needs, waited patiently in the Calhoun, Ga., Church on Sunday, June 11, 2023, for free health care. The total registration was more than 360 persons. Physicians, dentists, ophthalmologists, a dermatologist, physical therapists, an ENT (ear, nose, and throat doctor), gynecologist, counselors, and pastors all donated their time and expertise. A total of 180 volunteers from as far away as California, and as nearby as Rome, Adairsville, Chattanooga, and Calhoun assisted with registration, greeting, giving directions, organizing, translating, and providing musical entertainment.
Community support was evident. While the primary sponsors for the clinic were AdventHealth Gordon, Georgia-Cumberland Conference, the City of Calhoun, and local area churches, community support extended far beyond these sponsors.
The Calhoun Times ran an article about the clinic with a photo of the church on Wednesday, June 7, 2023. Following orientation on Friday, the local Chik-fil-A donated a vegetarian supper for all the volunteers. New Town Baptist Church provided volunteers with veggie subs for lunch during the clinic. Heritage Baptist Church donated drinks and snacks to fuel the volunteers and patients throughout the day. Chattanooga State Community College, Rome Dental, and Georgia Northwestern Technical College all brought dental hygiene and dental assistant students to assist on Sunday. Aspen Dental in Rome came with several trained professionals to serve. Representatives from the Healing Hands Clinic of Gordon County, the Health Department, and the Highland Rivers Behavior Health organization, were present to provide care and resources for additional services they offer in the community.
Calhoun Church's food bank, God's Pantry, offered free taco salad lunches to those attending the clinic as well as staff members, with young volunteers serving almost 400 meals. A representative from God's Closet, the church's clothing distribution outlet, was on hand to bring awareness to services offered. Free Bible studies in English and Spanish were available in the church foyer, and ministers were present to offer prayer and counseling for anyone who felt the need.
When asked about her visit to the Amen Clinic, Lynn appreciated getting an eye exam, a prescription, and dermatology check. Pamela was extremely grateful to have a jagged tooth extracted. Mario received prescription glasses, had his ear cleaned of wax, and found some relief of shoulder pain after time well spent with the physical therapist. Donald, who received a prescription and vision check, said, "They did a fine job!" Karen also got new glasses and received dermatological care. Despite the long wait in line, she summed up her experience as "Phenomenal!"
is the communication secretary for Calhoun Church.
Georgia-Cumberland | August 2023