By Anthony Chornes II
Benjamin Jones, president of South Central Conference, delivers the evening message.
Christopher Thompson, D.Min.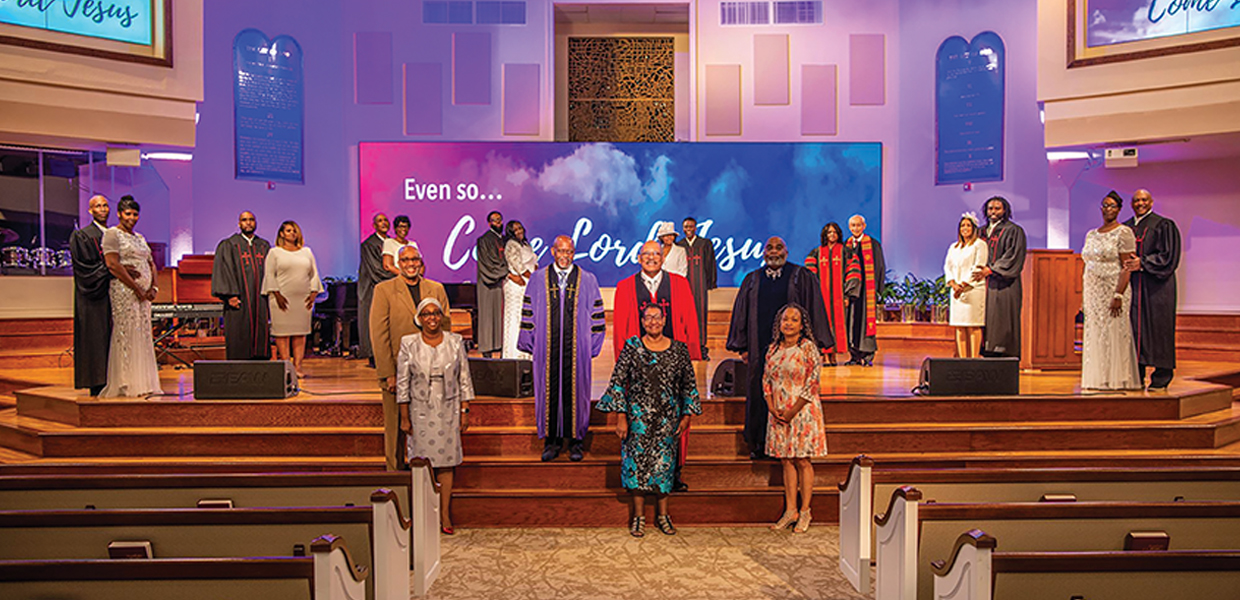 The ordination candidates and their families
Christopher Thompson, D.Min.
The spread of COVID-19 has changed the way people interact with friends and family. It has changed how many attend church, closed businesses and schools, and completely altered the usual way of life. One thing the deadly virus has not ended are the worship services. It may have changed how worship is done, but it will never stop it. This past July, South Central Conference hosted its first-ever virtual Camp Meeting with the theme, "Even So, Come Lord Jesus." With more than 30,000 individuals and families virtually in attendance worldwide, it was indeed a fantastic experience.
The virtual weekend program consisted of a powerful Friday evening message delivered by Michael B. Kelly, pastor of Mount Rubidoux Church. In his sermon he addressed the recent events of injustice to individuals of color. He expressed that as a Church, members cannot keep silent, and they must reach out and help this broken world. On Sabbath, Toussaint Williams, Ph.D., delivered the Sabbath School lesson, followed by a sermon from Benjamin Jones Jr., president of South Central Conference.
Camp Meeting included an exceptional ordination evening service in which Paul Shongwe, D.Litt. et Phil., president of the Trans-Orange Conference of South Africa, was the ordination speaker. His message was to encourage as he commissioned the ordainees to continue the work entrusted to them by God to prepare hearts for His soon return. The ordainees include John Brooks Sr., pastor; Janice Brown, Ph.D.; William Enoch Burgess, chaplain; Rayner Edwards, chaplain; Donald Henderson, pastor; Mark Hyde, pastor; Celeve Izean, pastor; and Marcus McIntyre, pastor. Each of these individuals were ordained and honored while still practicing social distancing.
Camp Meeting also featured another unique program for the youth. South Central youth directors Michael Polite and Kimberly Mann, pastor, organized a fantastic virtual discussion forum called "Chop-It-Up 2020." The program featured celebrity guests Kelontae Gavin, recording artist; Ezekiel Azonwu, spoken word; and Keyla Richardson, recording artist. The panel spoke on injustice and other topics related to the youth of today. The forum was conducted during the entire weekend program and received terrific feedback from the youth as they enjoyed the subject matter and activities.
As many continue to endure the COVID-19 pandemic and nationwide social injustice after this Spirit-filled Camp Meeting, they must remember that church is not a building. Additionally, rthe wise words of the late Martin Luther King Jr., Ph.D., "Injustice anywhere is a threat to justice everywhere," should be remembered. Camp Meeting weekend was a hopeful reminder that although the circumstances have changed and injustice is still alive, and the shadows of death have come near many, God is still in control. He turns curses into blessings that will not cease, and His hands continue to guide as He guided Noah and his family in the Ark through a raging storm. Comfort one another with these words: "Even So, Come, Lord Jesus."
South Central | September 2020