roger r. wade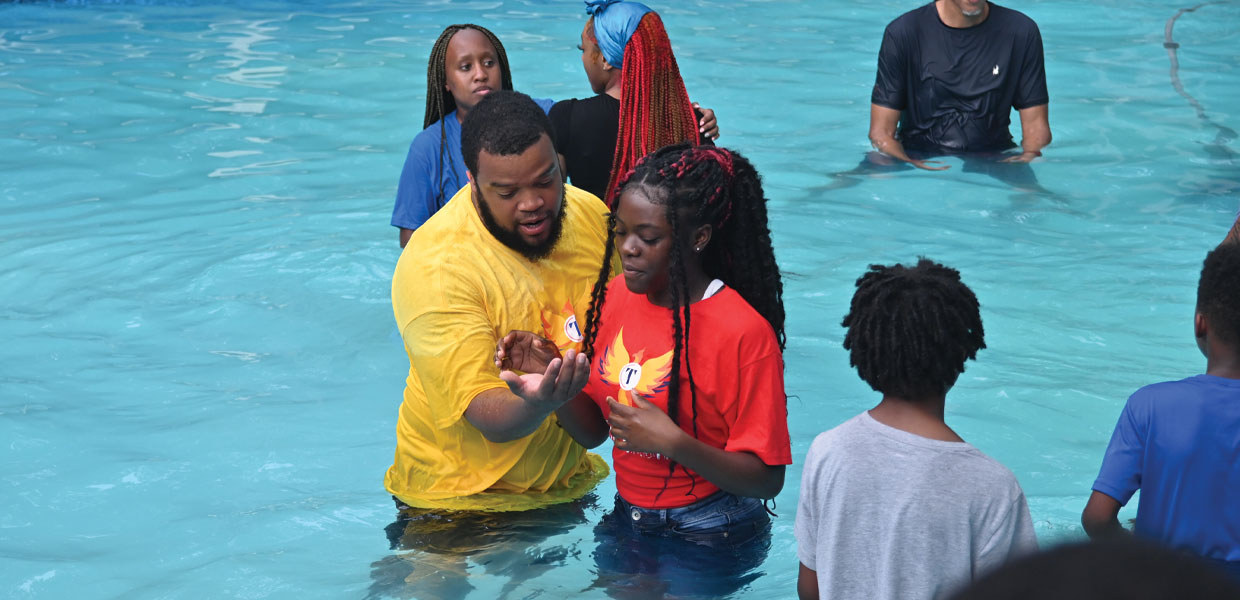 Campers are baptized.
J. Ciera Lewis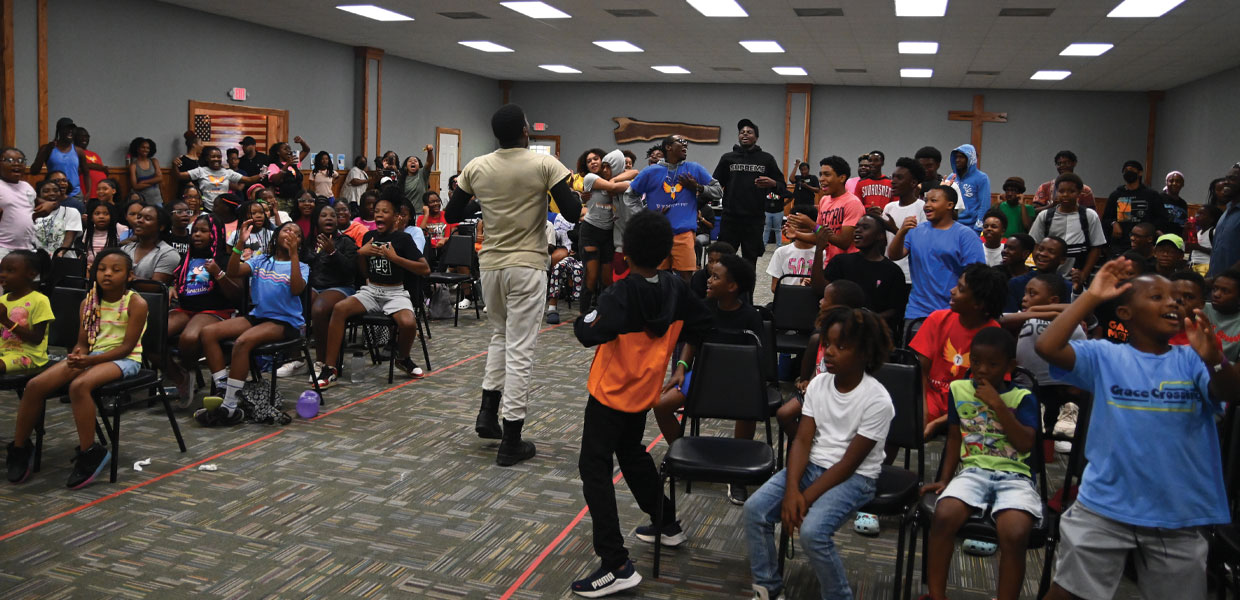 Campers and staff during morning worship
J. Ciera Lewis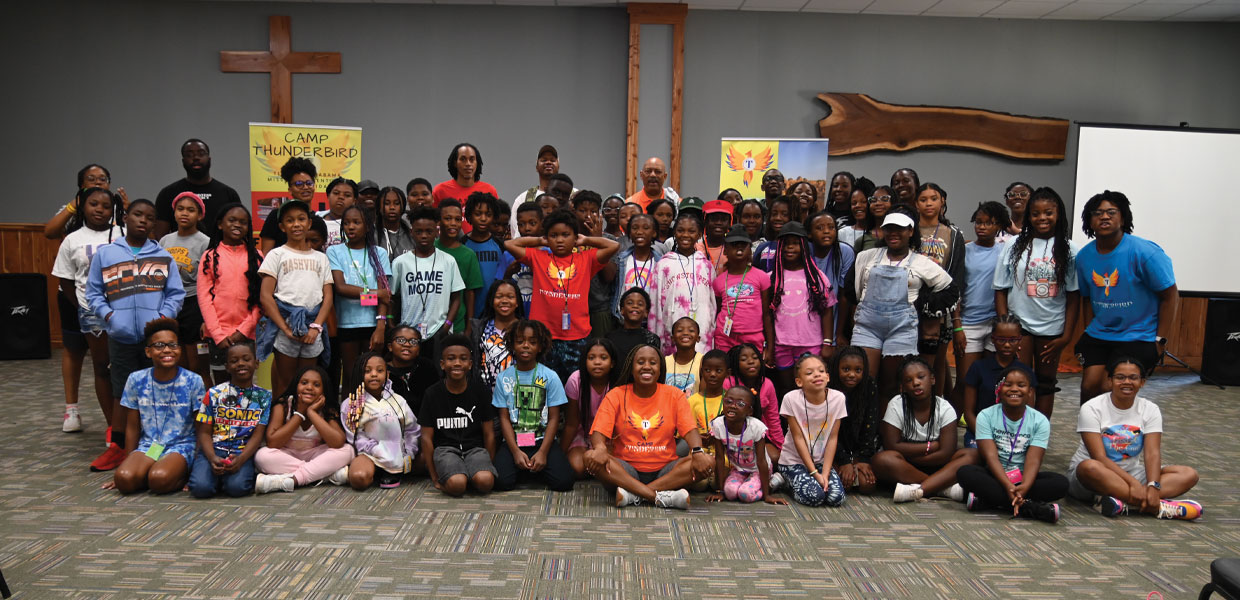 Camp Thunderbird team with Benjamin Jones Jr., South Central president
J. Ciera Lewis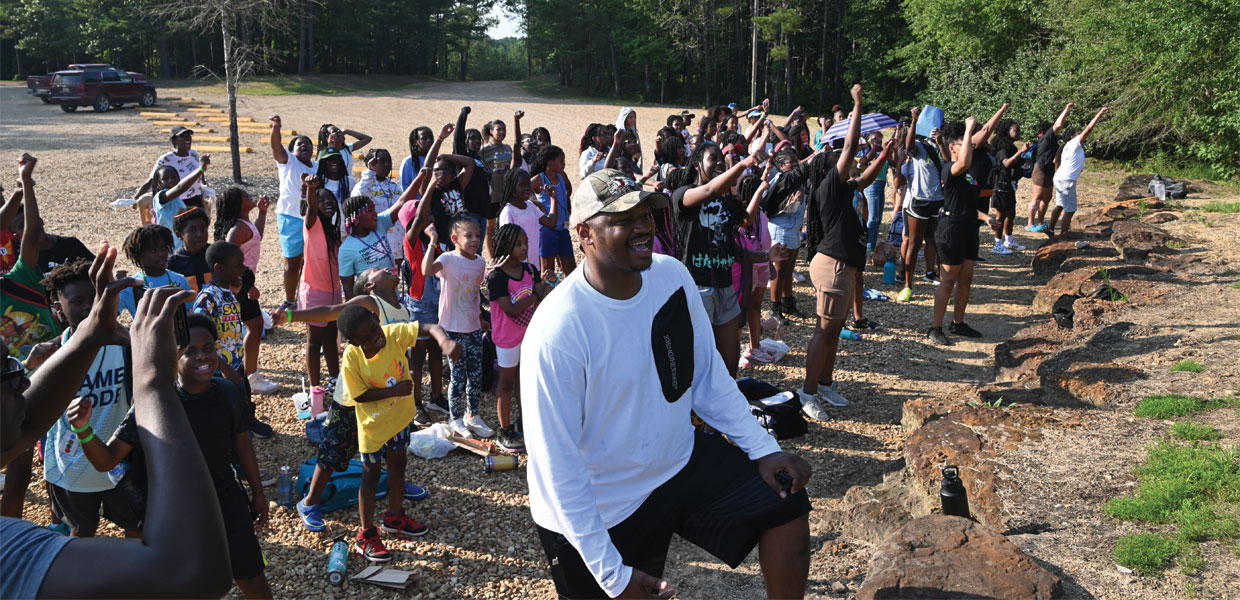 Morning line call
J. Ciera Lewis
In a picturesque corner of central Alabama, in the city of Millport, an extraordinary event unfolded this summer at Timber Lake Ministries Camp. South Central Conference held its 2023 session of Camp Thunderbird. With 115 enthusiastic campers aged 12 to 17 from various parts of the Conference territory, the camp was bustling with youthful energy and an eagerness to grow in faith and forge meaningful connections.
Anchored by vibrant worship sessions led by passionate leaders, the campers were completely immersed in a high-energy environment that left a profound impact on their lives. The worship time sparked a fire within their hearts, igniting a deepened devotion to their beliefs, and instilling a sense of purpose for their spiritual journey and to Jesus.
When asked, "What is your objective for this year?" Bryant Stewart, youth and young adult director for the South Central Conference shared, "My objective this year is clearly the same as it always has been: to continue the rebranding of Camp Thunderbird, allowing for the kids not just to have a chance to meet Christ, but to meet each other to get a chance to detox from the over technological world that we have." Stewart continued, "And, [to] get a chance to begin to build those small communications, relational fundamental things that we used to have in our community so strongly. And so, my hope is that we can drop the technology, drop the phone, get out of TikTok, jump off of Snapchat, let Instagram go, and just have a moment to get to know each other and to get to know our God together."
This summer witnessed an awe-inspiring display of commitment as 40 campers chose to publicly declare their faith through baptism. This powerful act of devotion revealed the depth of transformation and the profound influence that Camp Thunderbird had on their spiritual lives. It was a testament to the camp's mission of nurturing a strong foundation of faith, and empowering youth to live out their beliefs boldly.
The excitement didn't end there. Gregory and Kim Taylor, Southern Union youth directors, graced the camp with their presence, and offered words of encouragement and support to the dedicated staff. Their visit was rewarded with an extraordinary experience as they witnessed the Spirit of God moving among the campers. In profound moments of prayer, tears flowed as campers fervently interceded for one another, their heartfelt cries echoing a desire to deepen their relationship with God.
Benjamin Jones Jr., South Central Conference president, also made a special appearance at Camp Thunderbird. In a heartfelt address, he passionately urged the campers to seize this invaluable opportunity to draw closer to Jesus. His admonishment resonated deeply within the hearts of those present, leaving a lasting imprint on their souls.
Camp Thunderbird continues to serve as a transformative space, enabling youth to not just make friends and enjoy outdoor activities, but more crucially, to nourish their spirituality and establish unwavering connections with God. This summer's camp was a resounding success, leaving a profound impact on the lives of the 115 campers who attended. As they return to their respective communities, they will carry the flame ignited at Camp Thunderbird, shining brightly as beacons of faith and hope.
South Central | October 2023