BY Rebecca Carpenter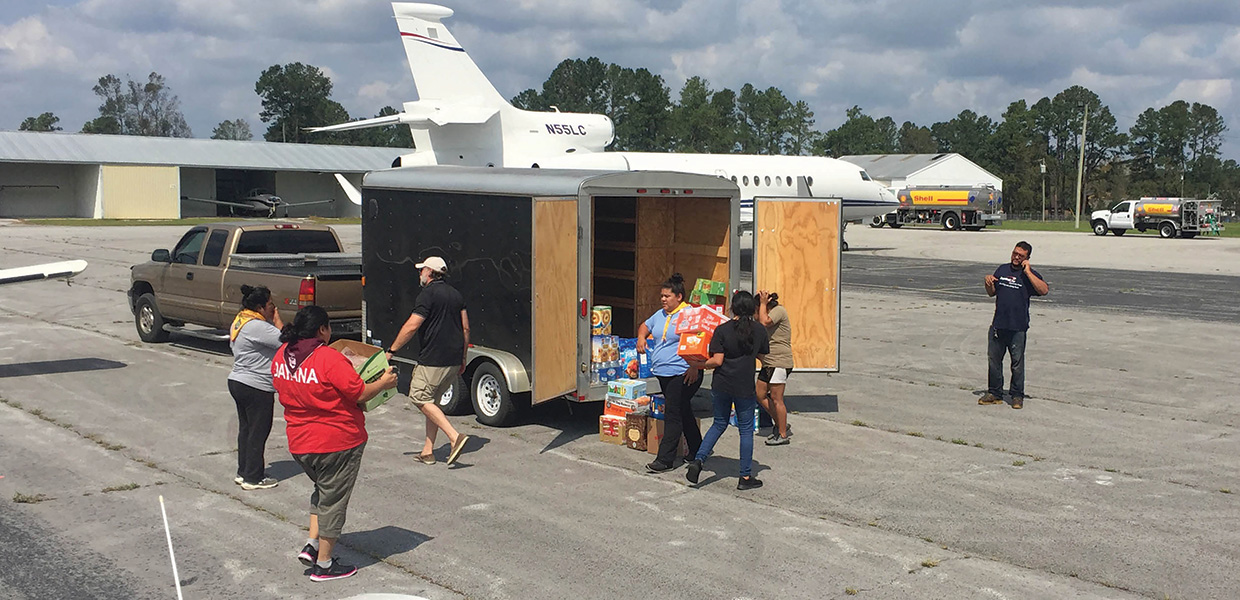 Ric Swaningson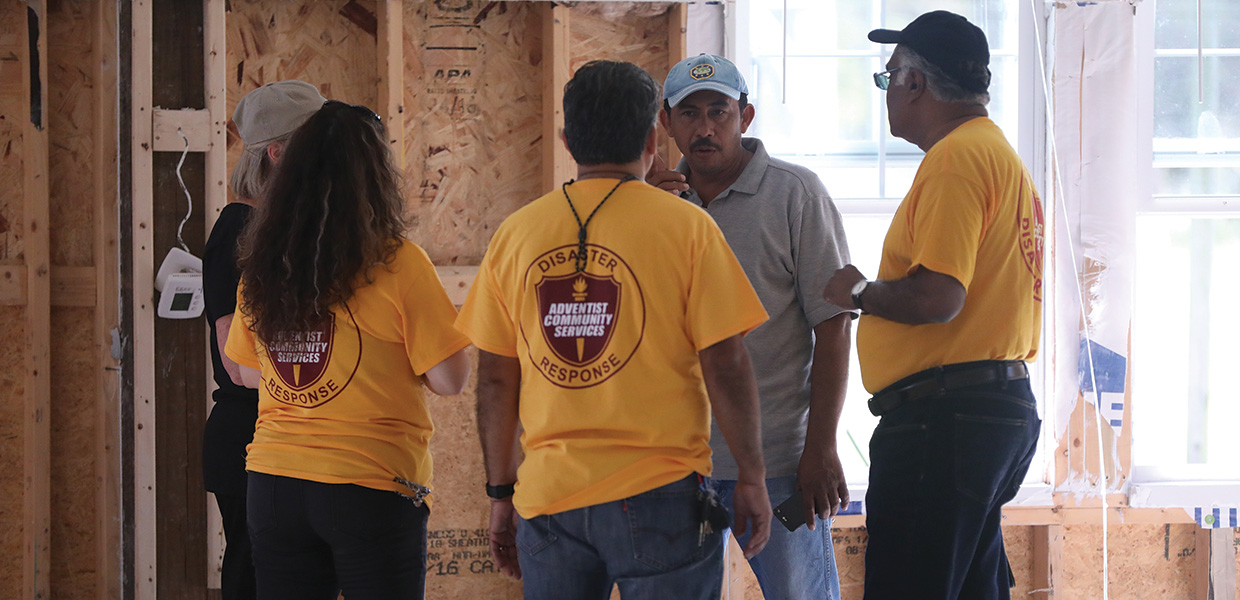 Church members share with Leslie Louis, president of Carolina Conference, and his wife, Carole, about the storm damage to the New Bern Spanish Church.
Courtney Herod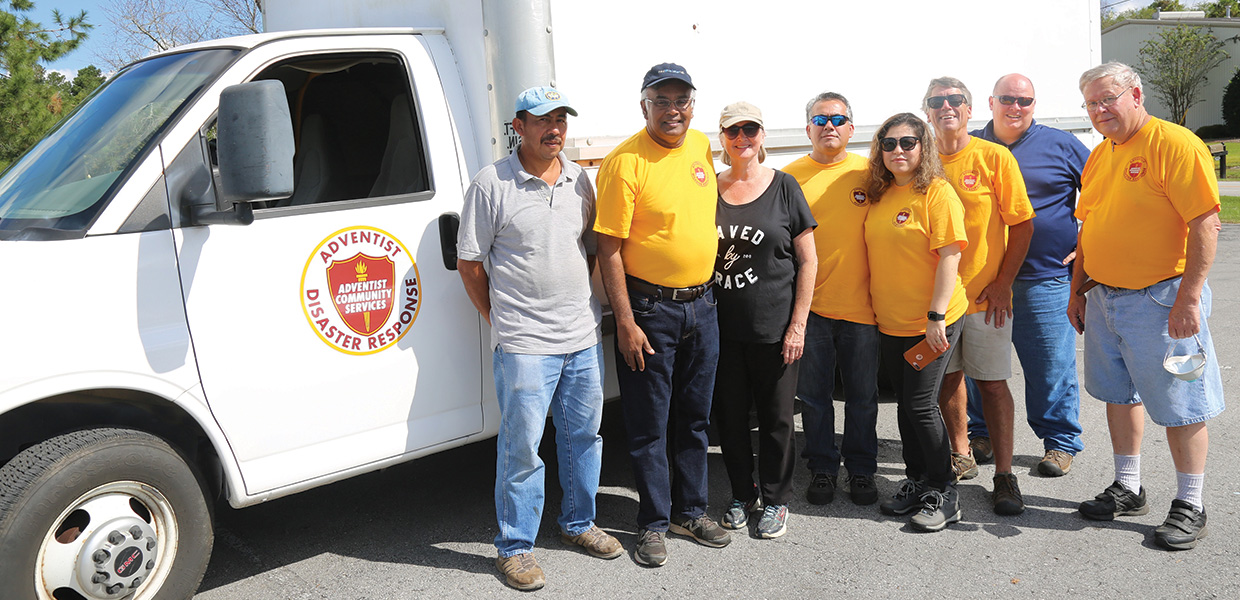 Phil Rosburg (third from right), associate pastor of the Foster Church in Asheville, N.C., and the Carolina Conference disaster response director, made an appeal in church for Hurricane Florence relief. Church member Deyanira Schmidt told her husband, Jurgen Schmidt, that the Conference was renting a truck every time they took supplies to disaster sites. Jurgen not only donated a truck, but also contributed $500 to assist victims and help pay for the gas used in transporting goods. Pictured are Leslie Louis (left in yellow), and his wife, Carole; David Graham (second from right), Carolina Conference community services director; Steve Stilwell (far right); Nancy Ruiz (center), New Bern Church community services director, and her husband, Samuel; and Roberto Ramirez (left), New Bern Spanish Church head elder.
Rebecca Carpenter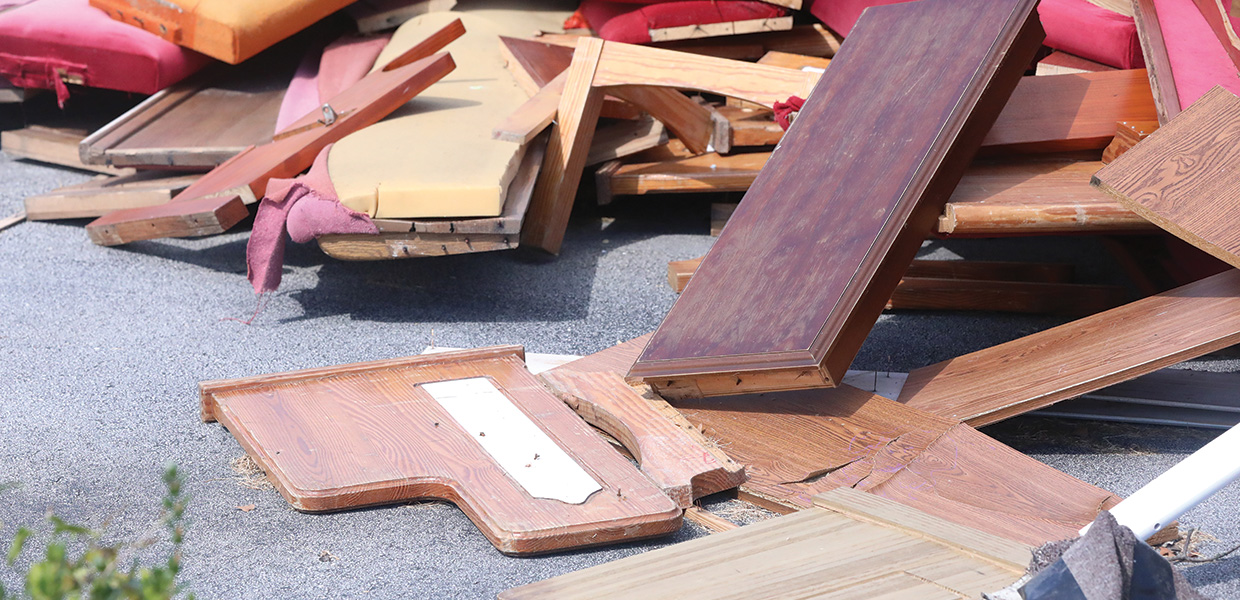 This pile of wooden parts are what is left of the church pews of the New Bern Spanish Church.
Courtney Herod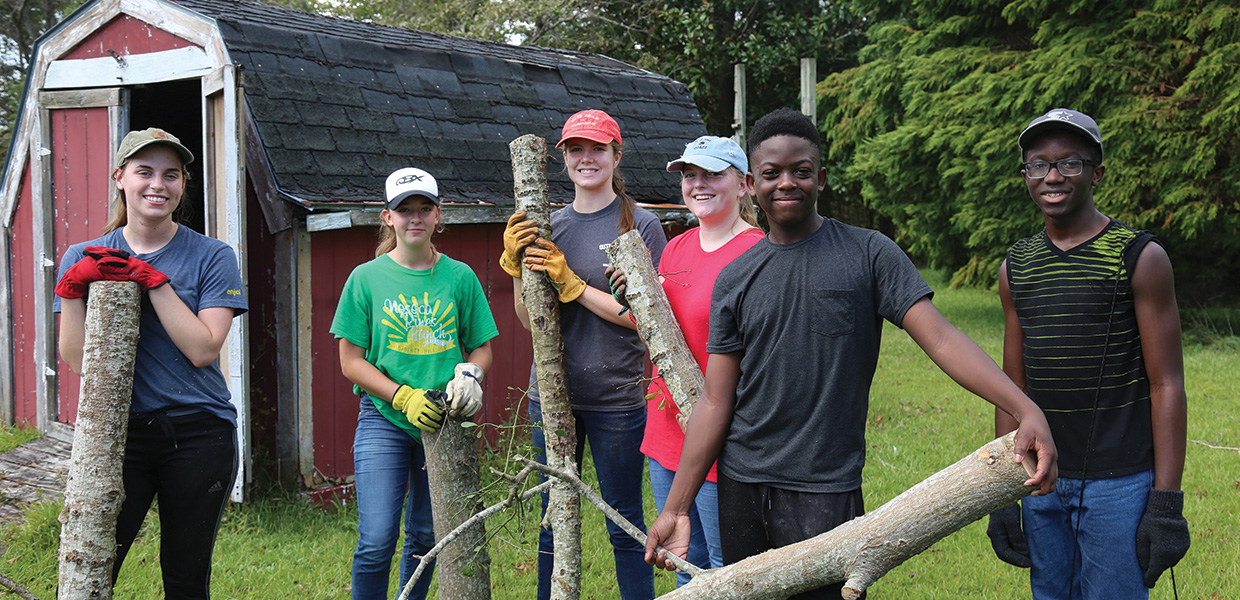 Students from Tri-City Academy clean up one of the many storm victims' homes in New Bern, N.C.
Rebecca Carpenter
The Carolina Conference has been working with government and church agencies to rapidly mobilize relief to devastated areas near their coastline. Within a few days of Hurricane Florence making landfall, truck and trailer loads of water furnished by the Carolina Conference, and food from Charlotte, N.C., food banks, obtained with the help of the Charlotte Spanish Church, were sent to the New Bern, N.C., area. Other trailers were delivered on Saturday, September 22, 2018, with donations from High Point, Raleigh, Kernersville, and Charlotte churches.
Ric Swaningson, president of Adventist World Aviation and pastor of the Wilson, N.C., Church, worked with Conference leadership and the North American Division Adventist Community Services (NAD ACS) to organize an emergency supply flight to New Bern. Two planes carrying 1,200 pounds of food and supplies were met at the New Bern Airport by the New Bern Spanish Pathfinder Club. With these supplies, they made 40 large boxes for people in the community.
"Several churches have sustained major damage, and many members have lost everything. The Spanish Church in New Bern has been gutted due to water damage," explained David Graham, director of Adventist Community Services at the Carolina Conference. "And, it was recently learned that members are still flooded in the Lumberton, N.C., area."
Federal and state government agencies called for large centralized warehouses, and local counties sought Carolina Conference Disaster Response leadership to assist in setting up smaller warehouses to receive and distribute supplies in the localized areas. Phil Rosburg and Steve Stillwell, director and assistant director of disaster response at the Carolina Conference, were engaged in receiving donations for those warehouses. Rosburg also loaded a truck on Thursday night, September 20, and delivered supplies to Charlotte and High Point to be sent to the disaster areas.
The Carolina Conference partnership with 2 Serve Ministry and its director, Jim Ingersoll, mobilized to the New Bern English Church on Sunday, September 23. 2 Serve was in the New Bern area for three weeks. The first week, assistance came from educational groups from outside the Conference. During the second week, Tri-City Academy from High Point, was there to work. The third week, Fletcher Academy students from Fletcher, N.C., arrived. Southern Adventist University also volunteered in the area during that time. Mount Pisgah Academy and other regional schools moved to engage with future activities.
Leaders in the South Atlantic Conference established a distribution center in Fayetteville, N.C., which is active through their county and state. They established a distribution site in Wilmington, N.C.
With funding from NAD ACS and ADRA, the Carolina Conference hosted volunteer teams from the New Jersey Conference on Wednesday, September 26, in Wilmington. They helped with cleaning and debris removal from damaged homes. Additionally, ADRA donated funds to give gift cards worth $350-$500 to those in the direst need. Derrick Lea, associate director of NAD ACS Disaster Response, met with the mayor in Wimington, and then traveled to New Bern and Fayetteville. Spotlighting the distribution locations and enlarging the warehouse capacity to provide greater assistance were the objectives in these areas.
If you have teams who wish to volunteer, please contact the Carolina Conference Disaster Response Department. Donations can be made at https://www.carolinasda.org/acs-response-volunteers.
Carolina | November 2018