BY Courtney Herod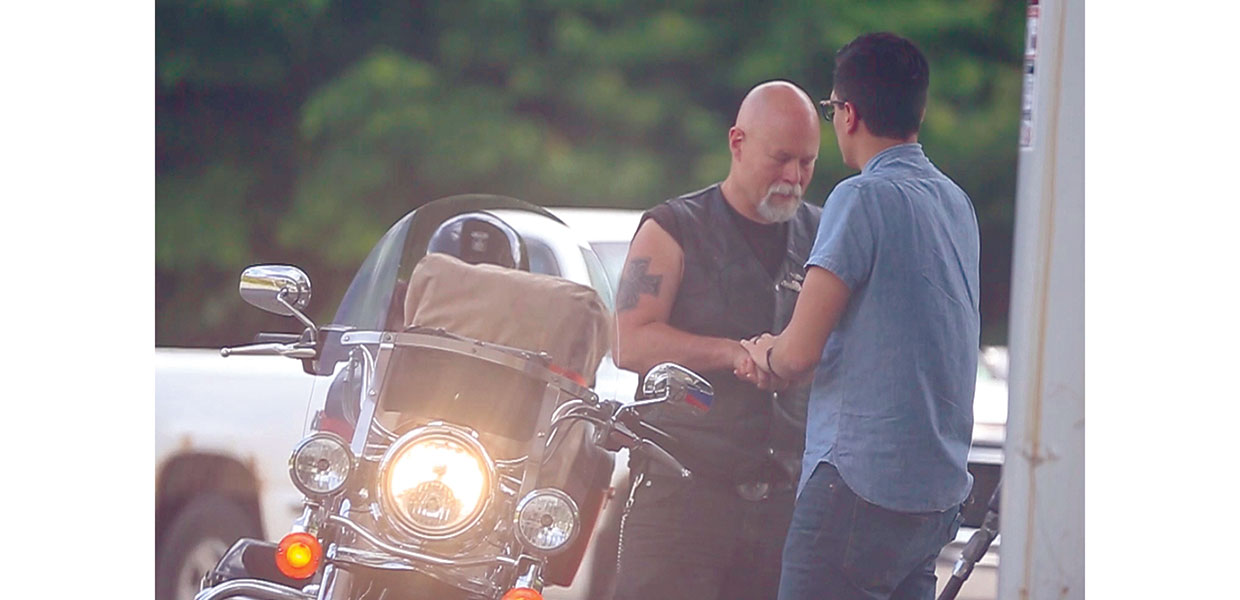 After purchasing gas for a random person, Eddie Cornejo, pastor, prays with this biker, his safety as he travels, and his family.
Courtney Herod
While attending Dave Ramsey's 2016 Stewardship Conference, the Carolina Conference Generous Living team viewed a touching video by Pete Wilson, former head pastor of the Crosspoint Church in Middle Tennessee. One of the ministries of this church is called Dollar Club. Once a month they take up a special offering of one dollar per person and go out into the community to do random acts of kindness. They document the experience on video and share it with the church members the following week.
The Generous Living team felt impressed to launch their own version of the Dollar Club during the 2017 Camp Meeting. Since the Conference mission tag line is "Embracing Carolina With the Compassionate Call of Christ," they wanted to make the local citizens aware that they care about them.
This initiative was met with great enthusiasm. For the first three nights of Camp Meeting, a collection was taken for this outreach, and more than $2,500 was raised. The Dollar Club team then went out into the community of Waynesville, N.C., and purchased gas and groceries for random people. On the second day, working with a local Christian organization, the team took two deserving families on a shopping spree at Walmart.
These two afternoons were documented on film, compiled into a short video, and shared at the Sabbath evening meeting. The response was greater than the Conference staff had expected. After the evening meeting, several attendees expressed excitement about doing this again next year. One woman eagerly shared that she had joined the Dollar Club all three nights.
While one dollar alone may not make a difference — just as one person alone might struggle to do so — when all pool their resources, they can do great things for Christ and His Kingdom.
Learn more here: https://youtu.be/5Kbfbj_eTpU.
Carolina | July 2017